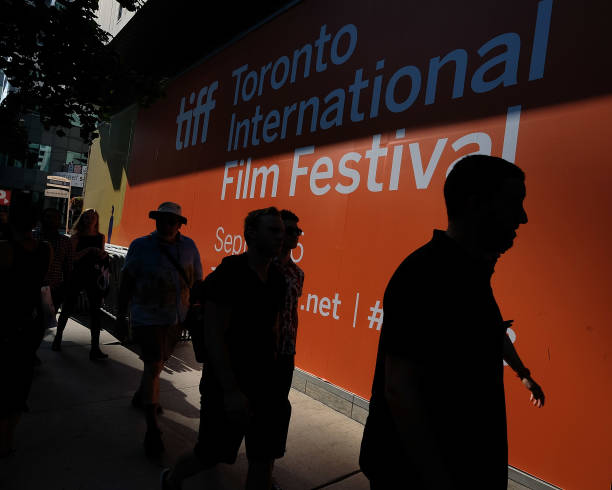 This week, one of the largest publicly attended film festivals in the world, as well as one of the most prestigious, will kick off. Over the course of eleven days, over 300 films will be screened ranging from highly anticipated major releases, to lesser-known indie films, to numerous foreign language features. Some of the films screened over the eleven-day period will be topics of discussion come awards season. It's Toronto International Film Festival (TIFF) week and these are some of the most notable films to look out for.
Fifteen Notable Films Being Screened at TIFF 2018
Director: David Mackenzie
Starring: Chris Pine and Aaron Taylor-Johnson
Premise: Chris Pine stars as Robert the Bruce, a legendary warrior and the recently crowned King of Scotland. After being forced into exile by the English, he leads a band of outlaws in an attempt to reclaim the throne.
Why you should be excited: Outlaw King is the film that has been chosen to kick off the Toronto International Film Festival. David Mackenzie's previous outing, Hell or High Water (which also happened to star Chris Pine), was one of the best films of 2016 and earned a best picture nomination at the Academy Awards. Mackenzie gained a lot of fans with his previous effort and it will be interesting to see him jump from a low budget, constrained story to a big budget, historical epic that is drawing comparisons to Braveheart.
Director: Peter Farrelly
Starring: Viggo Mortensen, Mahershala Ali, and Linda Cardellini
Premise: Based on a true story, Green Book tells the story of an Italian-American bouncer (Mortensen) chauffeuring an African-American pianist (Ali) through the Deep South in 1962, confronting the racism that was so prevalent in that era.
Why you should be excited: The trailer for this film showcases dominant performances by both Viggo Mortensen and Mahershala Ali. The story is poignant, relevant, and seemingly tailor-made for awards season. Look for this film to be a major contender come February. What may be most intriguing is that this is coming from Peter Farrelly of the Farrelly brothers. Yes, those Farrelly brothers.
Director: Felix Van Groeningen
Starring: Steve Carrell and Timothée Chalamet
Premise: Beautiful Boy chronicles the relationship between a father and a son, following the story of David Sheff (Carrell) as he tries to help his son Nic (Chalamet) who is struggling with a meth addiction.
Why you should be excited: Timothée Chalamet is gunning for his second straight Oscar nomination for Best Actor in what looks to be an emotional and powerful performance. If the trailer is any indication, bring a box of tissues.
Director: Joel Edgerton
Starring: Lucas Hedges, Nicole Kidman, Russell Crowe, and Joel Edgerton
Premise: In Boy Erased, Hedges plays the son of a Baptist pastor. After it is revealed he is gay, the son reluctantly agrees to attend a gay conversion program in order to avoid being shunned by his family.
Why you should be excited: This is another one that, based on the trailer, story, and strong cast, seems destined for success come awards season. Lucas Hedges is one of the most promising up and coming actors in Hollywood and it will be interesting to see how he handles what's sure to be an emotional role and how he holds his own against an A-List of actors and actresses. Edgerton's first directorial effort, The Gift, was a surprisingly effective thriller. This film is a far cry from that but he seems capable of pulling it off.
Director: Damien Chazelle
Starring: Ryan Gosling, Jason Clarke, Claire Foy, Kyle Chandler, and Corey Stoll
Premise: First Man is a Neil Armstrong biopic that chronicles the years leading up to the 1969 Apollo 11 mission to the moon.
Why you should be excited: Coming off two massive successes in Whiplash and La La Land, Damien Chazelle has quickly made a name for himself in Hollywood. Here he re-teams with Ryan Gosling in a film that looks to be a fascinating peek behind the curtains at one of history's greatest human achievements.
Director: Dan Fogelman
Starring: Oscar Issac, Olivia Wilde, Mandy Patinkin, Olivia Cooke, and Antonio Banderas
Premise: Life Itself follows a young couple as they go through college romance, marriage, and childbirth and how their story causes intercontinental and inter-generational ripple effects.
Why you should be excited: This film boasts a star-studded cast and a story that has the ability to bring about deep, personal, almost existential questions and showcase the beauty of life itself (see what I did there). Are we sure this isn't a Terrance Malik film?
Director: Bradley Cooper
Starring: Bradley Cooper and Lady Gaga
Premise: A Star is Born tells the story of a veteran country musician (Cooper) who is struggling with alcoholism discovers, mentors, and falls in love with an up and coming singer (Gaga).
Why you should be excited: The trailer is fantastic, the talent involved couldn't be a better fit, and this is Bradley Cooper's directorial debut. The trailer gives off shades of Crazy Heart, a phenomenal film that earned Jeff Bridges an Oscar for Best Actor. If you are a fan of that film, A Star is Born may be right up your alley. It premiered at the Venice Film Festival to wide acclaim and, if the praise is to be believed, a Best Original Song nomination could be in the cards.
Director: Steve McQueen
Starring: Viola Davis, Michelle Rodriguez, Colin Farrell, Daniel Kaluuya, Robert Duvall, Liam Neeson, and Jon Bernthal
Premise: After their husbands are killed in a failed heist attempt, four newly widowed women must step up and finish the job they left behind.
Why you should be excited: Widows features a star-studded cast full of former Oscar nominees and winners, an academy award winning director, and a screenplay written by Gillian Flynn (author of Gone Girl). What's not to be excited about?
Director: Alfonso Cuarón
Starring: Yalitza Aparicio, Marina de Tavira, and Marco Graf
Premise: ROMA chronicles a year in the life of a family living in Mexico City in the 1970s.
Why you should be excited: This is Alfonso Cuarón's first film since his Academy Award-winning effort in Gravity. Much of the anticipation here is solely based on the clout of this director, as well as the acclaim that this film has garnered from its premiere at the Venice Film Festival last week.
Director: Nadine Lebaki
Starring: Zain Al Rafeea, Yordanos Shiferaw, and Boluwatife Treasure Bankole
Premise: Capharnaüm is a heart-wrenching drama about an impoverished, 12-year-old boy who sues his parents for bringing him into the world.
Why you should be excited: After bursting onto the scene with Caramel in 2007, Nadine Lebaki quickly established herself as one of the most talented filmmakers coming out of the Middle East. This film, her first feature in seven years, premiered at the Cannes Film Festival as an official selection and received a 15-minute standing ovation and went on to win the Jury Prize. Sony Picture Classics has already picked the film up for US distribution and has it set for a December release date. All signs point to Capharnaüm making a push to be Lebanon's second straight film to be selected for a Best Foreign Language Film nomination at the Academy Awards.
Director: George Tillman Jr.
Starring: Amandla Stenberg, Regina Hall, Common, and Anthony Mackie
Premise: Based on the best selling 2017 novel, The Hate U Give follows Starr Carter, a teenager from a poor, mostly black, neighborhood who attends an affluent, mostly white, prep school. When she witnesses the shooting of her best friend at the hands of police, she is forced into activism while facing pressure from both sides of the spectrum.
Why you should be excited: Similar to Spike Lee's BlacKkKlansman, which was released to critical acclaim last month, The Hate U Give is yet another film that will shed light on race relations in the United States. The novel this film is based on was on The New York Times young adult best-seller list for nearly a year, so the source material is strong. Look for this film to be an emotional and possibly divisive experience that is aimed at the young adult crowd.
Director: David Lowery
Starring: Robert Redford, Casey Affleck, Sissy Spacek, and Danny Glover
Premise: Based on true events, The Old Man & the Gun tells the story of Forrest Tucker (Redford), who conducted a string of "polite" heists and captured the interest of both authorities and the public.
Why you should be excited: The trailer shows off a modern-day western with an old-school western style. This is Robert Redford's final film role after having announced his retirement from acting back in August. He teams up with David Lowery, another director who is on a bit of a hot streak with Pete's Dragon and A Ghost Story. With a story that seems right up Robert Redford's alley, and a director that is more than capable of handling the source material, the legendary actor's curtain call seems like a match made in heaven.
Director: Jacques Audiard
Starring: John C. Reilly, Joaquin Phoenix, Jake Gyllenhaal, and Riz Ahmed
Premise: Eli (Reilly) and Charlie Sisters (Phoenix) are brothers and hitmen who are tasked with hunting down a prospector who stole from their boss.
Why you should be excited: The cast alone is enough to whet the appetite of any film fan. Combine that with the fact that this is a western dark-comedy (a rare combination these days) based off an award winning novel of the same name and The Sisters Brothers sounds like a surefire bet to impress at TIFF.
Director: Yann Demange
Starring: Matthew McConaughey, Richie Merritt, Jennifer Jason Leigh, and Bruce Dern
Premise: The true story of Richard Wershe Jr., also known as White Boy Rick, a teenage street hustler, drug kingpin, and FBI informant in 1980s Detroit.
Why you should be excited: Yann Demange burst onto the scene in the UK in 2014 with his directorial debut, '71. White Boy Rick serves as both his sophomore effort and American film debut. He teams up with Matthew McConaughey, now a few years removed from peak McConaissance (the magical period from 2011 to 2014 where he went from Rom-Com mainstay to Oscar winning, dramatic actor), but this seems like a golden opportunity for him to reclaim that magic. Not to mention the story that this film is based on is absolutely fascinating.
Director: Paul Dano
Starring: Jake Gyllenhaal and Carey Mulligan
Premise: Set in the 1960s, a boy watches his parents' marriage fall apart after his father deserts them to fight wildfires along the border, and his mother falls in love with another man.
Why you should be excited: Anytime a brilliant actor like Paul Dano makes their debut behind the camera, the film immediately becomes more interesting. If he is anywhere near as talented behind the camera as he is in front of it, and with names like Jake Gyllenhaal and Carey Mulligan leading the way, Wildlife could be a film that garners some awards buzz. It has already garnered rave reviews at both the  Sundance and Cannes Film Festivals and, after TIFF, it is set to conclude its festival run at the New York Film Festival next month.
Last Word on the Toronto International Film Festival
There you have it, fifteen films of over 300 that will be playing at the 2018 Toronto International Film Festival. Some of the films listed may become household names come awards season. Others could flop and never be heard from again. However, all fifteen of these films have some unique strength that gives them a chance to stand out among the rest, whether it's the acting talent involved, the director, or the story. The festival's major prize, the People's Choice Award (not to be confused with the American awards show), has often been an indicator of success come awards season, with films like Three Billboards Outside Ebbing, Missouri and La La Land taking it home in recent years. Will one of the films highlighted above take it home this year?
Main Image Credit: