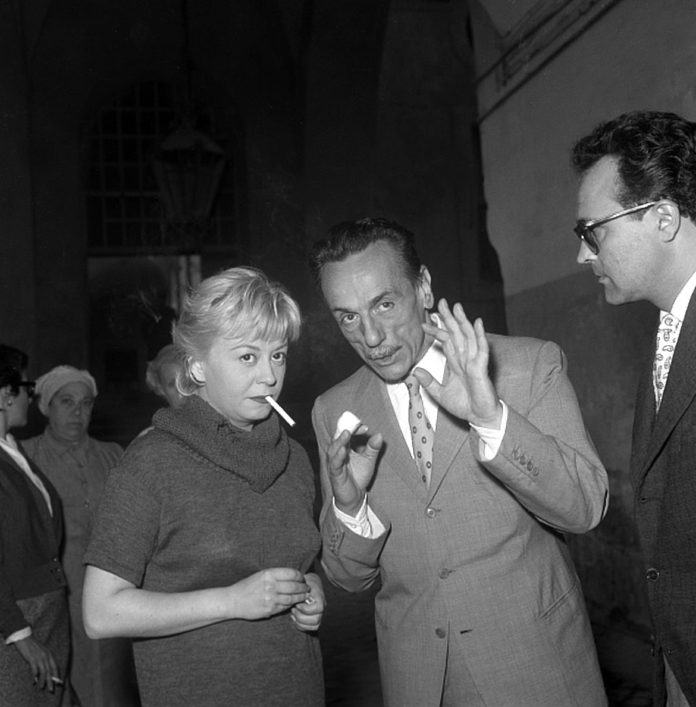 Every year, the Stratford Theater Festival sends out a playbill for the upcoming season. Inside, you can find notices for lectures and discussions about Shakespeare, ads that you will never read, and naturally, promos for that year's plays. What's always struck me as interesting about these promos is that the costumes of the characters never match the final product (the photos taken long before the costume designers have even begun work on the project). For instance, this year's Coriolanus shows him in traditional Roman garb, whereas the finished play takes place in modern times. I have seen plays mismarketed by pictures before, but never by description, but such is the case with Napoli Milionaria!
Napoli Milionaria!: A Story That's Not 'Ha Ha' Funny
The playbill describes Napoli Milionaria! as "a sparkling and warm-hearted comedy."  We will refer to this as 'Exhibit A.'
The story follows a poor Neapolitan family, struggling to make ends meet during the second World War. The mother sells goods on the black market, while the father waxes poetic on the nature of the haves and the have-nots. Nobody respects him, they just humor him. Things are bad all around. There isn't enough food or work. Bombs constantly go off dangerously close to their house. Their furniture is worn out and their bathroom is a curtain. Their children hang with bad crowds. They water down their coffee and still lose business to their cheaper competitor, and then have a well-rehearsed scheme pretending their father is dead prepared to hide their contraband. This scene is the biggest laugh of the play.
"But Lukas," I hear you ask through time and space, "Doesn't laughter make it a comedy?"  Not if it only happens twice.
After the family successfully cons an inspector into letting them keep their black market cheese, the play takes a turn. One that is as dramatic as it is heavy-handed. One day, the father goes missing. He isn't seen for months. During that time, the war ends, and the family prospers. Their once shabby home flourishes with new furniture. The son has made a happy little career for himself as a hubcap thief, the daughter can't wait for an American soldier to take her to his country and marry her, and the mother is having an affair with a family friend, when suddenly, the father comes home. He was a prisoner of war, tortured and made to work out of fear of death. Hilarious.
As before his capture, nobody listens to him. They're so eager to celebrate the end of the war and their newfound wealth that they ignore his "ramblings" as he describes his torment. They were planning on a party to celebrate the end of the war and throw "dad's home" into the mix. In one of the play's more on-the-nose moments, the father shouts, "What do you mean, the war is over? The war is NOT over!"
The mother ruthlessly puts a man and his wife and children on the streets because he had money when they didn't and now she has money when he needs it. She practically has "payback's a bitch" written on her forehead. In the third act, her child we never see is sick and dying, and they can't find medicine anywhere. I wonder who has it? It's that kind of play. You know, a poorly written one?
The play is trying to say that the family was closer in poverty than they are in wealth. I know because the play says it. This show is about as subtle as a hammer to the face, and just as funny.
The Good
But it's not all bad. Sure, I found the script to be a mess, full of dangling plot threads and unnecessary characters (Chekhov would lose his goddamn mind), but the set by Joshua Quinlan is very good, and the performances are strong all around.
There are so many characters that I became worried for the integrity of the stage when it was time for the final bow, but I can't say any of them were bad. Brigit Wilson plays Amalia, the coldest woman since Nurse Ratched, who loves her family but calls her daughter a whore and weeps for the safety of her youngest. She's capable of multitudes and never misses a beat. Michael Blake plays Errico, a family friend with a lot of heart whose compelling plot is almost completely dropped from the play to make room for the more obvious "stuff." His love for Amalia is sudden but believable and if the play were to focus on their relationship, it would be stronger for it. Unfortunately, the play thinks it has much more important things to talk about, when in reality it only has things that other people have already talked about to talk about.

But the genuine standout of the play is Tom McCamus. Here, you will find no snark from me. As Gennaro, the father, he brings so much warmth to a man who is almost as smart as he thinks he is. The great tragedy of Gennaro is that nobody will listen to him, but I was spellbound. McCamus has been a staple of Stratford for years, and he is probably Stratford's best kept secret. You might know him as Joan Allen's second husband in the 2015 Best Picture nominee, Room. I have seen him perform for years and he is always a highlight. Whether he's playing Le Vicomte de Valmont in Dangerous Liaisons or Captain Hook in Peter Pan, the man is capable of digging the laughter out of the slightest line. (The second biggest laugh in the play comes from him saying, "it's the cars." Three words. The man's incredible!). He's the Jeremy Irons of Stratford. Nobody can find the humor in the darkness like him. Despite being thirty yards away, this guy can tear the house down with a flick of his eyebrow. He is a treasure and it's a privilege to watch him work. How much do I love Tom McCamus? I thought about not publishing this review because he might see it and know that I didn't like this play at all. How much do I love Tom McCamus? He ruined a perfectly good Pleasantville reunion in Room and I didn't care. I was just happy to see him.
Last Word on Napoli Milionaria!
I wonder if I would have enjoyed this play more if Stratford hadn't called it a comedy. They refer to it as "sparkling" and "warm-hearted." I would refer to it as "grounds for legal action." I think if they had been honest, and referred to the play as a drama, I would have found myself more susceptible to it's charms, but I was too frustrated to enjoy myself. I know that is on me, but at least a bit of it is on Stratford.
The playwright, Eduardo De Filippo, would go on to write, direct, and even star in a film adaptation called, in the U.S., Side Street Story, produced by mega-producer Dino De Laurentiis.  Apparently, both the play and the film are decently regarded comedies, but if they are, there must be something lost in translation, because my audience never fully got into it, and I got into it even less.
Main image credit: