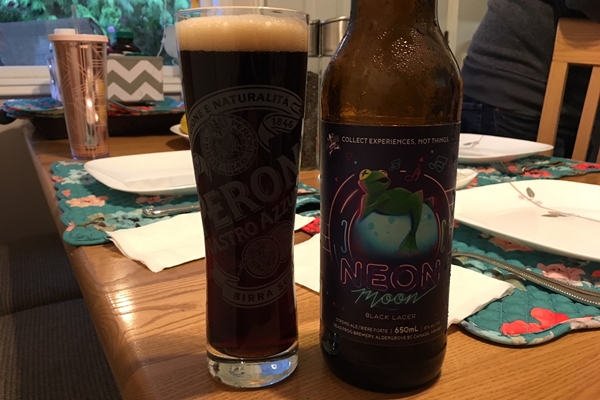 Despite being around for quite some time, 10 years to be exact, Dead Frog Brewing is not resting on anything from the past. This is proven by their move to their new location in Langley right off the Highway 1 exit for 200 and the fact that they have recently won awards, including the Neon Moon Black Lager. B.C. Beer Reviews is here today to take a look at this award-winner.
B.C. Beer Reviews: Dead Frog Brewing – Neon Moon Black Lager
Colour
This beer pours a dark brown hue from the bottle. In the glass, it is a very dark, almost black colour. You can see through t somewhat when held to the light. The head is a light tan colour.
Nose/Aroma
There are light notes of chocolate and coffee that come at you immediately. They are the dominant notes, but are rather smooth and approachable overall.
There are lightly sweet notes of white bread in behind these notes. These are common for lagers and compliment the dark malt notes present throughout. They are also very light and smooth.
Overall this is a sweet and balanced beer in its aromatics. There is no perceivable presence of hops in this beer. It is very much a malt-forward beer.
Tasting Notes
Much like in the aromatics, this is a very malt-forward beer. There is a nice chocolate taste on your palate that is extremely smooth. There is also a noticeable body from the wheat used in the beer that lends itself to the use of chocolate malt.
Despite the relatively significant body imparted by the malts, there is a lightness to the finish. This beer also finishes with a nice crisp touch to have a clean finish.
Other Notes
Much like all of the seasonal beers from Dead Frog Brewing, their branding/labeling is cartoonish. There is what looks to be a very happy Dead Frog lounging on top of a planet with music notes floating around. There is also lettering that looks like the neon lights of a sign spelling out Neon Moon, the name of the beer.
This beer pours a fairly significant and light tan head to it. The retention of that head is equally as impressive.
There is a noticeable amount of lacing on the glass from this beer. This is a significant amount for a lager.
Final Grade
This is a sweet and chocolate-tasting beer that has a smooth body and crisp finish. The aromatics are strong in the way of chocolate and have a note of white bread to compliment it. The slightly crisp finish on your palate makes this a very clean and easy-drinking beer overall.
Grade: 7.9/10
Want to see a beer featured in B.C. Beer Reviews? Comment below with your suggestion. And if you want to support B.C. Beer Reviews, you can do so on Patreon.
And if you want to see all of the photos featured in these articles, and other awesome beer pictures, you can do so by following me on Instagram: nhendy5. You can also see much more concise versions of these reviews by adding me on Untappd: RedArmyNic.
Main photo by Nic Hendrickson, Lastword Inc., all rights reserved