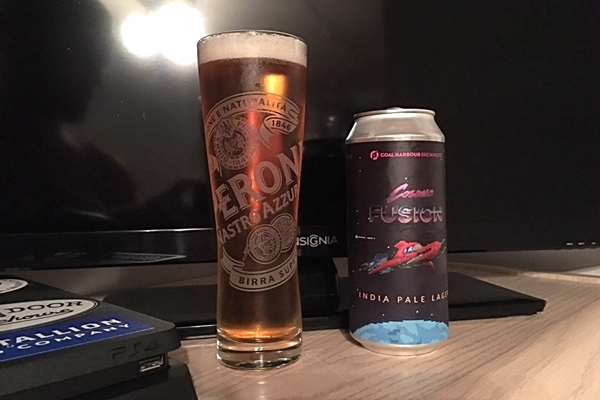 If there is one style that truly does not get the love it deserves in B.C., it would be that of the India Pale Lager. This is a hopped up lager that is similar to a Czech Pilsner in many ways. Coal Harbour Brewing has taken their time to craft one of these, and the branding is out of this world. Let's crack this can open and check it out.
B.C. Beer Reviews: Coal Harbour Brewing – Cosmic Fusion IPL
Colour
Pours a clear and bright golden colour from the can. In the glass, it becomes a deeper colour, that of a light copper. The clarity is fantastic with this beer, as it should be given the fact that it is a lager.
Nose/Aroma
Immediately upon cracking the can you get interesting and bright hop aromatics. Citrus notes of light lemon and citrus zest pop out of the beer. It is a very pleasant level for a lager, and not at all overpowering of the other notes at play here.
You get the nice cracker aroma that you expect from the malts typically used in this style. This helps to keep this beer in balance with its aromatics.
Other than those two notes, there is not much else to this beer. It keeps it simple, and in this case, that is certainly a good thing.
Tasting Notes
Up front you are presented with malty notes of cracker and white bread. These follow through each sip and linger on your palate as well. This matches up nicely with the style.
Alongside the malt/grain bill is a very pleasant citrus note. The hops add a slightly bitter bite that is accentuated by the crispness of this beer. These two notes together make this beer reminiscent of a Czech Pilsner, just with citrus hop taste rather than noble hops (floral and spicy).
Other Notes
As always, the branding/labeling is sharp from Coal Harbour Brewing. There is what looks to be a pixelated video game spaceship flying through outer space. It is certainly eye-catching.
There is a high level of carbonation to this beer. It helps to accentuate the hop notes and is very pleasant in the finish of each sip.
The head this beer pours is above average, which is not all that surprising given the previous point. The retention of that head is equally as impressive.
Final Grade
This beer is categorized as an India Pale Lager, which is very similar to a Czech Pilsner in many ways. It sticks to style nicely. Cracker and white bread notes from the malt/grain bill are complimented by citrus notes from the hops. And while there is a nice level of bitterness to this brew, it is somewhat restrained and it works well here.
Grade: 8.1/10
Want to see a beer featured in B.C. Beer Reviews? Comment below with your suggestion. You can also support B.C. Beer Reviews on Patreon to see consistent reviews of the fantastic beer this province has to offer.
And if you want to see all of the photos featured in these articles, and other awesome beer pictures, you can do so by following me on Instagram: nhendy5. You can also see much more concise versions of these reviews by adding me on Untappd: RedArmyNic.
Main photo by Nic Hendrickson, Lastword Inc., all rights reserved