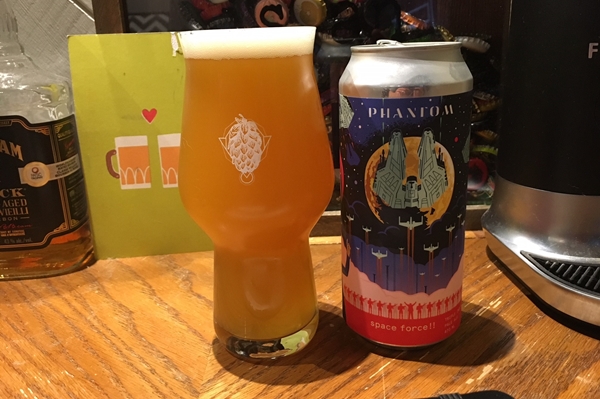 Phantom Beer Company has put another entry into the B.C. craft beer scene. This time around the brand coming out of Craft Collective Beerworks has produced a Double IPA clocking in at 10.1% ABV, and it is unsurprisingly quite hazy. Let's crack open the fourth beer this "company" has produced and see if it has improved on past entries like their No. 1 and Mind Fuzz.
B.C. Beer Reviews: Phantom Beer Company – Space Force
Colour
Pours a clear golden colour from the can until you reach the bottom, then it becomes much more cloudy. It is much the same in the glass. When the glass is full and can is empty it is a cloudy golden-orange colour.
Nose/Aroma
You are immediately hit with strong aromatics of tropical fruit. A strong aroma of mango is at the forefront. You can also get notes of Guava, but to a much lesser extent than what you get with the mango.
There is a dank hop aromatic in the background. This is very much in behind the tropical fruit aromas, but still noticeable none the less.
Aside from the hop aromatics, there is not much to note of this beer in its aromatics. It is a bit of a one-trick pony, which is not all that surprising for such a hazy Triple IPA.
Tasting Notes
Once again, you get strong tropical fruit notes on your palate. The mango and Guava notes come through once again. You get the sweet tastes of both fruits rather than the citric acid they can come with.
Much like you would expect from a hazy beer, there is a sweetness to this beer. When tasting it with the strong tropical fruit notes of this beer it starts to taste like a fruit drink rather than a Triple IPA.
As surprising as this may seem, there is no residual or lingering bitterness to this beer at all. This beer lingers, but more with the sweetness it has and the mango and Guava notes rather than the bitterness that you might expect from this style.
Other Notes
As has been the case with all of the beers that Phantom Beer Company has released, the branding/labeling is sharp and eye-catching. There is a fleet of starships taking off in front of what looks to be a moon and a starry sky above an o looking populace that looks in awe.
There is a massive head to this beer initially. Despite that, the retention of that head is below average.
There is a fairly significant amount of lacing on the glass from this beer. Given the style, this is not at all surprising.
Final Grade
This beer presents you with an aroma and taste of tropical fruits of Guava and mango. Despite being a Triple IPA, there is no perceivable bitterness at any stage. This is the definition of a massive tropical juice bomb and is undeniably the best beer yet from Phantom Beer Company.
Grade: 8.0/10
Want to see a beer featured in B.C. Beer Reviews? Comment below with your suggestion. And if you want to see more consistent reviews of the fantastic beer this province has to offer you can support B.C. Beer Reviews on Patreon.
And if you want to see all of the photos featured in these articles, and other awesome beer pictures, you can do so by following me on Instagram: nhendy5. You can also see much more concise versions of these reviews by adding me on Untappd: RedArmyNic.
Main photo by Nic Hendrickson, Lastword Inc., all rights reserved