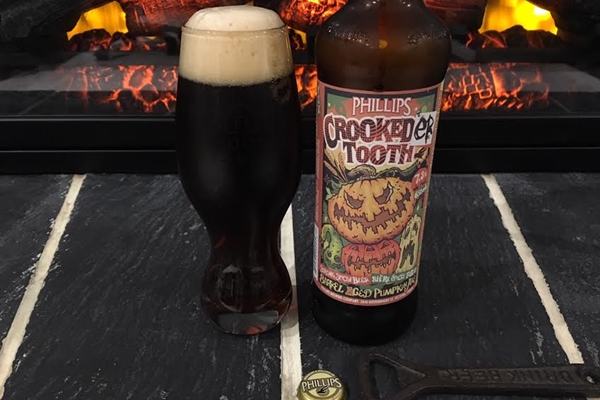 As the temperatures drop and the leaves fall, pumpkin beers start to come out of hibernation yet again. While they are a contentious style, when done well they can be very nice. So when B.C. Beer Reviews was presented with a bourbon barrel aged pumpkin beer from Phillips Brewing by the name of Crookeder Teeth, we had to try it.
B.C. Beer Reviews: Phillips Brewing – Crookeder Teeth
Colour
Pours a copper brown colour from the bottle. When the glass is full it is a deep earthy brown. The colour of this beer could point to the use of malts that are high in SRM like CaraMunich or a Munich malt that has been highly kilned. It has an off-white head that is not quite tan, but it is trending in that direction.
Nose/Aroma
When smelling this beer it is certainly not hiding the pumpkin aromatics. This is undeniably the strongest note and the first one you get upon taking a whiff of this fall time brew.
Another note that is strong in its presence is a boozy aromatic. It is sweet and lingering, which is not at all surprising given that this is a barrel aged beer. The description states that it is Bourbon, which accounts for the sweetness to go along with the strong boozy note.
The side notes you get are a moderately strong note of vanilla. This is something you can regularly get with Bourbon and barrel aged beers. Another note is a woody aromatic. Once again, this is not at all surprising.
Tasting Notes
The pumpkin spice hits you immediately and lingers long after each sip. Despite it being a rather powerful note overall, it is pleasantly smooth on your palate.
This is complimented by the vanilla that was previously a side note in the aromatics. It comes out nicely on your palate and is reminiscent of a dollop of whipped cream you would plop on top of your slice of pumpkin pie.
While the Bourbon and woody characteristics are not immediately noticeable you do get traces of them on the back end. There is a bit of a boozy warmth on the back of your throat that is not biting but warming and inviting.
Other Notes
As always, Phillips Brewing has cartoonish and creative branding for this brew. There are four very interesting and crazy looking pumpkins with very crooked, or rather crookeder, teeth dead centre on the label.
This beer pours a significant head. The retention is equally as impressive as it sticks around for as long as you let it. Even after taking your first drink, there is consistently half a fingers worth of head on top of the beer.
There is a high level of carbonation to this beer. It is not exactly crisp on your palate, but it helps to restrain the sweetness of this beer in its flavour.
Final Grade
This is the best of both worlds when combining Bourbon barrel aged beers and pumpkin beers. All the notes you expect from both shine through at one point or another. It is truly a very nice take on a pumpkin beer and a very nice beer for when the wind starts to become a bit crisper.
Grade: 8.0/10
Want to see a beer featured in B.C. Beer Reviews? Comment below with your suggestion. And if you want to see more consistent reviews of the fantastic beer this province has to offer, you can support B.C. Beer Reviews on Patreon.
And if you want to see all of the photos featured in these articles, and other awesome beer pictures, you can do so by following me on Instagram: nhendy5. You can also see much more concise versions of these reviews by adding me on Untappd: RedArmyNic.
Main photo by Nic Hendrickson, Lastword Inc., all rights reserved