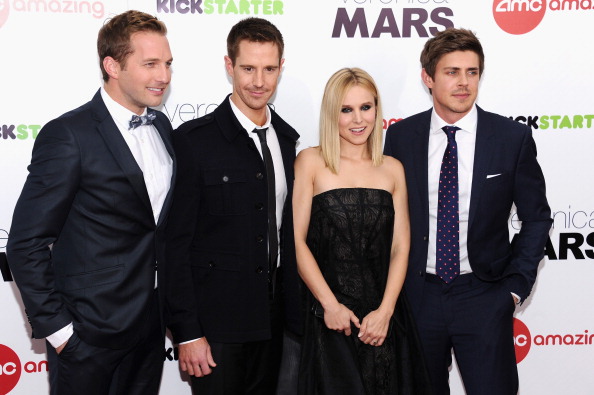 A long time ago, we used to be friends with Veronica Mars, but we haven't thought of her lately at all…until recently. Thanks to the heavy craving of nostalgia in today's zeitgeist, old shows are being revived or rebooted left and right. The latest one to make news recently is Veronica Mars, the short-lived teen drama/mystery series that launched the career of Kristen Bell and garnered a cult following over the years. Streaming giant Hulu has announced that the show would be revived for an eight-episode season to premiere in 2019. Creator Rob Thomas, Bell, and many of the original cast are also returning. And I couldn't be happier.

Veronica Mars Is BACK
Veronica Mars began its run in 2004 on UPN, which later became The CW. It received a positive reception from critics and a dedicated fanbase. But due to low ratings, the show got canceled after three seasons, with an ending that wasn't fully resolved. Despite this, Veronica Mars has continued to be remembered, watched, and celebrated by its devoted group of fans in the last decade, as well as gaining new fans, myself included.
The show centered around the eponymous character (Bell), a teenager living in the fictional small town of Neptune, California. Some time after her best friend Lilly Kane (Amanda Seyfried) is murdered, Mars is ostracized by her school and community when her father and town sheriff, Keith Mars (Enrico Colantoni), claims the real killer still hasn't been found. So following in the footsteps of her sheriff-turned-private investigator father, Veronica takes it upon herself to find her best friend's real murderer. Simultaneously, she investigates mysteries at Neptune High School involving the students, teachers, and other residents of Neptune, exposing the dark secrets that lie within the town.
So what was the appeal of Veronica Mars? How has it been able to live on over the years despite virtually being unwatched during its original run?
Come On Now, Sugar
In 2013, a Kickstarter campaign was launched by Thomas and Bell to make a feature film continuing the show, with a script already written by Thomas. And thus, the campaign raised over $5 million pledged by fans and Veronica Mars, the movie, was released by Warner Bros. in March 2014, nearly ten years after its television debut. While it did get a positive reception from critics and fans, the film ultimately bombed at the box office.
A crowdfunding campaign to create a film's budget was uncommon at the time of its announcement. Crowdfunding in general was still very new, and the campaign to produce a film adaptation of a forgotten show was both intriguing to me. I hadn't known much about the show beforehand, but Frozen was a huge hit in theaters back then and the Kristen Bell appeal was growing on me too. So why Veronica Mars? What's the fascination? To find out, I decided to give it a binge in early 2014.
At that time, I was mostly staying away from two very specific genres of television: the teen drama and the procedural. Workplace sitcoms and intense dramas with violence and/or fantasy elements were amongst my taste. But Veronica Mars had this amazing ability to blend both the teen drama and crime procedural genres into one. Above all that, nailing the detective/neo-noir genre was what the show exceeded more than anything. Considering the time it was airing, 2004-2007, this was when shows like CSI, Smallville, NCIS, and The O.C. (also set in Southern California) were huge television hits, and that's what viewers found themselves gravitating towards.
"You're A Marshmallow"
Veronica Mars herself is a complex character and not just some sneaky teenager who's looking for trouble. Veronica is an outcast at her high school, which is extremely relatable. She's also witty and intelligent, and she'll stand up for those who are in need of help the most. And she doesn't care what you think of her. She is exactly the kind of feminist hero viewers needed in a post-Buffy the Vampire Slayer age.
The show dealt with several heavy themes including wealth inequality, misogyny, corruption, and even assault and rape. The fact that Veronica herself is a rape survivor and is unfortunately snubbed for reporting, is something relevant, especially now in the #MeToo era. And this is information we learn in the pilot. Rob Thomas had to fight the network to approve of this storyline. And for those who haven't watched the show yet, it does eventually come full-circle and not just for exploitation and to give Veronica a dark backstory.
It's impossible to dislike a character like Veronica Mars. This is someone who has associated with the popular crowd, herself almost a member of the wealthy elite, and yet everything in her world falls apart once her best friend gets murdered. But it's not like she wants that life back. Veronica wants justice, but not recognition. She wants her father vindicated and for herself to be at peace. She also a small group of friends, but that's all she needs. And all this in the form of a teenage girl has captured the attention of fans alike enough for Hulu to say "Let's bring her back."
Last Word On VERONICA MARS

Any current form of media focusing on a small town of dark secrets and one person brave enough to expose them owes something to Veronica Mars. People love a good mystery; they love the deciphering of clues and shock value, and they love the characters that follow. Thanks to the popularity of Veronica Mars in recent years, two spinoff books entitled The Thousand-Dollar Tan Line and Mr. Kiss and Tell have been published. They're currently being used as inspiration for the Hulu season, but not as direct adaptations.
This is enough of an incentive to give the character of Veronica Mars something new to work with in our current age, especially with the opportunity to increase visibility of feminist issues and with #MeToo. It would be one thing to make Veronica a stock "bland teenage girl who's in over her head," someone who's way too curious for her own good. Her attraction comes from her having a snarky sense of humor, but not letting it cloud her judgement. When she has a hunch, she's often right. And luckily, she has her father to balance things out and remind her she is still a teenager.
Veronica Mars may have been ahead of its time, which is often a "problem" with great shows that get canceled too early, (e.g., Freaks and Geeks, Firefly, and Arrested Development). People were probably not ready for Veronica back then, but hopefully they can be ready now. And if the fanbase is strong enough to get a movie and a revival series made, anything is possible.
Main Image Credit: