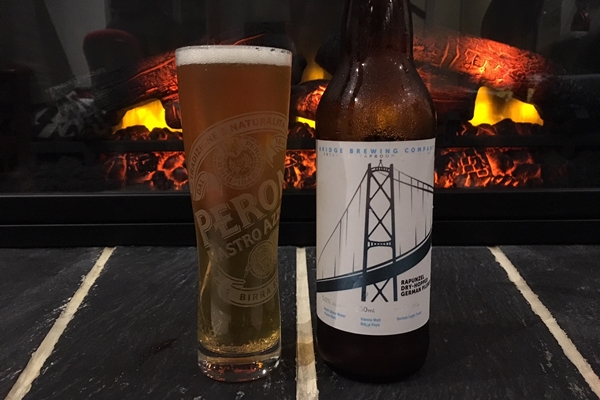 Bridge Brewing has released a tasting room only series of beers. In this they have included a Pilsner that was dry-hopped with noble hops, keeping within the specs of the style. Let's crack this rare bottle open and see what is in store for B.C. Beer Reviews.
B.C. Beer Reviews: Bridge Brewing – Dry-Hopped German Pilsner
Colour
This beer pours a pale golden colour similar to that of straw from the bottle. In the glass it is clear, but not entirely. There is a very slight haze to the beer. It remains a golden straw colour in hue.
Nose/Aroma
There is the sweet white bread and cracker characteristics that you expect from a Pilsner at first. This lingers and is complimented by a light herbal aromatic.
The herbal aromatic is not at all potent, but rather a background note. This is how it should be with the hop aromatic profile in a Pilsner.
Tasting Notes
The same grainy, white bread and cracker notes follow through on your palate. It is a nicely balanced beer with the notes that the hops bring to this beer in the taste.
You get the slightly herbal notes you would come to expect from noble hops, but without the crisp and spicy bite.
The interesting thing about this beer is that as it starts to warm up things begin to take a twist. You get stronger notes of citrus sweetness and citrus zest. It is at a very pleasant level and it adds a nice twist to a traditional style.
Other Notes
The branding/labeling is simplistic and clean overall. A bride is laid over a primarily matte white label. This is about as simple as it gets from Bridge Brewing as they let the beer speak for itself.
There is a nice carbonation level to this beer, as there should be from a Pilsner. This also helps to accentuate the aromatics of the noble hops used in this brew.
Final Grade
This is, in almost all accounts, a slightly less clear Czech Pilsner. The only difference is the use of German ingredients. It is crisp and clean drinking and is a very nice representation of the style.
Grade: 7.9/10
Want to see a beer featured in B.C. Beer Reviews? Comment below with your suggestion. And if you want to see more consistent reviews of the fantastic beer this province has to offer, you can support B.C. Beer Reviews on Patreon.
And if you want to see all of the photos featured in these articles, and other awesome beer pictures, you can do so by following me on Instagram: nhendy5. You can also see much more concise versions of these reviews by adding me on Untappd: RedArmyNic.
Main photo by Nic Hendrickson, Lastword Inc., all rights reserved