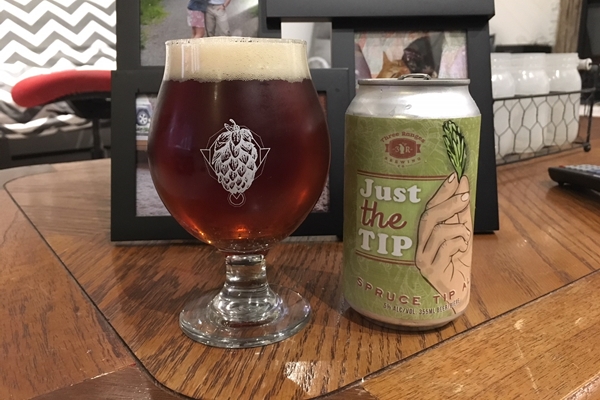 While Three Ranges Brewing might be a relatively unknown brewery in the lower mainland, this is not keeping them from being adventurous and having comical and solid marketing. Speaking to their adventurous side, they have a spruce tip amber ale by the name of Just The Tip and B.C. Beer Reviews is here to check it out.
B.C. Beer Reviews: Three Ranges Brewing – Just The Tip
Colour
This beer pours a clear and bright copper colour from the can. In the glass, it is a much deeper copper colour. The clarity is still relatively good until pouring in the dregs from the bottom of the can. The head of this beer is a slightly off-white.
Nose/Aroma
You get a sweet malt aromatic from the get go. It is a light touch of caramel and white bread. This malt aromatic is light and pleasant, and it lingers throughout.
There is a light green and almost pine aromatic to this beer. If it was not for the beer being labeled spruce tip it would be unlikely that you would think they are spruce tips or pine and more a general green vegetative matter.
Tasting Notes
Once again, the first thing you get is a malt note. It is much of the same as in the aromatics, giving off a light caramel and white bread. It is complimented by a rather smooth mouthfeel that is very pleasant overall.
Unlike in the aromatics, the spruce tip aspect is much more noticeable on the back end of your palate. It is not bitter like a pine note you would get from hops, but it is similar in its taste. It helps to somewhat balance out the sweetness of the malts.
Other Notes
The branding/labeling is simple, comical and pleasant. A nice spruce green colour is set in behind light maroon and white lettering and a cartoonish hand holding a small spruce tip.
This beer pours an above average head and the retention of that head is equally as impressive.
The carbonation level is moderate. It is enough to combat the sweetness of the malts, but it is not enough to have any sort of bite.
Final Grade
While the spruce tip aspect does not come out clearly in the aromatics, it doesn't come out nicely in the taste. There is a strong malt character to this beer presenting you with notes of caramel and white bread. Overall, this is a nice amber ale.
Grade: 7.2/10
Want to see a beer featured in B.C. Beer Reviews? Comment below with your suggestion. And if you want to see more consistent reviews of the fantastic beer this province has to offer, you can support B.C. Beer Reviews on Patreon.
And if you want to see all of the photos featured in these articles, and other awesome beer pictures, you can do so by following me on Instagram: nhendy5. You can also see much more concise versions of these reviews by adding me on Untappd:  RedArmyNic.
Main photo by Nic Hendrickson, Lastword Inc., all rights reserved