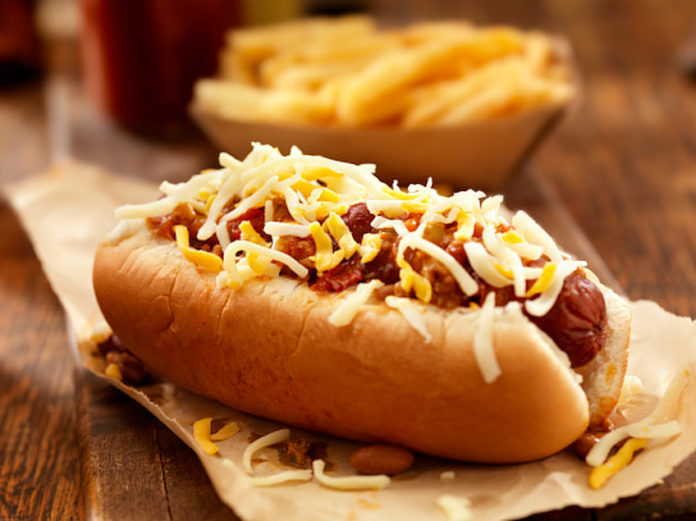 There's a chill in the air as October begins during football season. One surefire way to take the chill out while watching football is with a huge pot of chili. In addition to the chili, you can also serve your guests chili dogs and chili boats. They will be in awe of your game day menu!
Game Day Chili
Here's my recipe and directions for chili. The recipe is made for a two-gallon pot. You will need to adjust the recipe to fit the size of the pot you're using. You will also have to adjust the amount of spice and peppers to suit your tolerance for heat. This batch is around medium on the heat scale. Enjoy!
Ground beef – 3 lbs.
Chuck roast – 2 to 3 lbs., cut into small cubes
Large/jumbo can of crushed tomatoes
Large can of diced tomatoes
Brooks chili hot beans – 3 large cans or one jumbo one
Red kidney beans – 2 cans
5 

jalapenos,

 chopped
5 

serranos,

 chopped
1 large onion, chopped
Chili powder
Granulated garlic
Cumin
Lawry's seasoning salt
Pepper
Ground cayenne pepper for more heat
Add two tablespoons olive oil to the pot and sauté chuck cubes seasoned with all spices. Add in all peppers and onion after chuck is done. Add more seasonings as they sauté for 10 minutes, and then add in ground beef and some more seasonings, mashing it as the beef cooks.
Once everything is cooked, add crushed tomatoes, diced tomatoes, and all beans. (I don't drain the fat, some people do, your call) Taste and re-season if needed, then add in a half bottle of your favorite beer and simmer for an hour. Take a sample taste and add more seasoning if needed. Serve with chopped onions, oyster crackers, sour cream, and shredded cheese.
Chili Dogs
While your chili is simmering its way to perfection, grill up some all-beef hot dogs. Serve these on some sturdy brat buns instead of regular hot dog buns. (You'll see why in a bit) Your guests will love the grilled hot dogs smothered in your incredible chili. The chili dogs should also be topped with some chopped onions and shredded cheese. If you want to spice it up, add on some pickled jalapenos or sport peppers. There won't be anyone cold after eating your deliciously spicy chili dogs. For your daintier guests, pass out some forks and knives so they can devour the chili dogs mess-free.    
Chili Boats
Chili boats are another way for you to impress your football crowd. You will need 10-20 steamed tamales and your delicious chili. For my crew, I prefer to serve Chicago's infamous Tom Tom Tamales. They are the best tamales around Chicago. If you don't have a legendary tamale like Tom Tom available, you can usually find tamales in the freezer section at the grocery store. To create the chili boat, you'll need to place the steamed tamale at the bottom of a bowl and cover in chili and all the toppings. The tamale at the bottom of the bowl adds a big flavor enhancement your guests will love. 
Football Menu Ideas
So far we have covered the infamous Brat Tub celebrating Oktoberfest and an incredible week one tailgate menu of wings, chops, Cajun Pasta and Cajun shrimp. This week's feature using our prize-winning chili recipe will leave a lasting impression on your friends and family. Stay tuned as we continue bringing menu ideas for you to use this football season. Hopefully your football team is playing well and not causing you and your guests headaches. A winning team definitely makes your game day a lot more fun!
Main Image Credit: