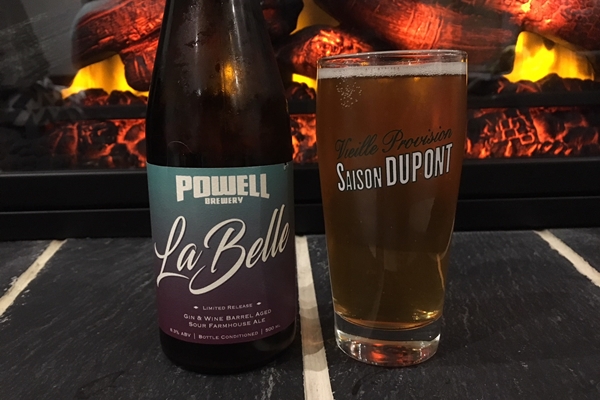 Powell Brewery has been around for quite some time, and with experience comes good beer (most the time). Powell did a limited release of a barrel-aged beer by the name of La Belle, and B.C. Beer Reviews is here to pop the cork off this complex brew.
B.C. Beer Reviews: Powell Brewery – La Belle
Colour
This beer pours a pale and extremely clear golden colour from the bottle. In the bottle, it is almost a copper colour and it retains its exquisite clarity. When there is a head to this beer is a straight white, with nothing out of the ordinary to report.
Nose/Aroma
Upon popping the cork of this bottle you get an immediate aroma of funk. This is complimented by slightly tropical fruit aromatics that make you think there could be Brettanomyces used in the ageing of this brew.
The label states that it is a gin and wine barrel aged beer. You can certainly get some bright and sweet aromas from what you would expect of white wine. As for the gin, it is somewhat difficult to get the typical aromas of that in this one.
There is also a very tart aromatic to this beer. This is unsurprising and seems like a bit of foreshadowing.
Tasting Notes
This beer is undeniably tart off the bat. To say that it is just tart would understate the complexity of this brew. You are present with sweet white wine notes throughout that are balanced by a drying and herbal finish you would expect to get from gin.
Just like in the aromatics, there is a funky and tropical taste again. If Brettanomyces were not involved here, that would be very surprising. It would also be a testament to the skill of the brewer to draw out notes like that. Either way, this beer is extremely complex and tasty.
Other Notes
The label on the bottle goes from teal on the top half to deep purple on the bottom. It is a very pleasant label with the white cursive lettering of the name of the beer and bold white lettering spelling out Powell Brewery.
There is, at first, a moderate head. But like most sour beers, it dissipates as quickly as it emerges, leaving your beer with zero head.
There is a moderate level of carbonation to this beer that helps to make the aromatics pop even more and give you a nice crisp finish with each sip.
Rundown
If you like complex beers, this one is for you. There are so many things that are in harmony here that it would be a shame to not say that this is a beautiful beer. Very tart, slightly funky, and you certainly can get notes of both the white wine and gin.
Want to see a beer featured in B.C. Beer Reviews? Comment below with your suggestion. And if you want to see more consistent reviews of the fantastic beer this province has to offer, you can support B.C. Beer Reviews on Patreon.
And if you want to see all of the photos featured in these articles, and other awesome beer pictures, you can do so by following me on Instagram: nhendy5. You can also see much more concise versions of these reviews by adding me on Untappd: RedArmyNic.
Main photo by Nic Hendrickson, Lastword Inc., all rights reserved