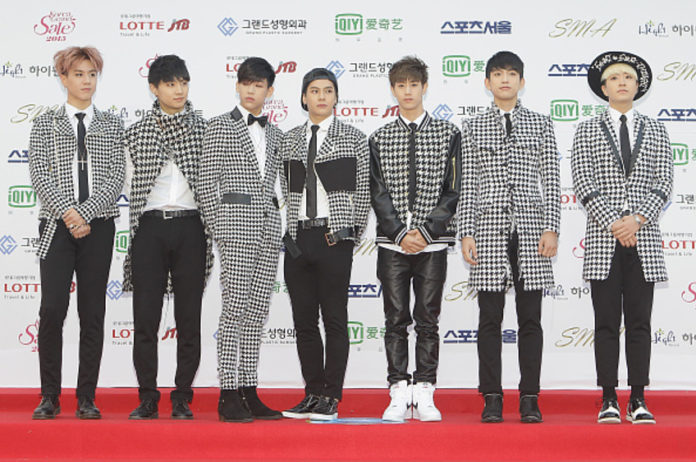 Now that we are fully out of the clear of summer themed releases, the month of September brought a wide range of releases. Let's take a look back at what I thought were the best K-Pop releases for the month of September.
A Look Back At The Month Of September 2018 In K-Pop
It was a strong debut in September for GWSN as they released the mini album "THE PARK IN THE NIGHT part one." The group is not to be confused with WJSN, who had an even bigger month. The group is label Kiwi Pop's first shot at making a girl group. Kiwi Pop is a small label owned by Kiwi Company, which seems to be a huge company specializing in business needs (e.g., advertisements, management, etc).
The title track for the album is called "Puzzle Moon." It follows the industry trend of having a very EDM-centered chorus with most of the vocals happening in the lead-up and follow-up to it. We see a similar situation in a SHINee song which will be discussed later.
The music video for the song is, or at least, puts on the illusion that it is high budget. The song is catchy with good choreography. Many tracks on the mini-album were hidden gems. "Shy Shy" was another catchy tune that used the phrase that WJSN used for a song: "Dreams come true" (I'm not insinuating anything with these comparisons, it's just a funny coincidence). Despite being annoying to type out, "Let It Grow ~ a little tree" is a cute and easy to love song. As a matter of fact, I'm going to bring it down to an acronym. With "LIT~ALT," the group sort of strays away from what you could call a "girl crush" concept that they use in the title track.
When you listen to The Boyz and their three title tracks so far, you can tell that the group has developed their own specific sound. "Giddy Up" was the leading song for their second release and draws lots of comparisons to "Right Here," the title track for their third release "The Sphere." When you listen to both tracks, they just sound fun. I have always known The Boyz for having astounding choreography. I consider their debut track "Boy" their best, but "Right Here" also has good dancing in it.
SHINee put together their sixth album in September. It's a come together party for all of their recent smaller releases. Because of this, there are many music videos that come with this release. "Our Page," "Good Evening," "I Want You," and the newly released "Countless" all have music videos shot for them. "Countless" is a tropical pop song that has a very beautifully shot music video. What caught my eye the most on this album were songs that didn't have music videos. "Retro" has that title track feel to it despite being just past the halfway mark on the release. The song "Electric" has that Electronic sound that was previously mentioned for GWSN's song Puzzle Moon. I've never considered myself a big SHINee fan, but for a week or so these were my most listened to songs.
For a while now JYP has been using GOT7 as their international guinea pig. The group is currently doing their world tour, which travels to four continents and fifteen countries. Now, the group put out four variations of a single song. "Lullaby" has its original Korean version, but it also has an English, Spanish and Chinese version as well. I'll come clean: I haven't listened to the whole album yet, but the title track "Lullaby" is one amazing song. The chorus is satisfying to listen to, in the same way that watching a cube of cheese perfectly being cut in half is. In both scenarios, something about it just feels perfect.
Jimin Park's return to her soloist career was long overdue. Aside from small collaboration projects, up until September, the performer hadn't put anything out this year. Along with her fanbase, Jimin expressed frustration about being benched on After School Club, a TV show that she co-hosts. When talking about 2018 New Year's resolutions, Jimin nearly begged JYP, the label that she is signed to, to let her sing. "I'm a singer! I have to sing, but I don't sing," she proclaimed while being held back by her colleagues.
Last month she was finally given an album in "jiminxjamie," with the track "April Fools (0401)" having a music video shot for it. This song showcased her powerful vocals in a very hostile tone. The music video that is paired with the song is nearly comical, yet has a serious undertone in the lyrics. The comical sense of the video is how Jimin's boyfriend is injured because a bed collapsed on him. Another track on the mini-album that caught my eye was "하나 빼기 둘 (Count You Out)." This song, while not personifying what a title track is about, got more listens out of me than "April Fools" did. This song showcases her vocal talent even more. The R&B style was absolutely mastered with the release of this project.
The past 12 months for Sunmi have been nothing but net. In August of 2017, the soloist put out "Gashina." The catchy song caught viral fame due to the gun dance during the chorus. Compilations were made of various idols parroting the dance at fanmeets and other events. And then, Sunmi sees success once again "Heroine." On the latest mini-album "WARNING," Sunmi promoted "Siren" as a title track. The song feels like a more somber version of her last two hits. Nothing was somber at all about this song's success. "Siren" gave Sunmi six music show wins, improving from four wins with Heroine and five with Gashina. The intro track called "ADDICT" was also an interesting song to me.
NCT Dream's mini-album, titled "We Go Up," had no shortage of tracks with replay value. For starters, the uplifting title track "We Go Up" has an English chorus that will stay in your head for a while. The music video is bright and colourful. The rap in the song is used at appropriate times and doesn't feel forced in.
In the mini album, I found two more songs that were very enjoyable. The first one was "1,2,3," which was performed on music shows along with the title track. The song is much more laid back, making it a perfect one to perform before the energetic title track on shows. Finally, "Drippin'" was my final pick for this album. It is similar to the previously mentioned "Puzzle Moon" and "Electric" because of it's EDM/Dance music influence.
This month was the biggest in the history of WJSN. Despite the group not having all members on board due to some participating in a temporary group as part of the Chinese spin-off of Produce 101, and another member filming a movie, the group won their first music show. This was a long time coming for the group since they came around in 2016. The music video gives off a mystical, Harry Potter vibe.
Looking Back, And Now Looking Ahead]
If you want to listen to every track listed in this article, I put together a Spotify playlist:
The month of September provided so many hits. As I said before, this month had no real theme, so it gave people the creative leeway to do whatever they want. October will be similar to that, with hopefully a Halloween themed song like TWICE's hit song "TT" coming around. As the leaves on trees start to drop, hopefully a few hit projects will as well.
Main Image Credit: