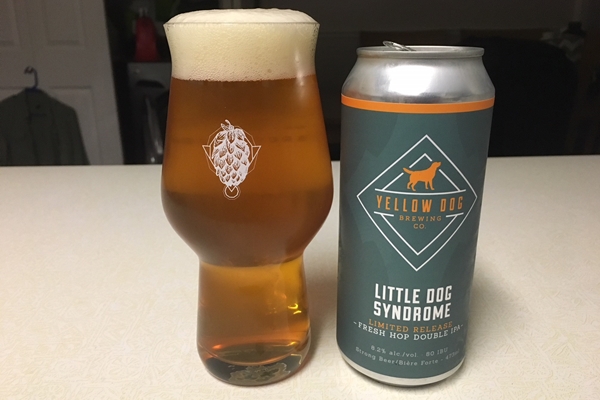 This time of the year means two things: rain and fresh hop beers. Yellow Dog Brewing is diving head first into the pool with their big Double IPA by the name of Little Dog Syndrome. B.C. Beer Reviews is here to crack this one open and check out the hoppy goodness inside.
B.C. Beer Reviews: Yellow Dog Brewing – Little Dog Syndrome
Colour
Pales a clear copper colour from the can. In the glass, it is a nice copper-amber colour that retains its perfect clarity. You can see straight through this beer.
Nose/Aroma
There is a grainy sweet aroma to this beer. This is not surprising whatsoever given the ABV clocking in at 8.2%. While you get this immediately, it is most certainly not the strongest aromatic this beer has to offer.
There is a sweet citrus aromatic as well. It is very smooth and pleasant overall. All in all, it is very appealing.
You get a grassy and vegetal aromatic from this brew. Given that it is a fresh hop beer, that is to style and light enough to be pleasant. It makes for a very nice note.
Tasting Notes
Once again, there is a light grainy sweetness to this beer immediately. This sweetness is unsurprising for the ABV and it helps to balance out the otherwise very Hop-forward beer.
There are sweet citrus notes complimented by a subtle piney bitterness in this beer. This is accompanied by a grassy characteristic that is common with fresh hop beers.
Other Notes
The labeling is a nice aqua colour with a yellow-orange border. The Yellow Dog Brewing logo is front and centre. It is a pretty straightforward label, much like the rest of their cans.
This beer pours a massive head initially. The retention of that head is not as impressive, but it sticks around long enough to be worth noting.
There is a massive amount of lacing on the glass from this beer.
Rundown
This beer presents you with citrus and sweet grainy notes in both the aromatics and the taste. There is the grassy note you get from fresh hop beers and a pleasant bitterness as well. This is certainly a very tasty fresh hop brew.
Want to see a beer featured in B.C. Beer Reviews? Comment below with your suggestion. And if you want to see more consistent reviews of the fantastic beer this province has to offer, you can support B.C. Beer Reviews on Patreon.
And if you want to see all of the photos featured in these articles, and other awesome beer pictures, you can do so by following me on Instagram: nhendy5. You can also see much more concise versions of these reviews by adding me on Untappd: RedArmyNic.
Main photo by Nic Hendrickson, Lastword Inc., all rights reserved