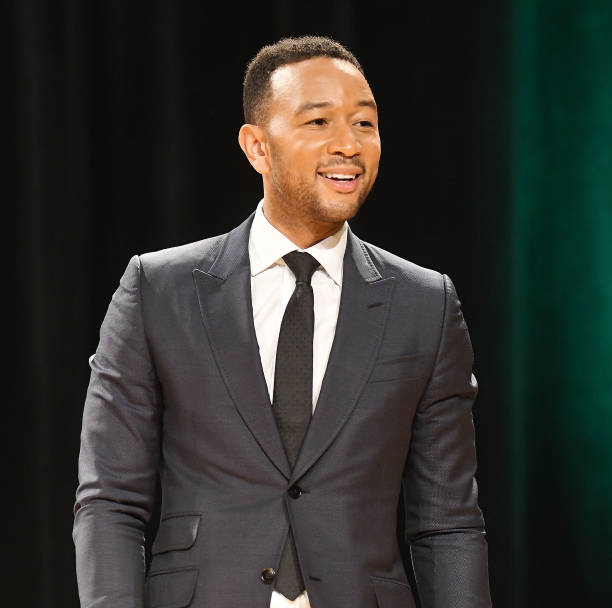 SM Entertainment will soon release their first international collaboration from "SM Station X 0", featuring Red Velvet's Wendy and John Legend. Rumors started to swirl about the project a couple weeks ago and was confirmed shortly after with a formal announcement. The track "Written In The Stars" will be an English only single coming out on August 19th.
?존 레전드(John Legend) X 웬디(WENDY) 'Written In The Stars': 2018.10.19. 6PM (KST)#WENDY #웬디 #JohnLegend #존레전드 #WrittenInTheStars pic.twitter.com/GZsRMKVMh4

— Red Velvet (@RVsmtown) October 8, 2018
John Legend to Collaborate With Red Velvet's Wendy for Single
SM Station and How They Made It Happen
The collaboration comes through SM Entertainment's project called "SM Station X 0". The vision behind the project is to get talent from SM to produce one-off singles with others, whether it be from different groups, or even from different labels. All previous releases through this season of the project have been of South Korean acts only. Before this collaboration, the biggest release was "Wow Thing", a song that included Red Velvet's Seulgi, GFriend's SinB, soloist Chungha and (G)I-dle's Soyeon. Out of all four artists, only one of them was signed to SM. The song currently sits at 16 million views on Youtube.
"X 0" is a spin-off from "SM Station", which did two seasons of collaboration tracks released on a weekly basis. This continued from early 2016 to mid-2018. The "X 0" series operates on a similar mantra but doesn't adhere to a weekly quota. The two seasons of SM Station often used only SM talent, but similar to what is soon to happen now, they would have international talent collaborate as well. Boy group EXO had their hit song "Power" remixed by R3HAB and Dash Berlin separately. Both musicians are very prominent in the EDM/DJ scene.
Red Velvet's R&B Background
Wendy's group Red Velvet at the surface looks like a bubblegum or dance-pop group but has a significant amount of R&B songs as well. The group is marketed that way intentionally, with the name Red Velvet itself reflecting an "R&B-based sound ('velvet') against catchy pop music ('red')". The group's biggest venture yet into a more R&B sound was "Bad Boy", a song which lead their second album repackage of The Perfect Velvet. The song made waves in the scene, reaching #2 on Gaon charts and on the Billboard US World Digital Songs chart. The song also received a fully English adaptation in August along with the group's mini-album titled Summer Magic.
The track also reached 87th on the Canadian Hot 100, something that had only happened to K-Pop acts 6 times before this. Coincidentally Wendy grew up in Canada after living in South Korea before. Wendy found her way to SM Entertainment after attending an audition held in Canada.
What's Next for Red Velvet and John Legend
Red Velvet is not touring or promoting an album right now. Naver reported a few weeks ago that the group is currently working on a release which will come in November, although no sources from inside the company have confirmed it. Seulgi,  a member of the group, is featured on Zion.T's song "Hello Tutorial" which came out on the 15th. The song is the title track of ZZZ, the latest mini-album from the soloist.
John Legend has quite the busy schedule ahead of him as he is currently preparing for a Christmas tour that goes from November 15th to December 30th. "A Legendary Christmas Tour" is named after the soon to be released 14 track Christmas album. Legend has already put out two of the songs that are on the album, one of them being a cover of Frank Sinatra's (no pun intended) legendary "Have Yourself A Merry Little Christmas" featuring Esperanza Spalding.  The full album A Legendary Christmas is slated to come out on October 26th.
Release on the Horizon
"Written In The Stars" is set to be a big collaboration from SM Town. What can be expected is hard to tell right now, but will be known in only a few short days when the song comes out.
하단의 링크를 통해 더 많은 사진을 확인하실 수 있습니다.
?https://t.co/ZvsOtrbbZr

?존 레전드(John Legend) X 웬디(WENDY) 'Written In The Stars': 2018.10.19. 6PM (KST)#WENDY #웬디 #JohnLegend #존레전드 #WrittenInTheStars pic.twitter.com/PFEbvy3vUb

— Red Velvet (@RVsmtown) October 9, 2018
Main Image Credit: