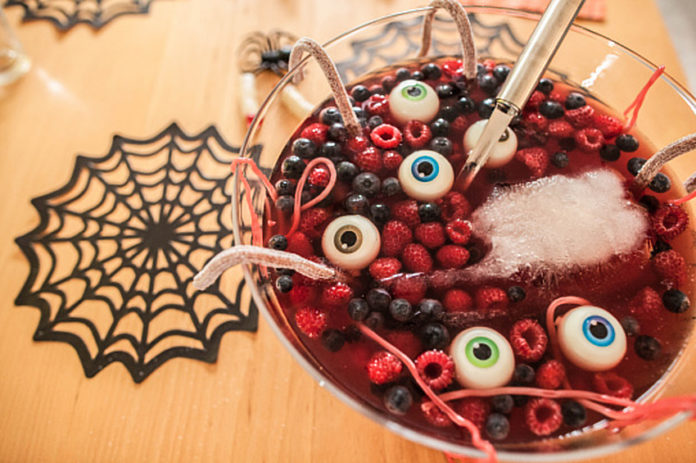 If you want your Sunday Halloween-themed game day menu to be remembered, you will need some New Orleans-based recipes. New Orleans exemplifies Halloween and is also known as one of the most haunted cities in America. Its history is filled with tales of supernatural events, haunted buildings, black magic, witchcraft, and of course the infamous Marie Laveau. In her day, Laveau was known as the "Voodoo Queen" of New Orleans. We won't be practicing Voodoo today, but our menu will conjure up nothing but smiles from your tailgate guests.
Halloween Game Day Menu
Halloween game day is quickly approaching, so we're going to cover some favorites from "Nawlins" that your guests will love. The recipes include Grilled Shrimp Po' Boys, Jambalaya, Ghost Pepper Wings, and the infamous Hurricane to cap off your Halloween game day.
Grilled Shrimp Po' Boys
Po' Boys are found all over New Orleans. They come many different ways, but our favorite is with grilled shrimp. We're going to teach you how to construct this incredible sandwich and also how to create the Cajun mayo topper.
What You'll Need:
1 pound of 26-30 count shrimp (peeled/deveined)
1 long loaf of soft French bread
3 tomatoes (thinly sliced)
1 bag of shredded lettuce
2 cups of mayonnaise
1 small can of chipotles
4-5 tablespoons of olive oil
Lawry's seasoning salt, granulated garlic, Cajun spice
wooden skewers
Take the thawed shrimp and place them in a large sealable plastic bag. Drizzle in the olive oil and add in the seasonings. Close the bag and shake the shrimp until they're covered in all that goodness. Let the shrimp marinade for about 30 minutes and then skewer them for grilling. You should try and have six per skewer, which will work perfectly when assembling the Po' Boy.
Cajun Mayo
Empty the can of chipotles into a large bowl, and chop them up fine. Add in the two cups of mayo to create the Cajun mayo that will add zip to your creation.
Prep Time
Take the loaf of French bread and cut it into six-inch-long pieces. Slice open the bread lengthwise, and then lay the pieces out for the Po' Boy creation process.
First, you need to make a layer of shredded lettuce on the bottom. On the top half, give it a smear of your Cajun Mayo, then place the thinly sliced tomatoes on top of that. Your Po' Boys are now ready to receive the shrimp.
Grill Time
Place the shrimp skewers onto your grill directly over the coals/heat. The shrimp should be only grilled for 2-3 minutes per side to avoid overcooking them. Remove the shrimp skewers and gently slide the six shrimp onto the awaiting Po' Boy sandwiches. Fold together and serve your creation to your guests who will instantly be taken to New Orleans as they enjoy.
Jambalaya
1 red onion chopped
1 red pepper chopped
3 stalks of celery chopped
1 lb. medium 31-40 count raw shrimp
1 chicken breast cut up
2 cups water
1 lb. smoked or Andouille sausage cut up
1 1/2 cups uncooked white or brown rice
32 oz box of chicken broth
2-3 tablespoons olive oil
1-2 tablespoons Frank's hot sauce
Season to taste with Cajun seasoning, Lawry's, granulated garlic, black pepper, cayenne pepper (optional)
Use a large pot or stock pot. Sauté the seasonings with the red pepper, red onion, and celery in olive oil until they're almost soft. Add the chicken breast and sausage, then simmer 10-15 minutes or until done. Slowly pour in the chicken broth and water then bring to a boil.
Next, add rice and hot sauce to the pot, and then simmer on medium heat for 30 minutes. Stir occasionally while the rice cooks. After 30 minutes, the rice should have plumped up and absorbed the liquid. (Brown rice takes longer than white.)
If the jambalaya is too thin, add another 1/4 cup of rice and simmer 15-20 minutes. If the jambalaya is too thick, add some water or chicken stock. The shrimp should be added into the pot during the last 5 minutes of cooking.
Serve with your favorite adult beverage, and enjoy!
Ghost Pepper Wings
Ghost pepper wings are simply our regular hot wings jacked up a few notches with added ghost pepper sauce. Prepare your wings based on our wing directions using a fryer or your grill. Using the recommended Frank's Red Hot as your base, add in a few drops of the ghost pepper hot sauce. (Editor's Note: There are tons of ghost pepper sauces on the market. Research your sauce selection carefully.)
Begin with a small dose, sample, then add in more ghost pepper sauce until your mouth can't take any more heat. You may want to create several batches of your ghost pepper wing sauce so your guests can choose their level of heat. Some may like it less spicy, and others may want it "what is wrong with you?" spicy. Either way, your guest can pick out their level of heat before you coat the wings.
The Infamous Hurricane
Traditional Hurricane Recipe:
2 oz light rum
1 oz orange juice
2 oz passion fruit juice
2 oz dark rum
½ oz fresh lime juice
1 Tablespoon simple syrup
1 Tablespoon grenadine
Garnish: orange slice and cherry
Shake all ingredients in a cocktail shaker with ice and strain into a Hurricane glass filled with ice. Garnish with a cherry and an orange slice.
Game Day Menus
Today's New Orleans-inspired Halloween game day menu will be a hit for sure. Stay tuned as we offer up future game day menus to go along with our previous menu hits below. Click on the links to check out our past creations. Enjoy! Or as the say in New Orleans: "Laissez les bons temps rouler!" = "Let The Good Times Roll!"
Main Image Credit: