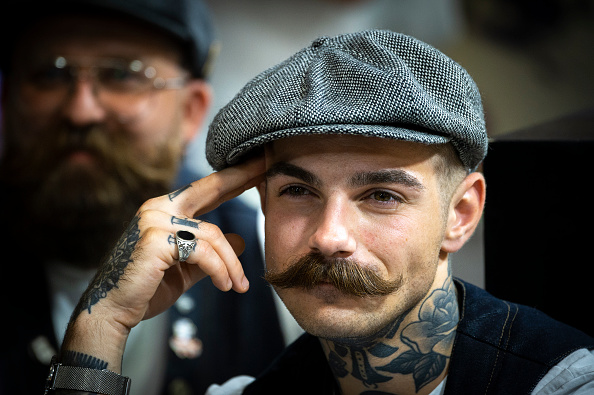 Lumberjacks, Vikings, Hipsters, and Gandalf the Grey. They all have something in common. Masculine, sexy, amazing facial hair.
November is not only the month of Thanksgiving, but it is a time to celebrate for all of the men out there. Across multiple generations of men, November is more famously known as No-Shave November. Traditionally created to spread awareness for cancer patients and embracing hair growth, most people see it as a cultural phenomenon. For an entire month, most men will not shave, trim or cut their facial hair. Only to let it grow.
No-Shave November has not only promoted awareness for a good cause but has allowed men to radiate with different types of facial hair styles.
But by far, one of the most common and popular styles nowadays is the lumberjack beard. AKA the mountain man beard, they are depicted as being manly, powerful and sexy. Many famous men have sported these masculine trophies. From Charles Darwin to Abraham Lincoln, and Nick Offerman to Reinhardt Wilheim from Overwatch, beards have been made quite the mark on the history of men.
However, beards are not the easiest of chores to accomplish. Much like bathing or brushing your teeth, grooming your facial hair takes time, patience, effort, and hard work.
Movember Grooming Tips:
Styling/Use of Beard Products
– Think of your mustache or beard as the hair on your head: you do need to maintain it in order to keep it happy and healthy. Wash it, clean it, style it, perfect it. Taking care of your facial hair is not an exact science, but it does take time and effort. Remember, hard work equals success.
When you are able to edit your facial hair to the desired specifications, then you have access to use styling products.  For example, beard oil and beard balm are the main products that you will want to take advantage of. They both prevent facial hair from getting a scraggly, messy look.
In general, beard oil helps not only moisturize the skin under your facial hair, but helps maintain a visually healthy beard. Ingredients help tone down the beard by taming the hairs to give it a more uniformed appearance. Beard oil also helps the hairs from getting a wiry and flakey appearance. Plus, the nice sheen it gives also makes the beard look striking to the eye. Depending on the size and volume of your facial hair, usually a few dabs from your index finger is enough to do the trick.
Beard balm serves a similar purpose to beard oil but is usually reserved for larger, thicker beards. Beard balm is the equivalent of pomade for head hair, but most balms will help nourish the hair. This prevents the hairs from drying out but keeps in moisture at the same time. Balms will have similar feel and appearance to vaseline and gel. However, you only need a small amount when styling your beard. Pick some out with two fingers, rub throughout your hands, massage gently, and voila! A little bit goes a long way.
Major brands to look out for: Cremo, The Beard Club, Beardbrand, Honest Amish, Every Man Jack, Baxter, Proraso
Price Range: While a lot of the exquisite brands can be quite pricey, most oils and balms will be wallet friendly. If on a budget, Target and Amazon carry the mentioned brands, and then some.
Tools to Keep in your Manly Arsenal
– Chemical tools are only half the battle. When styling and grooming, physical tools are needed for sure. Tools such as scissors, trimmers, and brushes are some of the main items to keep in your manly grooming arsenal.
Scissors and trimmers will serve the same purpose but will differ in styles and detailing. While electric trimmers will offer speedy cutting over more surface area, scissors are more precise and smaller. Trimmers can have settings on how much you want to cut off. Scissors will nip and cut smaller areas, and get rid of straggling hairs that are hard to get at.
While trimmers and scissors are the brain and heart, brushes are the backbone of the grooming kit. While beard brushes look like a grooming tool for a horse, they are quite beneficial. Small, handheld and strong, beard brushes serve as another tool in order to tame your facial hair. Brushes not only maintain a healthy appearance but train your facial hairs into staying nice and neat. It also helps clean the beard of debris and food particles gathered throughout the day.
Traditionally, brushes have been made out of boar or horse hair, the most common being the former nowadays. Boar hair is thick and course, and is quite durable. The boar bristles will stimulate the hairs to become more organized, which gives the beard a more healthy appearance. Combs and brushes with handles are other alternatives that you can use to groom your facial hair. Not to mention, most brushes will be cruelty-free.
Major brands to look out for: Beardaholics, Beardbrands, Beard Club, Beard Captain. The good thing about brushes is that they last a while. Any bristle brush will do the trick for the most part.
Price Range: Most will be around five to 10 dollars, Target and Amazon will be your savior once again in this department. Most luxurious brands that are handmade usually reside on the expensive side of the spectrum.
Final Review:
– When you grow out your facial hair, you want to make a statement, but show friends and family you know how to take care of yourself. Taking care of your body, even your facial hair is a sign to others that you care about your appearance. It also shows a lot of your personality and who you are as a person. Hey, if a woman compliments your beard or mustache? Major brownie points. The beard of a man is akin to the mane of a lion. Flaunt it, perfect it, groom it, clean it.
Main Image Credit:
Embed from Getty Images