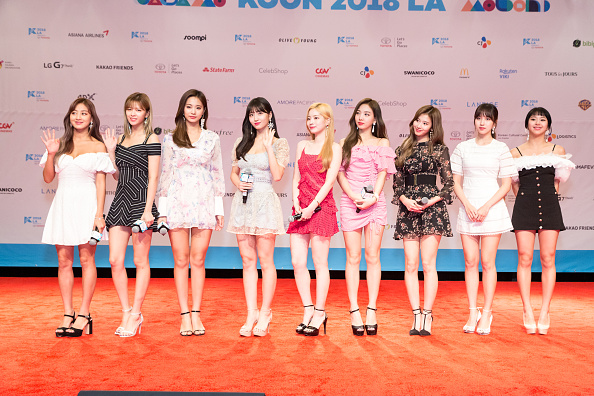 The first week of November is only the start of what should be a hectic month for K-Pop. We've already seen boy group EXO have their first comeback as a whole group since 2016, with the full album Don't Mess Up My Tempo. The first full November based week includes "the nations' girl group" TWICE leading the charge. Following them is many other groups like Gugudan and the soon-to-debut Dreamnote. Let's start by looking at TWICE and their very awaited comeback.
A Preview of This Week In Kpop
TWICE – YES or YES
TWICE has already had a successful 2018, having two major comebacks with the songs "What Is Love?" and "Dance The Night Away." The group also stayed busy outside of Korea putting out Japanese album BDZ. TWICE hope to close out the year with a successful release of the group's 6th mini-album. Announced on the 19th of October, the project titled "YES or YES" will share the same name of the title track on the album.
From the released teasers the fanbase of TWICE known as ONCE's have been able to hear the intro and chorus of the song. Also shown was some of the choreography. While the song sounds glittery and cute like most TWICE songs, the video is darker than what we have seen recently. The last time the group went for a look this different was back when the song "TT" was released, which was only semi-serious since it followed a Halloween theme. TWICE is known as a "cute" group that puts a unique top-40 sounding spin on bubblegum pop, although this might be a change for the group.
TWICE is scheduled to have their comeback showcase at KBS Arena on the 5th. JYP loves to drag out online promotion as much as possible, so take a look at the lengthy list of teasers linked below.
| | |
| --- | --- |
| 10/19/18 | |
| 10/22/18 | |
| 10/23/18 | |
| 10/24/18 | |
| 10/25/18 | |
| 10/26/18 | |
| 10/27/18 | |
| 10/28/18 | |
| 10/29/18 | |
| 10/30/18 | |
| 10/31/18 | |
| 11/1/18 | |
| 11/2/18 | |
| 11/3/18 | |
Gugudan – Act.5 New Action
Gugudan is set to have their second and final comeback as a whole group in 2018. The Mini-album Act.5 New Action comes 363 days after their November of 2017 release titled Act.3 Chococo Factory. This mini-album was headlined by "Chococo," a song that I personally really enjoyed. Chococo went somewhat unrecognized compared to their other releases. "The Boots" came out in February, being an absolute 180-degree turn from the concept that Chococo brought. Since then the group hasn't done anything as a whole, with the only activity being the launch of the sub-unit SEMINA.
This time around Gugudan is prepared to release title track "Not That Type" along with five other songs on the project. The only audio currently out is in a highlight medley of the album and a video called "choreography spoiler." The choreography spoiler was shot in a lost tape sort of style. The music in the song sounds so different from their past releases. Alongside "Not That Type," the song "Shotgun" caught my ears. Small snippets of a song can be deceiving, but from what I heard it sounded like a song that could easily swap in as the title track. Gugudan is set to have a showcase of their latest mini-album on the 6th.
| | |
| --- | --- |
| 10/26/18 | |
| 10/27/18 | |
| 10/28/18 | |
| 10/29/18 | |
| 11/1/18 | |
| 11/2/18 | |
| 11/3/18 | |
| 11/6/18 | |
Key (SHINee) – Forever Yours
The past few months have been busy ones for SM's boy group SHINee, but not too busy for member Key, who is having his debut pre-release single this week. The song "Forever Yours" has SOYOU featured on the track. She just recently put out a mini-album titled RE:FRESH. It wasn't long ago in September that SHINee put out their 6th album, an absolutely packed 16-track project which got featured on the site's best of September. In the previews, the song sounds like it has an upbeat soundtrack along with relaxed vocals. Just like any other SM Entertainment music video, it looks very high production.
| | |
| --- | --- |
| 10/29/18 | |
| 10/31/18 | |
| 11/1/18 | |
| 11/2/18 | |
| 11/3/18 | |
| 11/4/18 | |
Dreamnote – Dreamlike
There is a debut this week for a new girl group called Dreamnote. The group doesn't come from a prominent label so there isn't much chatter around them currently. While the title indicated that there will be more than one music video teaser, at the moment there is only one. The snippet of the song in the video makes it sound song of pop-rock-ish. To promote their debut they currently have a webisode series on VLive called This is DreamNote. Each of the four episodes averages around 15 minutes long.
| | |
| --- | --- |
| 10/16/18 | |
| 10/17/18 | |
| 10/21/18 | |
| 10/23/18 | |
| 10/25/18 | |
| 10/31/18 | |
| 11/1/18 | |
MXM (BRANDNEWBOYS) – One More
MXM (BRANDNEWBOYS) caught my eye back in January when they put out the mini-album titled Match Up. I considered "ERRDAY" a spectacular clash of sounds. Since then the group hasn't slowed down in the slightest, putting out the full album More Than Ever back in August. The group is currently in Brazil on tour but will be back soon for their latest release called One More. Currently, there are no audio previews of anything, but there is a tracklist. The release looks to be three songs with the first two both being title tracks. The third track has Youngmin only on it.
| | |
| --- | --- |
| 10/29/18 | |
| 10/30/18 | |
| 10/31/18 | |
| 11/1/18 | |
Japanese Releases
On the 7th this week Japan will see hit BTS and MOMOLAND songs released in their own language. BTS will put out a Japanese release including "Fake Love" and "Airplane pt.2" as MOMOLAND will have their song "BAAM" put on sale as well.
Next Week
This week is only the start of what should be an exciting month. Next week we will take a look at D-CRUNCH, BTOB, Jennie from BLACKPINK, and many others.
Main Image Credit:
Embed from Getty Images