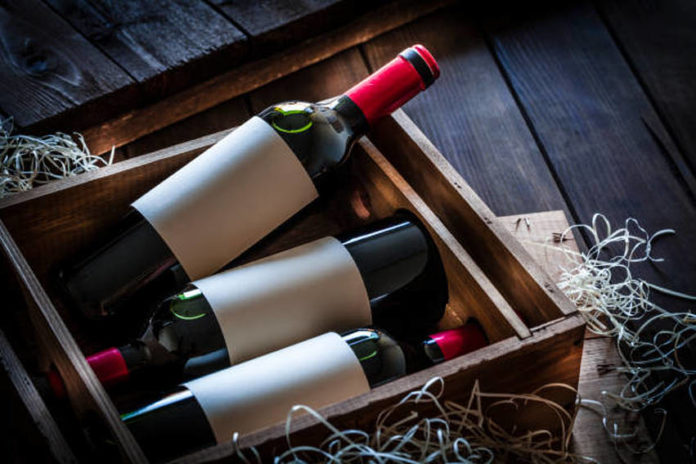 Wine is something we all either pretend to know a lot about, openly admit we know nothing about, or just generally feel nervous when asked about. The morning of my twenty-first birthday I had a mission to enter the world of legal drinkers without feeling bogged down by this insecurity. A few weeks earlier I had stumbled across one of the more popular wine subscriptions, WINC (then still going by its longer name: Wine Club), and its mission to make wine more accessible, both to those of us who feel timid when approaching the drink as well as those of us who really are just fundamentally over going to the store.
The Life of a Monthly Wine Club Member
How do you like your coffee? What are your feelings about salt? How about citrus? These are just a few of the questions WINC asks in order to get started in building a box of wines customized to your palate that will show up on your doorstep once a month. They offer a basic package of featured wines that come in at around $13 per bottle on average as well as an upgraded selection of select wines whose prices range up to $46 per bottle. You get to pick the number of wines that you receive each month as well as the number of whites versus reds in each box, and as long as you get four bottles per month, shipping is free. Best of all, throughout the process you get to rate the wines you receive, influencing what sort of wines the service sends you in future shipments and allowing the site's profile of your palate to evolve with your tastes.
WINC: The Perks
Perhaps my favorite part of being a member of WINC for the last few years has been getting to read the booklets that come with each shipment. Each month's unique booklet contains tasting notes and recipe suggestions for dishes that will pair well with each wine you've just received courtesy of Food52. To me, this was what made WINC worth it instead of going to the grocery store and spending $13 on a bottle of wine. I still tend to avoid talking about my wine using the terms I learned from these booklets purely out of my misguided fear of pretentiousness even though that's clearly what this is all about, but the booklets have helped me to understand what to look for in wines when I do come across them on the shelves of a store.
Additionally, probably the only reason I'm still a member of WINC is the ability to skip any month as long as you do so 48 hours before the scheduled ship date. Since you only get free shipping if you choose to receive 4 bottles per month, it's really not worth subscribing if you want any less since you end up essentially paying the equivalent of a ghost bottle of wine in the shipping and handling fees. Because of this, there ended up being many months where I didn't get through all of my wines and didn't feel the need to get any more or simply (more often) couldn't afford to. In the last three years of being a member of WINC, I've probably skipped more than half of my scheduled shipments with no penalty, and knowing I have the option to do so has kept me from canceling my subscription close to twenty times.
WINC: The Parts to W(h)ine About
That being said, if you do rely on the skip-a-month feature as heavily as I do, it's vital to be proactive about staying on top of your shipping dates, which I historically haven't been. At this point, I keep a reminder on my phone for the 12th of every month to log on and skip my order if I need to, but the only reminder from WINC that you're getting a box of wine comes in after its already been shipped. These reminders are still useful since you need to be home to sign for the wine with your ID verifying your age at the time of delivery, but even though getting wine in the mail can make us feel like we're leading a luxurious life, our schedules don't always allow us the luxury of being home at 1 pm on a Tuesday to sign for it. I consistently play delivery-tag with FedEx and end up just having to pick up my package from a FedEx pickup location, something that someone smarter than me might just set as their shipping preference in the first place.
On top of this, even if the skip-a-month feature isn't enough to keep you around, the process of canceling is complicated enough that it's likely to discourage you away from doing so month after month. There's no easy "I'd like to cancel my subscription" button anywhere on the site, and only in a small corner of their customer support page at the end of a nearly 1,000-word plea listing every reason you shouldn't cancel do they finally, briefly mention that you must call in, talk to customer support, and likely verbally listen to this plea once again if you'd like to cancel. I understand wanting to keep your customers, but one of my clearest memories from the day I signed up was the boldly lettered claim on the website's homepage that canceling is easy and can be done at any time.
The Competition
There are many services out there that are pretty similar to WINC, the others just didn't happen to be force-feeding me Facebook and Instagram advertisements for the month leading up to my 21st birthday (which is honestly probably to their credit). Now that I'm looking at all of the other wine subscriptions out there, I'm realizing that maybe it would have been smart for me to do some more research three years before signing my life away to this wine subscription instead of only finally checking out my other options now.
Bright Cellars seems to follow the exact same process as WINC. You complete a taste profile survey at the beginning, wines are suggested to you, then you rate them as you go to shape what your future deliveries will look like. Bright Cellars seems to have the most exhaustive survey, even asking what sort of environment you like to drink your wine in and going into much greater detail than WINC on their taste preference questions, but costs $60/month for 4 bottles of wine, bringing us to $15/bottle. This isn't that much more than WINC, but shipping doesn't appear to be included, likely raising your average cost per wine even more.
Tasting Room, which is run by Lot 18, the same service that provides wine for HelloFresh, starts by sending you six mini-bottles to taste and rate that will help to shape your personal wine profile. They do offer a survey at the beginning that lowers the price of the initial tasting box but doesn't seem to affect what is shipped in this box. If you complete the survey, the tasting kit is lowered from its apparent retail price of $39.95 down to $9.95. This to me just looks like it was probably never actually going to sell for $39.95 in the first place. Also, from what I can tell, you don't really get to see how much the monthly shipments are until you sign up, which I, unfortunately, can't do because I'm not currently leading a luxurious enough life to be a part of two different wine clubs.
Vine Box is pretty structurally similar to WINC, but the wording on the intake survey requires you to already have a grasp on how to talk about your tastes. They also seem to take more liberty in deciding what you should taste. Their website says that they'll "take your preferences into account but may throw a curveball or two at you" since "discovery is part of the experience and tastes change," which I'm all about. Having learned more about my preferences at this point from WINC, this seems like a nice next step in exploration, but maybe not like the best for the first-timer wine subscriber. They send 9 wines 4 times a year at $72 per shipment, which comes in at just $8 a bottle but requires a heftier individual payment since their boxes contain such a variety and come less frequently. However, they also offer a one-time purchase of 9 wines for $87, which comes in at just under $10 a bottle and doesn't require any sort of commitment and won't catch you off guard three months later when you wake up to an email that you've overdrafted your bank account because you were charged $72 for a wine subscription you forgot to cancel.
Gold Medal Wine Club has an even heavier hand in curating your monthly wine experience versus letting your tastes shape it. They offer 6 different monthly wine clubs ranging in price from $39-$179 per month. The variety in these packages seems excellent for someone who knows what they want and has the budget, but there is no sort of taste profiling to begin the process, and even the $39 package only sends 2 bottles per month.
This past summer we tried out Blue Apron and HelloFresh, both of which we learned offer wine delivery along with their more popular meal kit services. The companies' sommeliers pick wines that will complement the recipes you've chosen for each delivery cycle then ship them to you as well. While this is great and you'll probably get some tasty wines and feel elegant for pairing them properly with your meals, it's just a little less personalized. Both of these services are still educational as the wines do come with tasting guides the way WINC does, but easy-to-make meal kits are the real point of Blue Apron and HelloFresh with the wine just serving as an accessory. They tell you what sort of wine you should like with certain foods, whereas these other services help you to figure out what you even like in the first place.
Last Word on Monthly Wine Subscriptions
Next month, it will have been three years since I signed up for WINC, and honestly, I still feel pretty silly every time I try to talk about what I like in a wine or why. That being said, I have gotten better at picking out wines that I end up liking, but at this point, that may have more to do with experience than anything. One of the last questions in the WINC taste profile quiz is how much you usually spend on a bottle of wine, and when it comes down to it, price is often how I choose the wine I'm going to drink in a restaurant or buy from the store.
There aren't really any downsides to having a wine subscription as long as shipping is free and you like wine enough to drink and share it in a timely fashion before your next shipment. You'll also probably learn at least a little. The biggest takeaway from my own experiences with WINC is that it's absolutely worth doing your research and checking out what people have to say about different clubs before joining one. Some of these services cater much more to a first-timer looking to learn about their own palate and build a vocabulary so they can navigate wine labels with confidence while others are better suited for the seasoned wine drinker. Some expect you to already have a grasp on what you mean when you say you want a wine that is easy, bold, or rich while others want to teach you. Figure out what you need, and don't assume that the one that's been the most advertised to you is the best fit for you.
It's also important to keep in mind that not all states allow shipment of alcohol from out-of-state manufacturers. If that's the case where you are, you'll unfortunately still have to face the outside world to get your fix, but drink up.