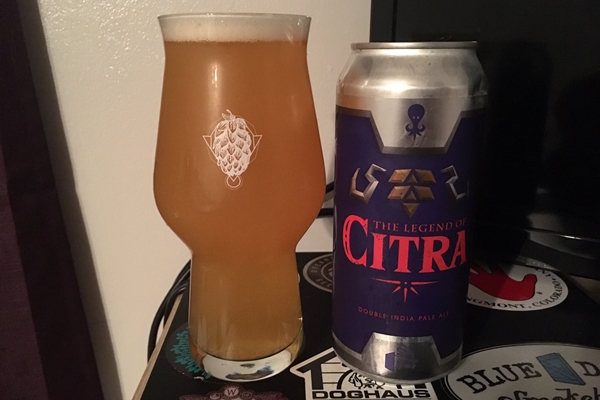 While some have said the haze craze would pass, it seems this is not the case for British Columbia. The hazy and juicy beers out there are undoubtedly thriving, and Boombox Brewing is certainly taking advantage of this. B.C. Beer Reviews is here today to crack open a can of The Legend of Citra and see what's inside.
B.C. Beer Reviews: Boombox Brewing – The Legend of Citra
Colour
This beer pours a light orange opaque colour from the can. In the glass, it is completely hazy. It retains the very pleasant light orange hue that it had in the pour.
Nose/Aroma
You do not even have to get close to the glass to get the massive citrus fruit notes from this beer. It is like being smacked in the face with a fruit basket, but enjoying having it happen to you.
The fruits come off as orange with a light touch of citrus zest that could be perceived as lemon zest. It is a very pleasant and enticing combination that makes this beer hard to refrain from drinking.
There is also a dank hop aromatic that plays very well with the otherwise very citrus-forward nose of this brew.
Tasting Notes
Here is where things really start to get interesting. Right up front there is a sweet orange note as you take your first sip. This is followed by a very full body and rather sweet taste to it. This is stylistically to point.
There is no biting hop character whatsoever, rather relying on smooth and sweet notes to round out this beer. There is, however, a bit of a drying effect in the finish of this beer. It is not to the point of being unpleasant, but certainly noticeable.
The dank aromatic you get from this shows up again in the taste. Much like it was in the nose, it is very much a background note.
Other Notes
What can you say about the labeling from Boombox Brewing? It is always on point. This label will leave you feeling nostalgic and looking back on the classic video games of your past. Great job with this one.
There is a bit of head to this beer, but nothing to write home about. The retention of that head is the same.
There is a bit of warmth after each drink, likely coming from the ABV clocking in at 8.0%. It is nothing unpleasant, but just enough to showcase the strength of the beer.
Rundown
This beer is a smooth, sweet and citrus hop bomb that leaves you wanting more. This is yet another testament to the Boombox Brewing hazy beer supremacy. Truly a delicious beer and a great representation of the style.
Want to see a beer featured in B.C. Beer Reviews? Comment below with your suggestion.
And if you want to see all of the photos featured in these articles, and other awesome beer pictures, you can do so by following me on Instagram: nhendy5. You can also see much more concise versions of these reviews by adding me on Untappd: RedArmyNic.
Main photo by Nic Hendrickson, Lastword Inc., all rights reserved