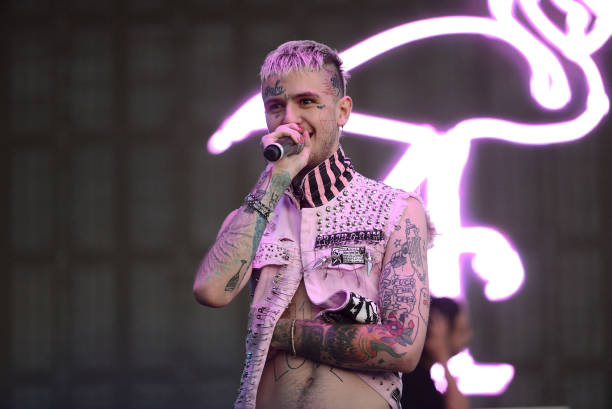 Gustav Åhr's — better known under his moniker Lil Peep — story ended so abruptly and, sadly, predictably. Themes of depression, suicide, and drug use permeated throughout his music so heavily that you just knew his story wasn't going to have a happy ending. And on November 15, 2017, that fear became a reality. At age 21, Lil Peep was dead from an accidental drug overdose of Xanax and fentanyl. Come Over When You're Sober, Pt.2 was posthumously released on November 9th, 2018.
Lil Peep-Come Over When You're Sober, Pt. 2 Review
Listening to his music in lieu of his passing evokes a sorrow that's twofold: On one hand, the explicit themes explored that eventually contributed to his death are even more eerie and unsettling; but there's also a tragedy in hearing just how unique his musical perspective was, and how we'll never know the ways this promising young artist would have evolved in the era of SoundCloud rap.
It should be noted his music wasn't particularly complex, with down-tempo trap beats and samples of 2000s-era pop punk/emo songs. But even in this simplicity, a new era of emo was being crafted, and Lil Peep, if not the first to do it, certainly became its spokesperson. And on his posthumous sophomore effort, Come Over When You're Sober, Pt. 2, there is significant growth in the ways Lil Peep explores his trademark themes and ideas, both lyrically and sonically; and the reality that we will never know where he would have gone next is all the more devastating.
A New Era of Emo
Lil Peep is in a long line of artists who have merged the worlds of rap and rock to develop their sound, but Lil Peep's placement in this history sees him using the music of his time to create a unique interpretation of these sounds. He sampled The Postal Service, Oasis, Avenged Sevenfold, and Modern Baseball — and the list gets longer — to punctuate the ideas of his melancholy tone, and in doing so became the face of a new era of emo.
Sober, Pt.2 is an album for fans that truly loved Lil Peep and what his music meant to them, and it's an album that delivers what drew fans to Lil Peep in the first place: alt-rock guitars and the aforementioned trap beats, and Lil Peep's grasp of infectious melodies that play over and over in your mind to the brink of madness.
The album's opener, "Broken Smile (My All)", begins with a slight cinematic touch, utilizing a steel drum/music box riff before fading into that signature Peep sound. Throughout the album, we're met with many of the same of themes and ideas: drugs, sorrow, and wrestling with death. Lil Peep always struggled to find the balance between gratefulness and emptiness. He was a young man who, although saw life as bleak and fleeting, still wanted to find joy in the brief moments he was with us.
You can hear this struggle manifest itself on the album's — and perhaps Lil Peep's — most poignant track, "Life is Beautiful". Contrasting the elements of what makes life bitter and painful, and what makes it worth living, Peep continues to battle with his depression and cynicism while desperately fighting to maintain the idea that life is worth living. He even explores this idea as it relates to the social and political realities of today. He sings, "They'll kill your little brother and they'll tell you he's a criminal. They'll f***ing kill you too, so you better not get physical. Welcome to America, the type of sh*t is typical. Isn't life beautiful? I think that life is beautiful."
Simple Storytelling
Confirming the idea of Lil Peep as a modern-day emo artist is the simplicity of his lyricism and storytelling. He sings in repetitive refrains and phrases, and his songs were never particularly "profound", a common trope of emo/pop-punk. But that's not to say there was a lack of substance and intrigue. On the somber closer and standout, "Fingers", Peep uses his knack for sweet melodies to tell a very simple story of love, mistakes, and heartbreak. It's a quintessential Lil Peep track that captures just what made him so appealing — especially to younger audiences.
He didn't sing in complex, allegorical metaphors; he was direct and accessible. It's this accessibility that made his story so easy to relate to. Younger millennials can remember when Kid Cudi spoke to us in the same way Lil Peep spoke to Gen Z; confused, hyper-emotional kids who needed an outlet to articulate their deepest insecurities. Lil Peep provided that, and Sober, Pt. 2 feels like a love letter for the fans who adored him.
Lil Peep's Legacy
It's difficult to say what Peep's legacy would have been, as we were just beginning to get to know him. In the days after his passing, the internet was full of touching personal eulogies of what Lil Peep meant to his fans, as much as it was a call to think about the realities of depression and excessive drug use. Lil Peep wore these realities on his sleeve, and perhaps it's what took his life so suddenly.
But it should never be touted that Lil Peep glorified his reality. He sang about it, as he does on Sober, Pt. 2, as a simple matter of fact. What's more, this reality often contrasted with the Gustav Åhr known by those closest to him. His brother, Karl Åhr, remembers his younger brother as "super happy with where he was in life," and as someone who loved his family and his life.
Lil Peep himself acknowledged this when he commented on the "Cry Baby" tattoo on his face: "I found myself complaining a lot — being very ungrateful for the things I have in my life — so I got the 'Cry Baby' tattoo…" He was incredibly self-aware, and never ignored the conflict of gratefulness and brokenness that weighed on him throughout his life. In this, Lil Peep can teach us broken people want their life to be beautiful, they want to be happy, and perhaps on some level they are, but depression is a devastating condition that shatters these optimistic aspirations.
Last Word on Lil Peep
Gustav Åhr's mother, Liza Womack, has been at the forefront of preserving her son's legacy, and was at the helm in bringing fans this posthumous release — she even directed the video for 'Runaway'. She remembers her son as a young man who was reckoning with his rapid ascension in often destructive ways, but as someone who was genuinely happy with the direction he saw his life going. He was passionate, and when he sang these songs of deep sorrow, they came from an honest place, but he never meant for the pain to have the final word.
We'll never know if Lil Peep would have found a way to conquer his feelings of loneliness and isolation, but with this collection of songs — carefully curated by his mother and closest collaborators — we get another, albeit heartbreaking, glimpse of an artist that had so much to offer, and meant so much to hurting kids everywhere.
Main Image Credit: