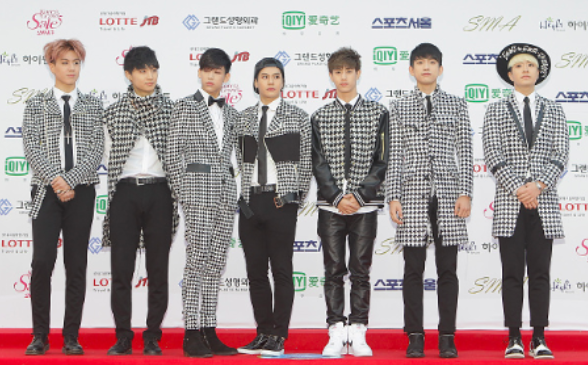 After the month of November delivered tons of music from an extensive list of big groups, December is a bit slower. Whether timing has a correlation or not, we are in the award show part of the year with groups going to tons of events to perform. It's most likely for the better that we are given some breathing room at the end of the year. Let's look a the few and in-between big releases that are this week.
A Look At The Week Ahead In K-Pop Releases
GOT7 – Present: YOU (&ME Edition) – 12/3/18
Kicking off the month of music, GOT7 lets us know that it's time for Christmas. With the album Present: YOU (&ME Edition) the group will be releasing a monstrous two-CD full-length album repackage including a new track titled "Miracle." Now, I don't like to jump to assumptions, but from the teaser video, it's pretty safe to say that this will be a Christmas themed song. Last year's biggest Christmas release was the "Merry & Happy" album from TWICE. With not many groups being confirmed for this month so far, the door is nearly wide open for GOT7 to take that spot.
GOT7's last comeback was a big one with the song "Lullaby." It was among other September releases that found itself on the website's best of the month article. The song finds itself on the second disk of the upcoming repackage. Since its release, the song has received 57 million views on Youtube. Their release before, titled "Look," sits at 65 million views. JYP Entertainment's top boy group is about to end the year in a festive mood.
| | |
| --- | --- |
| 11/15/18 | |
| 11/18/18 | |
| 11/20/18 | |
| 11/21/18 | |
| 11/22/18 | |
| 11/25/18 | |
| 11/26/18 | |
| 11/27/18 | |
| 11/29/18 | |
ONEW (SHINee) – VOICE – 12/5/18
Boy group SHINee has focused on solo releases recently, with Key having a debut single and a full-length album in November. In what seems like a more low-key promoted release, ONEW from the group will put out his first mini-album on the 5th of December. The mini album VOICE will be lead by the track "Blue."
LABOUM – I'M YOURS 12/5/18
Girl group LABOUM is set to put out a single album on the 5th, with the title track called "Turn It On." The teaser images would make you suspect that they were going for a comeback similar to what Lovelyz just did. But when you look at the M/V Teaser, it makes you think it's still Halloween. It's very odd but somewhat intriguing at the same time. This felt like the sort of thing that would have worked perfectly around Halloween, but I won't count it out because of that. The group is coming back from their first Japanese single "Hwi Hwi" which came out last month.
| | |
| --- | --- |
| 11/28/18 | |
| 11/29/18 | |
| 11/30/18 | |
UP10TION – Laberinto 12/6/18
Up10tion is back with mini-album Laberinto for their second comeback of the year. The group has gone with two polar opposite concepts in this comeback: crime and clue. It's good versus bad, criminal versus detective. By the looks of the teaser for the track "Blue Rose," the video might follow a storyline of some sort. It's a busy month for TOP Entertainment as they also have group "100%" making a comeback next week in Japan.
| | |
| --- | --- |
| 11/21/18 | |
| 11/22/18 | |
| 11/26/18 | |
| 11/27/18 | |
| 11/28/18 | |
| 11/29/18 | |
| 11/30/18 | |
VAV – So In Love 12/7/18
In the coming days, the group VAV will be moving throughout Europe for the "Senorita Tour." The tour begins on the 8th and wraps up on the 20th. But only a day before then the group will present everyone with a special Christmas album called So In Love. Not much information is out there for the release since it's still a few days away and because it's not a big project from them.
Japanese Release: BLACKPINK
The biggest group this week is BLACKPINK, although they aren't doing anything huge. They are putting out full Japanese album "BLACKPINK In Your Area" on the 5th. The group is set to perform on Christmas Eve in Osaka at the Kyocera Dome.
The Month Ahead
In the coming weeks, we will take a look at DAY6, EXO, iKON and much more. It's a slow month, but nothing comes to a full halt.