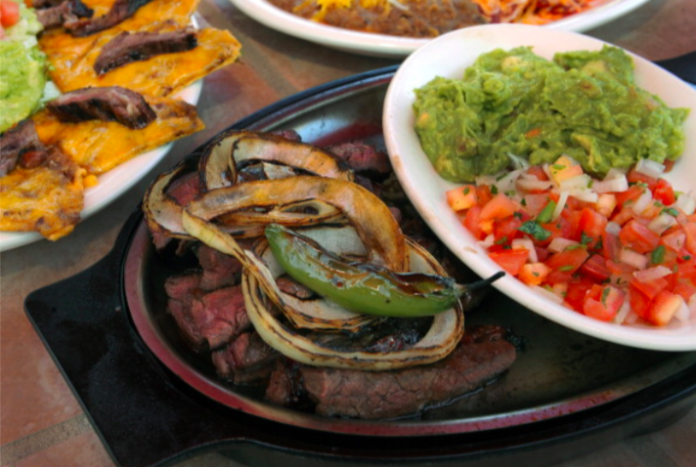 December is that time of year when fantasy football team owners are either prepping for the playoffs or the "Sacko" tournament. If your fantasy football team's season has gone south, what better way to celebrate your game day than with a menu featuring the best grilled item from south of the border–fajitas. Along with our superb fajita recipe, we'll also have two side dishes that will wow your guests. These two sides are black beans with chorizo and our killer jala-buenos.
Game Day Fajitas
Grilled fajitas are easy and offer a lot of options for your tailgate party. You can serve fajitas made with grilled steak, chicken, pork, or even veggies. Fajitas can be eaten on soft or hard shell tacos. For bigger appetites, go for the larger wraps and make burritos with your fajitas. For those "watching their carbs," you can even enjoy your fajitas without a shell or wrap. There is no wrong way to eat fajitas!
Grilling Game Day Fajitas
Ingredients
Veggies
4-5 red or yellow peppers (green is ok too)
2-3 jalapenos (or less)
2 large sweet onions
Seasonings
granulated garlic
cumin
red chili powder
Cajun spice
black pepper
cayenne pepper (if you like them spicy)
The Meat Options
4 boneless/skinless chicken breasts or thighs
3-4 sirloin strip steaks, ribeye steaks, or your favorite steak
4 boneless pork chops
The Rest
olive oil
1 can or bottle of your favorite beer
1 large sturdy foil pan
Toppings
Your favorite shredded cheese, salsa, refried beans, pickled jalapenos, and sour cream
Prep Time
Take your veggies and cut them into 1-inch wide strips, then set aside. Season your meat liberally with the spices an hour before you are ready to grill. Set up your grill for direct grilling using 25-30 coals in a pyramid in the center. You'll be cooking your meat with direct heat for 2-3 minutes per side, then using the grill to cook the veggies in the foil pan. Once the meat is grilled on both sides, set it aside to cool. Once the meat has cooled, cut it into ½ inch wide strips. Don't worry whether the meat is completely done since it will finish cooking with the veggies.
Veggies
Place the veggie strips in the large foil pan and sprinkle them with an olive oil bath until coated. Season the veggies the same way as the meat and give them a good stir. Take the foil pan of veggies and place it over the coals. You will soon hear the veggies sizzling away in the pan. Keep stirring the veggies until almost done, then add in the meat strips. Continue to stir the fajitas for another 5-10 minutes until you see the meat is completely cooked. Now add in your beer and stir the fajitas so they get all of that good flavor. Your fajitas are now done, but you should sample them to check for the seasoned flavor before you bring to the table. Add in more spices if needed.
Serving Your Game Day Fajitas
Serve your fajitas next to the toppings and wraps. You can promote this as a "build your own fajita" experience for your guests. They will appreciate the flexibility of making their own fajitas using all of the toppings available.
Black Beans with Chorizo
Ingredients
1 pound of chorizo
2 pounds of dry black beans (washed)
black pepper
chili powder
cumin
cayenne pepper (optional)
Using a large pot, saute the chorizo until cooked completely. Add in the black beans, season to taste, and then add enough water to cover an inch over the beans. Cover the pot and simmer the beans on medium-high until they boil. Reduce the heat to medium-low and continue to simmer. Check the beans every 10-15 minutes to stir and add more water. The beans will continue to soak up the water as they soften. This recipe can take 2-3 hours to finish due to using dry black beans. Be sure to allow enough time so they will be ready by serving time. Serve over white or brown rice and top with chopped green or yellow onions.
Jala-Buenos
Our Jala-Buenos are easy to make and will definitely spice up your tailgate party. You can also stuff the peppers with hot Italian sausage if you want to increase the heat for your guests. Be sure to have plenty of refreshments available to soothe the fire!
What You'll Need
10-12 XL size jalapenos
1 pound chorizo or Italian sausage
olive oil
Lawry's seasoning salt
granulated garlic
chili powder
cumin
Cut off the ends of the jalapenos near the stems. Using a thin knife, core out the inside of the peppers removing as many of the seeds as you can. Take the sausage and stuff it gently into the peppers until they are full. Place the peppers in a large zip lock bag with a light drizzle of the olive oil and the seasonings so that the peppers are coated all around.
Grill the peppers indirect for 60-75 minutes until they're cooked completely. Serve with your favorite salsa or nacho cheese dip.
Game Day Menus
Throughout the football season, we will be featuring game day menus that will make your tailgate parties legendary. Be sure to check out the previous menu ideas below by clicking on the links. Now get grilling!