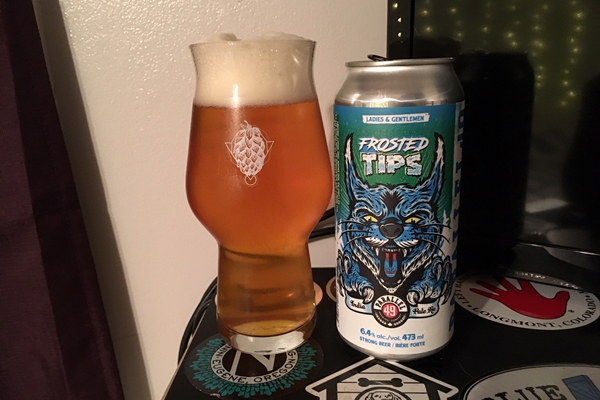 As always, Parallel 49 Brewing is putting out plenty of new and interesting beer for the season. One of these is a beer that they have labelled as a winter IPA. Frosted Tips is a beer made for the season and one that is said to have used a citrus-forward hop, a spicy hop and one that gives off herbal notes. Let's crack this can open and see what's inside.
B.C. Beer Reviews: Parallel 49 Brewing – Frosted Tips
Colour
This beer pours a fantastic clear light copper colour from the can. In the glass, it retains that fantastic clarity but is somewhere in the middle ground of gold and copper in colour.
Nose/Aroma
There is a lot going on in the way of hop aromatics in this beer. There is a very noticeable citrus fruit aromatic that could best be described as mango. It is lightly sweet with a noticeable citric acid character to it.
The other hops notes are very interesting in comparison to the first one. There is a herbal and mint-like aromatic to this beer. This is then complimented by an indistinguishable spicy characteristic that is common with the use of noble hops.
There is no perceived ester or phenolic profile and the hop profile dominates the nose of this beer.
Tasting Notes
While the citrus fruit/mango aromatic dominated the nose, it is very much in balance in the taste. The herbal/mint-like, spicy and citrus fruit are all in perfect harmony.
The most interesting aspect of this all is that the mint-like characteristic comes out quite prominently in the finish. While it is balanced at first with the other two notes, it lingers long after the other two dissipate.
It is very much a hop-forward beer, with only a light grainy sweetness to it. It would be less than surprising to be told that there was only a single malt used for this. With the SRM being so low and the grain presence being so soft, it points to that being the case.
Rundown
As mentioned above, this is all about the hops. There is a citrus fruit characteristic throughout that comes off as mango and a spicy note pointing to the use of noble hops. The minty aromatic and taste is the one curveball here. Definitely a tasty winter IPA.
Want to see a beer featured in B.C. Beer Reviews? Comment below with your suggestion.
And if you want to see all of the photos featured in these articles, and other awesome beer pictures, you can do so by following me on Instagram: nhendy5. You can also see much more concise versions of these reviews by adding me on Untappd: RedArmyNic.
Main photo by Nic Hendrickson, Lastword Inc., all rights reserved