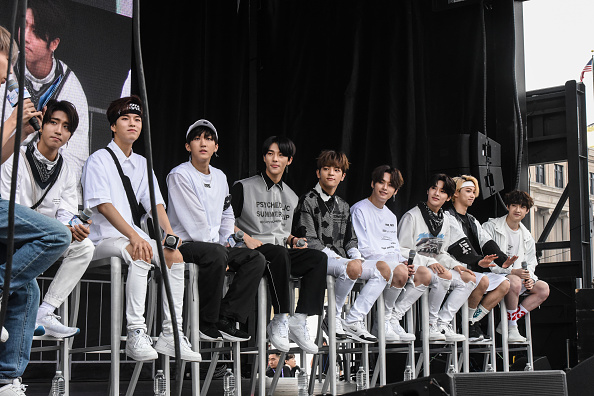 The first of three nights for the Mnet Asian Music Awards kicked off in Korea with the biggest awards focusing on the rookie groups of 2018. By the end of the night, it was Stray Kids who won Best New Male Artist with the newly debuted IZ*ONE also winning for the New Female Artist category. Fellow rookie group (G)I-DLE, who had the best chance of beating IZ*ONE were given "Best of Next Artist" award. The "Best Trend" award went to Wanna One. Both awards had not existed before this year.
IZ*ONE and Stray Kids Walk Home As Winners From Day One Of The 2018 MAMA Awards
Other Awards Given Out
Along with the few big awards on the first night, many of the smaller awards were clumped into the show as well. The show gave away their "Best New Asian Artist" award for Thai, Vietnamese, Chinese, Indonesian and Japanese artists. Awards for best engineer, composer, producer, choreographer, art director, video director, and executive producer were also given out. Four of those awards were given to people who worked with BTS.
Special Collaboration Stages
The show seemed to revolve around rookie K-Pop groups as most performances were from winners or nominees for new acts. Like most award shows do, many performances were collaborations between groups that usually don't cross paths. This was seen with fromis_9 collaborating with Hyeongseop x Euiwoong and NATURE performing a dance performance alongside GWSN.
Covers Performed
Another tradition for end of year shows is to have covers of past songs. The first few performances of the show were covers, with Sunwoo from The Boyz and Soyeon from (G)I-DLE coming together to recreate "Supermagic," originally done by Supreme Team. Hyeongseop x Euiwoong performed "I Don't Care" by 2NE1. Gyuri, Nagyung and Hayoung from fromis_9 made an acoustic version of "My Type" by iKON, and Stray Kids covered TWICE's debut song "Like OOH-AHH." As Wanna One is splitting soon, IZ*ONE did a cover of one of their most famous songs, "Energetic."
LOONA was given a special mix on the show as the group performed four songs. The first three were the three subunits for the group performing their biggest songs, with the final song being "Hi High" with the whole group altogether. Winners Stray Kids and IZ*ONE also performed on the show. The final performance of the show was Wanna One performing "Hide And Seek" and their newest song "Spring Breeze."
Looking Ahead To Day Two And Three
The biggest awards for this year's MAMA awards are still yet to be decided. On Wednesday the show will continue at Saitama Super Arena in Japan, with the final awards being revealed in Hong Kong at the AsiaWorld-Expo Arena on Friday.
Main Image Credit:
Embed from Getty Images