Welcome to CENTER STAGE, where I interview individuals who work in the film industry, from actors to production assistants, from writers to the camera crew, from makeup artists to assistant directors—this is where we tap into the insight of folks working in Hollywood. Today, we're here with Justin Bernardez talking about his new music career, acting jobs, and recent role as a music video director.

An Interview with Justin Bernardez
Justin Bernardez is the very definition of an independent artist. The up-and-coming singer began his solo career this year and has quickly garnered a fan base in the independent world. Besides singing, Justin has also found success as an actor, having recently appeared in an episode of American Horror Story: Apocalypse, and he will be starring in an upcoming web series called Generation Z. He has released two singles and is also taking up music video directing.
PZ: What initially got you interested in singing?
JB: I grew up in West Covina, California and went to Catholic schools my whole life. Back then, I didn't know I wanted to do music. Originally, I wanted to be a professional skateboarder. I started doing band class in third grade, and all throughout middle school I stayed there. Then it led me to where I am today, just singing all the time.
PZ: What about high school and college activities like theater or choir?
JB: No theater or choir, just strictly band. I didn't want to do choir. My voice was deep and I thought they would assign me to bass, which I didn't want, so I stayed silent and kept singing to myself. Then I majored in Sociology at Mount San Antonio College for two years, but college was was not for me. Every day in class, I would think "I should not be here." I just stopped, and just stayed home producing music and kept singing.
PZ: Who would say your musical influences are?
JB: The only person I found interesting growing up was Michael Jackson. I know that's cliche, but I was amazed by the tone of his voice and his songs—probably the only person I can think of. Nobody else had my interest, not even artists from today. Both of my parents loved MJ's music, so they would play him all the time. I've listened to every song of his. We would just play them all around the house and in my car growing up. I just grew accustomed to hearing MJ on a daily basis.
PZ: How did you get to producing and singing your songs?
JB: I started by doing YouTube covers. They were filmed very poorly and sounded bad, so I was like, "How can my quality get better?" Through covers, I naturally became a producer, but it was completely by mistake. I just wanted covers to sound better, so somehow it just lead to me producing my own music. That's when I started getting clients and ended up being in a group. We started by doing covers and opportunities started from there, but after being with that group, I eventually became a solo artist and started going on tour.
PZ: What have you been up to since going solo?
JB: I've released by first single, "There I Go," which was about going solo. There is a new song that just came out called "Dinero."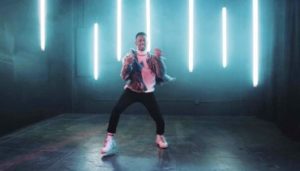 PZ: "Dinero." Where did the inspiration for "Dinero" come from?
JB: Oddly enough, a lot of my family is actually from Honduras! I love money and writing music, so I figured I would write a song about them. I think I wrote "Dinero" in about 4-5 days. I really wanted the chorus to be catchy in this one. It was also produced by myself and I even directed the music video! It's one of my favorite tracks right now because it really shows my diversity and ability to speak in multiple languages.
PZ: What do you like most about going on tour?
JB: The fans. I feel like seeing the fans in the crowd brings up my energy, hypes me up, and just knowing there are people out there smiling and enjoying my music, it keeps me happy.
PZ: Where have been some of your favorite places to tour?
JB: Asia! Asia, Asia, Asia! I wanna go back. I went on tour to the Philippines. Their culture was amazing and everybody was so nice. I have not been to Japan, but I wanna go really bad. And hopefully Europe.
PZ: What tools do you use for producing music?
JB: It varies per song. I use this program called Reaper. It's where I produce all my music, and it's free! Some songs I start with vocals first, I'd hear a melody and record it, then I might make a beat and record it, and then move to vocals. The process varies, but most of the time it's done all in my laptop.
PZ: What would you classify your genre as?
JB: I would say it's tricky when people ask me this because it really does vary. I would say it's a mix between pop and R&B. My voice is very R&B/soul, but the music is fire. It's the pop that people like, not so much mainstream.
PZ: Do you see any advantages of being unsigned?
JB: I do think that coming from a group, I have more freedom not being signed. There are more money making opportunities, but I'm not in it for the money, and I don't feel the need to be signed yet. I'm currently loving all the freedom I have. I have no restrictions except for ones I set by myself. Plus artists would have to follow a certain formula and, I may not be able to write exactly what I want.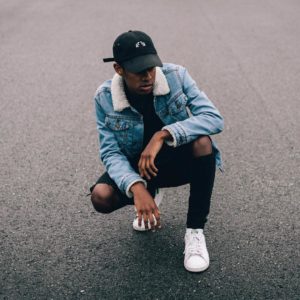 PZ: Given how influential and interactive social media has become, do you ever take time to reach out to fans?
JB: I try to tell the fans to message me if they ever need me. Sometimes it's a bit hard to reach out first just because it's hard to prioritize, but I always encourage them to reach out if they want to talk to me, advice on school, or starting with music, whatever they might need me for. There's a lot of artists who are disconnected from their fans. I don't wanna be that guy.
PZ: Would you say you could use your status on social media for positive influence?
JB: Yes, one hundred percent. For anybody trying to be in entertainment, I genuinely feel it is more important than having a degree. You could go to acting school all day long, but you may be cast for something because of Instagram. People use it for good or bad, but focus on yourself and the good.
PZ: Now how did you get into acting?
JB: That was also by accident. I was a PA on a show and an actor had asked if I was an actor and I said no. He asked how old I was because I looked 16, but he believed I could play like a young character on a show. He told me to start as an extra and that's what I did. Then I worked my way up to some lines
PZ: You got to be on American Horror Story: Apocalypse. How was that?
JB: It was great! Originally I went in as an extra, but then I was chosen to be featured. I had a few lines in Latin. My friends were telling me they saw me on TV and I was like "Oh, it's out already?" The scene involved me and three other students, and we were casting a spell and making something float in mid-air.
PZ: When did you start doing background acting?
JB: Over a year and a half ago. I've done it on and off just to make money on the side. My favorite show I've worked on is Speechless on ABC. The crew was just so amazing on that. By doing background, I've met a lot of my friends that I still have today. Sometimes I'll just book jobs just to meet people because I might find my new best friend on there.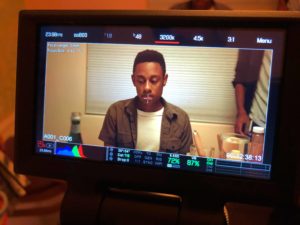 PZ: What can you tell me about your web series Generation Z?
JB: The story cannot be spoiled, but all I can say is every character gets an episode where their background and personality are explored. The pilot is online now, but in a few months the rest of the episodes will be released. All I can say is go watch it once it's out and see for yourself!
PZ: I know you and Generation Z creator Zachary Michaels already knew each other before the show. Did you still have to audition?
JB: Zachary had told me he had been working on this web series and asked if I'd be interested in being in it. I asked if I should audition, but he said no because he wrote my character with me in mind, and I joined from there.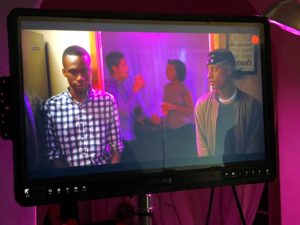 PZ: How has your experience been making Generation Z been?
JB: The experience has been amazing. My character's name is Derek and he's this sarcastic kid with an ego, which is pretty fitting (laughs). Derek is always hitting on girls and thinking he's such a hotshot. Being a main character, I do have a lot of lines and spend a lot of time on memorization. But shooting the show has been a positive experience, and it taught me about patience on set when I'm not being used. Throughout filming, I've debated if I'd wanna act full-time. I chose no, but being on Generation Z has been fun.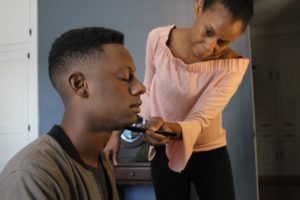 PZ: What would you say has been the biggest highlight of your career so far?
JB: I think releasing my first single "There I Go." It was solely about me leaving my group and going solo, and being able to put that whole experience into words was one of my biggest moments. I was also able to produce that entire song myself, and seeing that positive reaction that came after its release was huge for me.
PZ: Outside of music and acting, what are your other interests?
JB: I like to read books. A lot of people don't know that. I like reading books about being happy because it's really easy to get lost in every day life and forget about happiness. I have literally eight books just about happiness. I also love skateboarding, kicking it with friends, and just being surrounded by good people. Shout out to my boy Romeo for always being there!
PZ: Which books are you reading?
JB: The Power of Now. I've read it three times; it's my favorite book. There's another one called Happiness is a Serious Problem. That one is amazing. I don't wanna won't spoil it, so I encourage everybody to go read it themselves.
PZ: Now you have also gotten into music video directing. How did that start?
JB: That also stemmed from doing YouTube covers. I just had a bad camera. So then I started buying better cameras with better quality. Then I got my first client who asked if I could just shoot a music video. From there I kind of accidentally became a director. I'm now shooting with a Panasonic GH5 to shoot 4K.
PZ: Would you wanna direct more music videos in the future?
JB: One hundred percent. I would put that in front of acting. There's something about somebody having a vision to execute as long as it's a realistic vision and doesn't cost $5 million. I do find a lot of enjoyment in that.
PZ: With everything you've been doing, do you prefer smaller collaborations when it comes to projects?
JB: I'd say so. Everything feels more tight-knit, like a family. It's more genuine than working on these bigger productions that people would just be in for the paycheck.
PZ: Would you be open to any musical collaborations again in the future?
JB: As far as being in a group, no. Again, I enjoy being solo too much to revert back to that, but it depends on if it's the right people in the right environment. I'd be open to collaborating with a solo artist, that would be fun.
PZ: What are you looking forward to most in 2019?
JB: Just releasing more music. I would love to go on tour in 2019, and I'm gonna make that happen. That's I want. And to be happy.
PZ: Where do you see yourself in five years?
JB: I don't see myself acting full-time. If I were to land a big role in something, I would do it. But my focus in music. In five years, I hope to be very successful, play to thousands of people a night, still be releasing singles and music videos, see myself on tour, and just loving life and being happy.
PZ: Any advice to anybody who wants to get into the industry?
JB: Stop making excuses, that's all I can say. It's easy for people to say "don't give up" and "keep trying," but most people don't even get that far because they're making excuses. All you have to do is start, and the second you implement that in your life, success starts coming.
PZ: Anything you'd like to plug in?
JB: The music video for "Dinero" is actually out now! The music video really showcases the song and my love for fashion/style. If you watch it, I promise you will love it! As for my next song plans, I can't say too much, but I can definitely say expect new music from me soon! I'm ready to keep releasing new songs for the fans.
"Dinero" Music Video: https://www.youtube.com/watch?v=mFw9cgM1_Vo
Official Website: http://www.justinbernardez.com/
Generation Z First Episode: https://www.youtube.com/watch?v=IfLy-qH5RdM