Welcome to CENTER STAGE, where I interview individuals who work in the film industry. From actors to production assistants, from writers to the camera crew, from makeup artists to assistant directors, this is where tap into the insight of folks working in Hollywood.
Center Stage: ALAN CHOW
Alan Chow is currently a senior attending the University of Southern California, but you may have seen him act on shows like ABC's Grey's Anatomy, Disney Channel's I Didn't Do It, and NewForm Digital's Mr. Student Body President. He's starring in the upcoming web series Millennial Mafia from Entertainment One and has aspirations of starting his own production company. I sat down with Alan to talk about his acting career, social media influencing, and being a full-time student at USC.
PZ: You've been acting for some time now in Los Angeles. How did you get started?
AC: So I'm originally from Dallas, Texas, and I took some theater classes in middle school. But I knew really quickly I didn't wanna do theater because most of my idols were on screen. I transitioned into wanting to work in film and TV. So I started taking classes in Texas and dabbling into what was there. I did some spots on Disney and Nickelodeon. Then I moved out to LA when I started college, got an agent, and started auditioning. I always knew I wanted to come to LA. And I've also been a full-time student since moving. It's been awesome having like a double life; I live normal as college student and I still get to audition. I love having that balance, because I'm not a crazed college student, but also not a starving actor either.
PZ: What are you currently studying at USC?
AC: I study business and screenwriting. One of my ultimate goals is to start my own production company and create and star in films, but produce other films for other filmmakers as well. Like how Will Smith has his own company, Overbrook Entertainment, and they were able to co-finance To All The Boys I Loved Before, which is on Netflix. I'd like to be able to do that. And of course, be an actor and writer myself.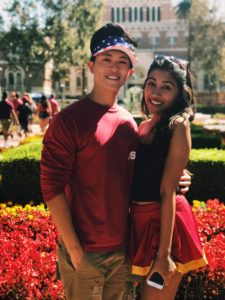 PZ: What was your first professional acting gig ever?
AC: So this was back in Dallas, when I was maybe a junior or senior in high school. It was difficult to send self-tapes for every role, and as actors know, they rarely get seen. But there was this one role where my manager was like "Hey, this one fits you really well. Why don't you fly out to LA and audition for it?" So I went. It was my first time ever auditioning for a show. And I completely bombed. The casting director actually told my manager "He's not ready to be on shows." The next day when I came back home to Dallas, my manager told me I have another audition. So I self-taped it, got a callback, flew back to LA the very next day, and booked it! It was crazy because the day before they were saying how I wasn't gonna work, then this happened. It was a co-star role that turned into recurring on Disney Channel's I Didn't Do It.
PZ: Now you also got to be on Grey's Anatomy. How was that for you as an actor?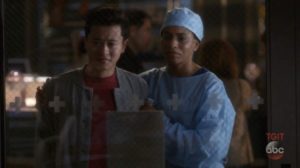 AC: Grey's Anatomy was a dream come true. It's the only show I've still been watching since before I even wanted to be an actor. To be on it and be cast by Ellen Pompeo, the star and director of my episode, it was a surreal experience. For a show that's been on for that long, it's a well-oiled machine. They checked me in like I was a guest at Seattle Grey's Hospital, the set was so much like a hospital. And I got to have scenes with three actors I've been watching my whole life: Justin Chambers, Kelly McCreary, and Camilla Luddington. It was crazy doing the scenes because I was like "Oh my gosh! You're saying these words to me even though I know you're an actor and have watched you since I was, like, ten!" My character was named Henry, who's the boyfriend of a patient who's dying of a heart disease.
PZ: So I spoke to Nicole Alyse Nelson recently about Mr. Student Body President. What's interesting is that you play a character on the show who's referenced constantly in Season 1, but finally seen in Season 2. What were you expecting before going in?
AC: So I had never seen the show before I auditioned. But when I did get the audition, I watched the entire first season and heard them talking about the character known as Brandon Wu. And I knew he was gonna be a raunchy and silly character but also iconic enough to care about. It was cool being able to hear about who that character was. When I got to the first full cast read, I remember one of our main cast members Gabriel Conte, who plays Matt Johnsmeyer, be like "Oh, you're Brandon Wu!"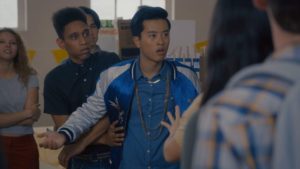 PZ: So who is Brandon Wu?
AC: (Laughs) He's a disgusting dirtbag and vape-lord who has this sex list through I don't know what means, but it's of who's had sex in the school on the show. He uses the list with his best friend Brandon Greebs (Trae Adair) to come up with an algorithm to see who's got crabs in the school. The way it ties into the story is that it was to take down this popular couple, Chad (Spencer Watson) and Debra (Camille Hyde), who are collectively running for Student Body President against the current leaders of the school, Tyler (Jeremy Shada) and Hadley (Arden Rose).
PZ: Now Go90, the streaming platform that hosted MSBP, has been shut down, unfortunately. And you got to work on another show which would've streamed on there, correct?
AC: So one of the best experiences I've ever had filming was on a show called Millennial Mafia. The show is about two girls who are daughters of a mafia family, but they're basically your super-vapid millennials. When their parents get sent to jail, they now have to take over the family business. I play their best friend named Sal, who loves this idea of them being in the mafia and go on these adventures with them and putting myself in danger for the thrill.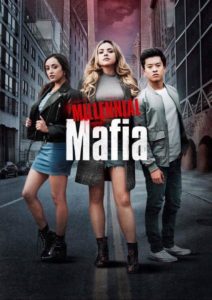 PZ: Is Millennial Mafia your biggest role to date?
AC: Yes, I was a series regular. It was a such a cool and enriching experience to be able to work episode to episode and be part of the big story rather than just popping up on different episodes. I filmed that while being a full-time student at USC, so I would do these 12-14 hours days, come home, and still be able to write essays for USC. It was the best experience I've ever had.
PZ: So how was it going from one show to another with some of the same folks?
AC: So Jack Ferry was the co-creator and producer of Mr. Student Body President and he was the director of Millennial Mafia. It was really cool because he was an overseer of MSBP who'd come around from time to time, but then on MM we worked with him day in and day out. He's such an auteur; he had a vision and would actually create storyboards with Legos. Spencer Watson and I were cast for the show once Jack joined the project. (Laughs) I understand 100% why he cast us, but it wasn't because of our characters from MSBP; we both played douchebags on that. My character on MM is the most "me" I've ever played, just like a goofy and funny friend who gets drunk. And Spencer played like a dorky but handsome and cool love interest for one of the main girls.
PZ: Has there been talk of the show streaming elsewhere?
AC: Yeah, and still I'm excited for it. The show is owned by Entertainment One, which is an amazing company. I'm positive it'll find a new home.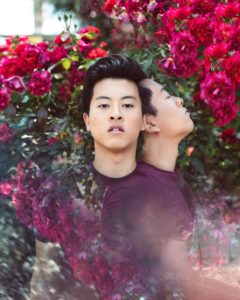 PZ: Now you've mentioned wanting to start your own production company. What kind of films would you want to make? What kind of stories are you interested in telling?

AC:  I would love to write films that have an interesting perspective on race and class. I'm currently working on a script called Average Asian. It's just about me and growing up in a hometown which was really fueled about getting good grades, but I wanted to be an actor, so that didn't really align. So be able to address the difference between expectations and reality, that's something I find really interesting. But I don't want to approach from a serious aspect or look at it from a critical eye, I just want it to be something funny that makes you think.
PZ: That's great, especially now because people are pushing for more diversity in content with films like Crazy Rich Asians and Black Panther. Would you say representation is important to you?
AC: Yes. By virtue of who I am and writing a story that is me, I feel like that inspires other people who are like me who don't often see themselves in mainstream American media.
PZ: Who are some your influences in TV and film? Anybody who's inspired your own work?
AC: Aziz Ansari and Alan Yang, who created Master of None. They did such a good job of looking at different topics and making it funny and entertaining, and adding in social commentary as well. I also really love Ryan Murphy. He always has such exciting characters and crazy worlds to watch and follow, like American Horror Story. They also have an underlying social commentary. With something like Glee, I love that it's a show about kids in high school who aren't taken seriously, but you can tell they a have talent that's recognized from a bigger perspective. It's true for a lot of people who are into the arts.
PZ: What about acting influences?
AC: Definitely Steve Carell. He's one of my biggest acting inspirations and The Office was one of my favorite shows growing up. Also Julia Louis-Dreyfus. I've seen all of The New Adventures of Old Christine and Veep, but surprisingly never Seinfeld (laughs). I just think she's so funny. I lean more towards more comedy than drama. But I'd also say Sandra Oh and pretty much the whole cast of Grey's Anatomy.
PZ: Why comedy more than drama for you?
AC: I feel like I view the world in such a brightly-colored way, with more laughing and enjoying life, that I want that to come through in my writing and acting. I do love drama, but just because of my personality, I tend to be more outgoing.
PZ: So at USC, are you involved with the campus life or any student activities?
AC:   So I'm starting my own club called Taft Trojan Actors for Film and Television. What I've noticed is that while we do have a school for dramatic actors, it's more theater-focused. I have friends in different schools who are into acting for film and TV and have agents and representation, but there's nothing binding us together as a community. I was like "Where is that community? This is LA, there should be one." And I decided to start one. Our club application closed recently and we got 180 applicants, which is great. I'm also part of another club started by this social media influencer named Markian, called Reach, for people who are into social media influencing at USC. I'm also on the executive board for that. It's basically for anyone who's interested in social media influencing, like photography and marketing.
PZ: What has attracted you to social media influencing?
AC: After joining Reach and thinking about it with a business eye, everyone always says for creating content to just do it and post it. I noticed a lot of people are trying to break into producing and tend to go for more of the traditional film route, which is okay! But I've seen more potential in creating your own narratives on social media, from making short form content or doing web series. Since I'm a college student and do acting, I'm pretty busy, so that's a good way for me to write, produce, and star in these shorts myself.
PZ: I've noticed you even have a big following on Instagram. Do you often interact with your fans?
AC: It's been a really cool experience on social media. I think a lot of people can attest to this, but it's crazy now to interact with fans all the time; you can constantly DM people and reply back. Every single one of those followers is a real person and they all say different things to me. Like one of my favorite followers is from Brazil and we've interacted online about soccer. It's really interesting and a cool way to stay connected.
PZ: What would you say was your favorite day ever on any set?
AC: I'd have to go back to Grey's. I'm getting chills just thinking about it because that role was so important to me. There was one day where it was basically all scenes of me crying and sobbing for 12 hours. From the moment I got there, I had this long Victorian poem that I was doing to get me through the emotional scenes. For the last scene at the end of the day, it was really emotional when my boyfriend on the show is dying and I'm crying about it. After that, I went up to Ellen Pompeo and Tameson Duffy, the writer of the episode, and told them how impactful this experience was for me and then they started crying. It was the last scene on a Friday night, and it was me, Ellen, and Tameson all crying our eyes out. Ellen then told me "This is why we make the show, so we can inspire people like this episode will." It just aligned the stars for me and made me realized this is what I'm supposed to do.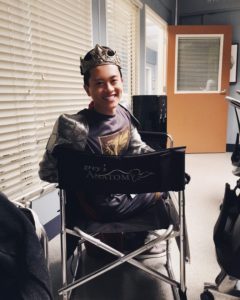 PZ: Would you also describe that as your hardest day on set or does another day come to mind?
AC: I would say it was on Millennial Mafia. The night before, we had shot super-late into that night. There was one scene which was our cold open and it was also our audition scene. There was so much dialogue, so it was all about the actors and our performances, so it was hours and hours of that. We had tested with this scene, did chemistry reads, so it was a bulk of our acting. It was one of the hardest days, with so much focus and taking direction. We were all exhausted, but it was so rewarding doing it. Another reminder of why we became actors.
PZ: Who would you like to work with?
AC: I just auditioned for Alan Yang's new Netflix film and I would love to work with him. Also Sandra Oh, because I missed her on Grey's Anatomy. In terms of influencers, I'd love to work with Bretman Rock; he's super funny and does these makeup videos on YouTube.
PZ: There are a lot of people in the business who tend to stick to doing one thing; some are just writers or just actors. Would you say it's important to do more than one thing?
AC: Yeah I mean I love acting, it's my first love. But a lot of acting is auditioning and waiting and I love the hustle and having something to do. With writing and producing, you can always be pursuing something and working. I think with putting that hard work out there, the universe will return with something else. Even though I love acting the most, I do think it's an inclination to create my own stuff as well.
PZ: A lot of actors continue to take acting classes even with a solid resume and experience in order to improve their craft. Have you taken any classes at USC?
AC: I've actually never taken an acting class at USC, but I did train while in Texas. After graduation, I would love to take a class. I've been dying to go back to acting class. I literally cannot right now because of school and I feel like it would be a disservice to the class and to me if I tried to squeeze it in now. But acting training is the best. It's like athletics, you have to always be doing it.
PZ: Have you followed certain people on social media before influencing became a thing?
AC: When I was younger, I used to watch people on YouTube like Nigahiga, KevJumba, and WhatTheBuck. I also watched Vine back then, some of them were so obscure, like ones that made fun of themselves. Also folks like Zachary Piona and Jay Versace. They were funny, but I tended to look up to actors back then.
PZ: More younger people now are following social media stars rather than film and TV actors. Do you feel that's something hard to get around or should people adapt to that?
AC: Yeah, I do feel like it's something more people should adapt to. I try to be more forward-looking and progressive when it comes to any trends in the marketplace or anything political. I feel like younger people have the right idea, because they're gonna change the landscape. I think because they're young, they'll watch YouTube videos and follow Instagram influencers a bit, when they grow old they'll enjoy movies, so it's not as shocking to me. It's not bad, it's just a changing of the times. I think us as older peoples should recognize that.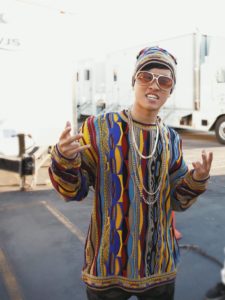 PZ: With more films streaming on Netflix like To All The Boys I've Loved Before, would you be interested in making projects of that caliber?
AC: Absolutely. I think streaming and digital is the new wave. People used to look at TV as this weird thing with lower quality, but now it's the golden age. People right now who watch TV are looking at things that are of lower budget and quality, and I feel that in 10 to 15 years from now, all the best shows are gonna be on digital platforms. A lot of them are now.

PZ: It's funny because you've gotten to be a part of this digital wave with being on streaming shows like Mr. Student Body President and Millennial Mafia. You're part of this movement, in a way.
AC: Yeah, I guess I never really thought of it that way. Even with Grey's Anatomy, when my episode aired, there wasn't as much recognition. But when it got released on Netflix, that's when people started watching and messaging me about it. So in a way, it has two different time slots.
PZ: What are your interests and hobbies in LA?
AC: Being a college student, I love going with friends and tailgating. It takes up most of my free time. I like eating different foods around LA too.
PZ: Where would you say you see your career ten years down the line?
AC: Hopefully be a series regular on a show that's been going on for a couple seasons. But also creating and writing my own work during a hiatus of that show. Writing own pilots and pitches on the side, that way whenever a show ends, I can move on to do my own thing. I'll probably work on another show before my own.
PZ: What are you looking forward to for senior year?
AC: I think in the past, I tended to keep my acting world separate from my school world. But now I've seen the potential of combining those, creating my own content, and doing things at USC that inform what I wanna do for a living. I'm excited for that aspect of it. I want to be able to make the most of my time here friends-wise and career-wise and making those lifelong connections with people.
PZ: Do you have plans post-graduation?
AC: Obviously still pursuing acting full-time, but I also wanna stay in the entertainment field and be immersed in that. I'd like to be a personal assistant for someone who works in entertainment and still have flexible hours. Also still producing and writing.
PZ: If you had to give advice to anybody who wants to get into the industry, what would it be?
AC: Move to LA, establish your connections, and make a good network. That applies to all types in the industry, not just acting.
PZ: And now we end with some self-promotion. Anything to plug in?
AC: Watch my Grey's Anatomy episode, Season 14 Episode 15 "Old Scars, Future Hearts." Also, keep an eye out for my club USC Taft Trojan Actors for Film and Television!
CENTER STAGE is part of an ongoing series by Paul Zecharia. For more articles on Entertainment, click here.