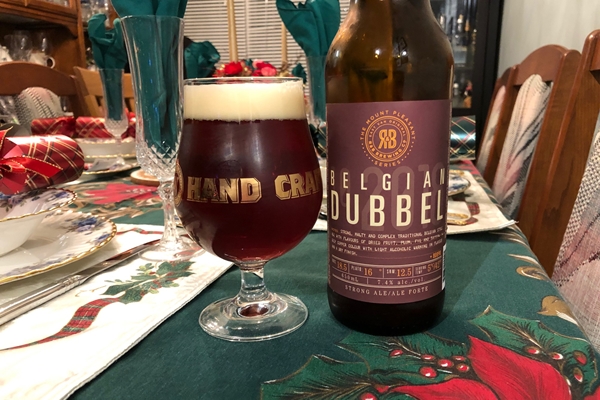 When you think of breweries in B.C. making Belgian beer, R&B Brewing may not be the first that comes to mind, but that certainly does not mean they can't do it well. They have recently released a Belgian Dubbel, a perfect beer style for the colder months of the year. B.C. Beer Reviews is here to crack this one open and see how they did.
B.C. Beer Reviews: R&B Brewing – Belgian Dubbel
Colour
Pours a deep ruby brown from the bottle. In the glass, this beer is an ever so slightly clear deep ruby colour. The head of the beer is an off-white that is bordering on tan.
Nose/Aroma
There is a strong fig and plum aromatic that is immediately noticeable. This falls perfectly in line with the parameters of the style. While it is undoubtedly the strongest aromatic, it is not the only thing that comes out here.
There is a light phenolic note at play in this beer. It is hard to put a finger on the type of spicy aromatic you get, but it does not come off as either clove or pepper. Either way, it is a nice background player in the aroma of this beer.
Tasting Notes
The label reads as such: "strong, malty and complex traditional Belgian-style ale with flavours of dried fruit, plum, fig and raisin." This pretty well hits the nail on the head and I could not do it more justice.
This beer is not complex in the sense that there is too much going on, but there is enough for it to be considered multidimensional.
You undoubtedly get the deep and rich malty sweetness that is common with the style. This is accompanied by a nice fig and raisin note with a touch of sweet plum. This beer hits the style nicely.
Other Notes
The label is pretty much what you would expect from R&B Brewing. There is a nice maroon colour with big white letters reading 'Belgian Dubbel'.
The finish of this beer is dry. It hits the style perfectly here. It starts off sweet and malty with nice phenolic and ester profiles that are very balanced and finishes with a light and dry finish that leaves you wanting more.
There is an initially moderate head, but it dissipates rather quickly. There is a very minimal amount of lacing on the glass from this beer.
Rundown
Notes of plum, fig and raisin are noticeable both in the nose and in the taste. Starts off sweet and finishes dry, making it extremely drinkable. A very nice representation of the style.
Want to see a beer featured in B.C. Beer Reviews? Comment below with your suggestion.
And if you want to see all of the photos featured in these articles, you can do so by following me on instagram: nhendy5. You can also see much more concise versions of these reviews by adding me on Untappd: RedArmyNic.
Main photo by Nic Hendrickson, Lastword Inc., all rights reserved