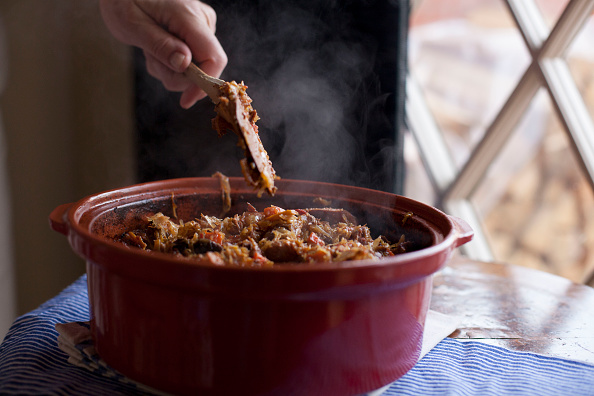 Game Day menu celebrates the last weekend of the NFL regular season in style. It's certainly been a long 17 week season for most grillers who tailgate every week. This weekend was usually the "let's clean out the freezer" weekend at our house back in the day. We would look to see what was in the freezer and as a result have a wide variety of items on the menu for our end-of-season tailgate party.
For your last regular season tailgate party we're going to give you some ideas that honor New Year's traditions. Your faithful guests have stuck with you all year as you've brought out incredible menus every week. They deserve more than a "I forgot I bought that" menu straight from your freezer. We're featuring today Lucky Pork & Sauerkraut and Black Eyed Peas. You can serve both of these with our "perfect chicken," killer burgers, or delicious ribs. We'll have the links to all of these at the bottom of our New Years piece.
Game Day Menu Celebrates
The traditions of Lucky Pork & Sauerkraut and Black Eyed Peas have a long history. Tradition also says that eating these will bring good luck in the coming year. Here's more on the Lucky Pork & Sauerkraut tradition from Sue Gleiter from PennLive.com
"New Year's Day in central Pa. is more than football and recovering from last night's hangover. It's about the pork and sauerkraut."
"Pennsylvania Dutch tradition dictates you eat the homestyle meal to ensure good luck heading into the new year. The superstition suggests because a pig roots forward, eating pork on New Year's Day helps a person to move ahead."
Game Day Celebrates With Lucky Pork & Sauerkraut
We have an easy recipe that involves your crock pot. Start the crock pot the night before your tailgate party, especially if your team plays at noon. If your team plays a later game you can start it early on game day. Just be sure you allow 6 hours due to cooking time.
Ingredients
One bone-in pork roast (boneless, if preferred)
One large package or jar of 

sauerkraut

Lawry's Seasoning Salt, pepper and granulated garlic
One 12-ounce beer
Take the sauerkraut and place it at the bottom of your crockpot. Place the bone-in pork roast on top of the sauerkraut. Sprinkle your seasonings on top of the pork roast. Lastly, drizzle the beer over the roast and sauerkraut. Turn your crock pot on high for two hours, then low for four hours. Remove the pork from the crock pot making sure no bones are left behind. Allow the pork roast to rest for 15 minutes, then cut into chunks. Add the pork roast pieces back to the crock pot, set on low. Serve after about 30 minutes on low to blend all of the flavors even more.
Game Day Celebrates Black-Eyed Peas
Black Eyed Peas have a long history as a good luck dish to be served on New Years Day. Traditional southern cooks serve black-eyed peas (good luck) with collard greens (money) and cornbread (gold) to bring a lucky and profitable year ahead. For more on the black-eyed peas legacy check this from Nancy Berkoff of The Grunion:
"Black-eyed peas had a long, strange trip to get to the U.S. Black-eyed peas are thought to have originated in North Africa, had been grown in India for at least 3,000 years and were staples of both Greek and Roman soldiers' diets. Black-eyed peas are mentioned in the Old Testament, featured in New Year's feasts. It's thought that black-eyed peas arrived in the U.S. with seeds carried by African slaves or, perhaps, with Spanish missionaries."
Game Day Black Eyed Peas
Ingredients
Two-pound bag of dried black eyed peas rinsed and clean
Two boneless pork chops or ham hocks
One red onion diced
Four stalks of celery chopped
Two large carrots peeled and chopped
Three Yukon Gold potatoes cubed
Two garlic cloves minced
Olive oil
Cajun Spice, Lawry's Season Salt, and black pepper
Frank's Hot Sauce (optional)
Get a large stock pot and drizzle the bottom with olive oil. Place the onion, celery, carrots, garlic, and potatoes into the stock pot. Sprinkle in the seasonings and saute on medium. Continue to saute on medium stirring every few minutes. Once the veggies are almost cooked through add in the black-eyed peas, chops (or ham hocks) and enough water to cover an inch above the black eye peas. Cover your pot and simmer them on medium while adding water every 15-20 minutes. As the black-eyed peas cook they will absorb the liquid so be watchful.
After an hour, remove the chops or ham hocks and allow them to cool. Continue to simmer the black-eyed peas on medium-low. Cut the chops or ham hocks into small pieces once they are cool. Place the meat back into the pot, stir and add more water if needed. Add the Frank's Hot Sauce at this point if desired. Continue to simmer the black eyed peas adding water as needed until they are cooked through. This can take a total of 2-3 hours to finally finish. If you would like an even shorter cooking time, soak the black-eyed peas in water overnight.
Game Day Menu Features
Serve these two dishes with one or more of our Game Day Menu stars. Below are three of our incredibly popular Game Day menu items. Click on the links for the recipes and directions.
Game Day Playoffs
Our Game Day menus will continue into the playoffs and up to what is certainly the biggest tailgate day of the year the Super Bowl. Above all other game days, the Super Bowl is King.
Main Image Credit:
Embed from Getty Images