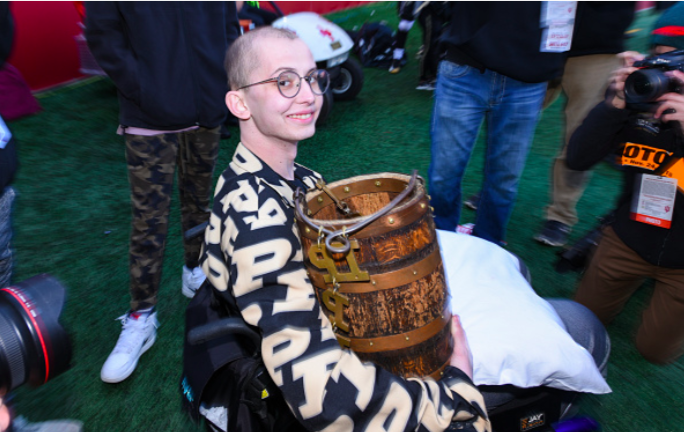 A boilermaker is a person who "makes boilers." It is also a shot of whiskey followed by a beer chaser. And a Purdue student or alumnus.
Tyler Trent was all of these things.
He made boilers; that is, he contributed to the heating of a crowd as they bubbled into a vapor of cheers (see: Purdue vs. Ohio State, October 20th, 2018). He was a hot shot of whiskey whose road ended in the warm comfort of grain and yeast. And, of course, his story will contribute to the backbone of the Purdue community for years to come.
Simply put, Tyler Trent was an inspiration. But Tyler's story is far from simple. Tyler was a warrior, a fan, a writer, an analyst, a critic, a force to be reckoned with. Cancer had to try twice before it took terminal hold on the third attempt.
Remembering the Life and Legacy of Tyler Trent
Tyler Trent: 09/07/1998 – 01/01/2019
Tyler was born on September 7th, 1998. He shares this birth date with Buddy Holly; another talent took too young. The specific day historically seems to have no more significance than marking Tyler's entrance into the world; the beginning of a life that will be remembered for the empowering legacy it left behind on January 2nd, 2019.
Tyler's cancer was first discovered in 2014, during a game of ultimate frisbee in which his arm snapped during a pass. The osteosarcoma was consuming his bone. The tumor was removed, and the chemo began. Tyler continued to attempt a happy and normal life, as he worked to pursue his dreams: attending Purdue University and becoming a sportswriter.
In Spring 2017, cancer reappeared in his pelvis, just months before he was scheduled to head off to Purdue on a Presidential Scholarship based on his near-perfect SAT scores. His pelvis was temporarily replaced so that his dream could be realized. The media caught wind of Tyler's story that fall, when they found him and a friend camped out at Ross-Ade Stadium in hopes of securing the best possible student seats to the Purdue-Michigan game. When the reporters arrived, they heard the story of a young man who was in chemo by day and camping out for his team by night.
Even in his worst bouts with his illness, Tyler made every effort to attend every Purdue football game he possibly could. He became a friend of the team, specifically quarterback David Blough, who would pray with him regularly. Tyler was even named an honorary captain and entertained visits from players in times when their success was in a drought. His passion and fight inspired the squad to hold onto their spirit.
Last March, cancer came knocking once more. Tyler fought the way a quarterback might fight through a concussive sack to stay in a game. But this time he knew; his illness was terminal. His lower spine had been permanently affected, and Tyler was put into hospice care. His faith in his fellow Boilermakers never faltered. When scheduled to face Ohio State this past autumn, an underdog of double-digits, Tyler predicted a win and attended the game against his health's best interest. He had undergone an emergency surgery just days before, anesthesia-free, when the tubes that were allowing his kidneys to function failed. When Purdue pulled off a 49-20 victory, he was credited for the team's success; a general leading his army into ferocious battle.
A Legacy Built on Just 20 Years
In a guest column for the Indianapolis Star in December, Tyler wrote, "Though I am in hospice care and have to wake up every morning knowing that the day might be my last, I still have a choice to make: to make that day the best it can be."
Tyler lived his life with a vibrancy of spirit that cancer could not kill. Even in his final weeks, paralyzed from the waist down with only one working arm, Tyler was still talking sports with the best in the business: Adrian Wojnarowski and Scott Van Pelt from ESPN, Gregg Doyel from the IndyStar, and the Purdue football team he had spent three seasons inspiring.
James Valvano said it best when he accepted the 1993 Arthur Ashe Courage Award: "Cancer can take away all of my physical abilities. It cannot touch my mind, it cannot touch my heart, and it cannot touch my soul, and those three things are going to carry on forever."
Tyler passed away after fulfilling many dreams, including attending his dream school, sports writing, and being a motivational force for the college football team he loved so much. He fulfilled a dream of co-hosting SportsCenter with Scott Van Pelt, during which the titular host promised Trent a chair in his studio when time and health would allow, and was awarded the seat on the night of his death. He wrote a book, the forward of which is written by Van Pelt, which is currently available for pre-order with a March 2019 release date.
Tyler spent the final years of his life in his illness fighting for a cure. He founded Teens with a Cause, an organization that recruits teens to service projects for families affected by cancer. He worked with Dance Marathon at Purdue, helping to raise funds for Indianapolis's Riley Hospital for Children. He was the first student member of the Director's Advancement Board of Purdue University Center for Cancer Research. He raised and is raising, massive funds for his own organization, the Riley Children's Hospital, and The V Foundation.
AND… and… he worked in football, writing for Purdue's student newspaper The Exponent as well as the IndyStar, as well as for the Indianapolis Colts as a Data Analyst.
Far From the Last Word on Tyler Trent
To say Tyler lived a full life is the biggest misstatement of a century, but to say he lived his life fully is nothing if not precise. In a discussion today at the sports bar that I manage, the consensus was unanimous: When life gets you down, that is the perfect time to remember Tyler Trent. He wanted to live and would trade places with any of us on our worst days.
I remember my first interaction with Tyler's story: the day of that Boilermaker-Buckeye showdown. I was visiting Clemson with my boyfriend, and we had attended their game against N.C. State earlier in the day. We returned to our hosts' home that night EXHAUSTED from our tailgate, and tuned into the game just in time to encounter Tyler's saga being broadcast to the nation. In our slightly-faded haze of exhaustion and booze, we were all so moved by the tale of a young man who fought with unparalleled passion for his life, his cause, and his team.
Boiler up and hammer down, Tyler Trent. Thank you for your whole entire life.