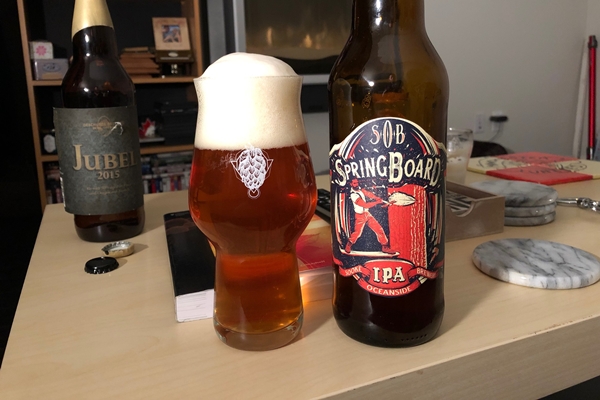 The wave of craft breweries opening up in B.C. does not look to be stopping anytime soon. The island has felt this wave hitting them repeatedly, and the city of Sooke is no exception to this statement with multiple breweries now operating there. Of those open there, Sooke Oceanside Brewing has popped up. And with murmurs of the product they are putting out being good, B.C. Beer Reviews is here to take a look at their Springboard IPA.
B.C. Beer Reviews: Sooke Oceanside Brewing – Springboard IPA
Colour
This beer pours a fantastically clear golden-copper colour from the bottle. In the glass, this beer is a very nice copper colour. This beer retains its fantastic clarity.
Nose/Aroma
The nose of this IPA is extremely balanced. You are presented with notes from the malts and the hops alike, with neither dominating the other. This makes for an extremely enticing brew.
The malt characteristics you are presented with are that of light caramel, bread crust and a slight grain-like aromatic. It is a restrained sweet aromatic that makes this a balanced beer that also allows the hop notes to shine alongside.
The hop notes you are presented with sing of North American "old school" IPA hops. There is a noticeable citrus note of grapefruit with a light touch of lemon zest.
Tasting Notes
The balance of the nose follows through into the taste of this beer. You get the malty notes at first, but the hops come through and the finish has a restrained bitterness that is well balanced with the sweet malty notes.
You get bread crust and crackers again from the malt. This makes for a lightly sweet and restrained character that won't dominate the hop notes.
The hops come through nicely here, and there is no aggressive characteristics whatsoever. You get the sweet citrus fruit notes you enjoy from North American hops without any pine, resin or pith notes. This is truly an approachable IPA for the masses.
Other Notes
The branding/labeling is quite sharp. It is almost an old school label that you would expect from a tincture in the Western movies. Red, white and blue colours portray a man hitting a tree trunk with an axe.
The carbonation level of this beer is its only downfall. It is quite carbonated. You don't lose a majority of the beer, but even with a proper pour in a clean glass it foamed over. This did, however, result in a thick, creamy and rocky head that was nice to look at.
Rundown
This is a balanced IPA that more than hopheads can get behind. There is a nice balance between the restrained sweet malt aromatics and tastes and the sweet citrus hop notes. This is truly a brew you could have more than one of.
Want to see a beer featured in these articles? Comment below with your suggestion.
And if you want to see all of the photos featured in these articles, and other awesome beer pictures, you can do so by following me on Instagram: nhendy5. You can also see much more concise versions of these reviews by adding me on Untappd: RedArmyNic.
Main photo by Nic Hendrickson, Lastword Inc., all rights reserved