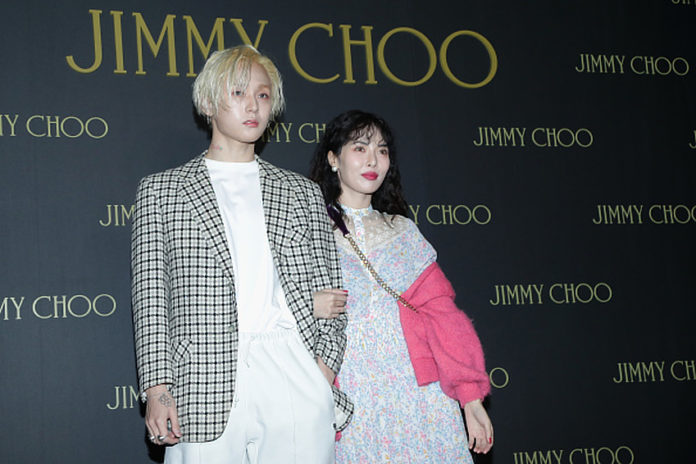 After being released from Cube Entertainment back in the fall due to "loss of trust," Hyuna and Hyojong have found a new home in the startup, P Nation. The two will join the team of Jessi and founder, PSY, who left big three company YG Entertainment in May of 2018.
Hyuna and Hyojong Sign With PSY's New Label
The label's opening was made public on January 24th with a statement from PSY on Twitter that read "I've established a company. A name of which is P NATION. I would like to share things that I've learned as a PD/manager/director of PSY for 19 years. Allow me to make a playground for passionate players chasing their dreams with sweats!!" That same day he published a video of soloist Jessi signing a contract for the label on Instagram. On Sunday another Instagram update was published, showing PSY standing over Hyuna and Hyojong, who both had contracts in front of them.
View this post on Instagram
Hyuna and Hyojong's Departure From Cube
Back in August, rumours started to swirl about a romantic relationship between Hyuna and Hyojong (who was known under the stage name of E'Dawn at the time). While their label, Cube, denied this, they went public and said it was true. This caused the label to cancel upcoming fan meetings with some fans reacting harshly to the news. In September, Cube claimed they would terminate their contracts, putting out a statement describing how trust was lost between the artists and the label in this situation. Hyuna's departure was announced in October, with E'Dawn's coming a month later. Prior to the scandal, E'Dawn was most known for his part in the group Pentagon and the music trio Triple H, which Hyuna was a part of as well.
Post-Cube Activities
The couple has stayed in the public eye recently through Instagram posts. Hyuna upped her post frequency on her already established account, and Hyojong opened an Instagram account which now has 1.6 million followers. Due to the departure from Cube Entertainment, boy group Pentagon now operates as a nine-person team. The group is set to make their Japanese debut next month.
Hyuna, Hyojong and PSY's Successful Pasts
Hyuna was putting out singles at an annual pace before being released, with the song "Lip & Hip" being put out in late 2017. The song "Babe" was put out earlier in the year as well. Her most known soloist work is with early singles "Bubble Pop!," and "Ice Cream." She was also a part of girl group 4Minute prior to their disbandment. The last song that E'Dawn participated in with Pentagon was "Shine," a song which became known for its choreography and chorus. It became the first single from the group to chart on the Gaon Music Chart.
Founder of P Nation, PSY, is mostly known for his songs under the company YG Entertainment. His 2012 hit "Gangnam Style" had worldwide viral success, becoming the first Youtube video to achieve one billion views. The video currently sits at 3.25 billion. He was invited to award shows all around the world during his boom of success. He continued to put out songs "Gentleman," "Daddy" and "I Luv It," which all achieved #1 on the Gaon Music Chart.
What's Next Will Be Seen
Working for P Nation won't be the first time that Hyuna has worked with PSY, as she featured on "오빤 딱 내 스타일 (Oppa Is Just My Style)," a remix of Gangnam Style. Hyuna was also an actor in the original Gangnam Style music video. While fans of Hyuna, E'Dawn and Jessi all anticipate new music, there is nothing currently announced. The label has only just formed, and presumably, there will be some waiting time before releases are put out under its name.
Stay tuned to LWOS.Life: Music to stay up to date on all things K-Pop.
Main Image Credit: