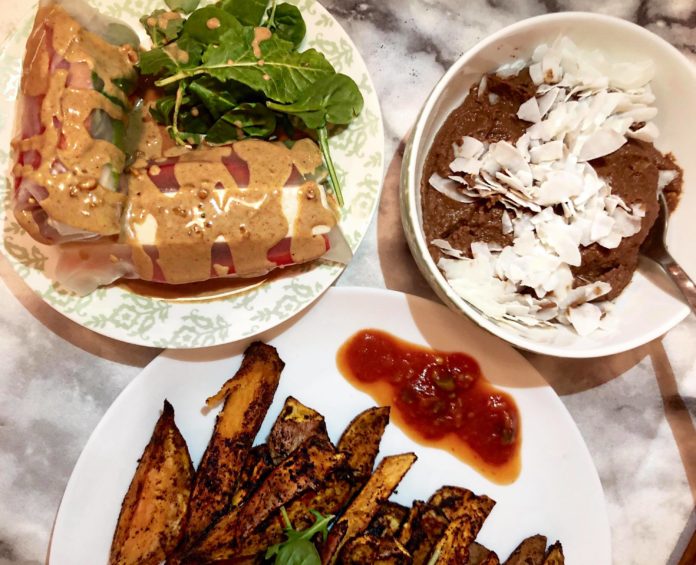 Super Bowl Sunday is one of the best days of the year for two types of people: those who love football and those who love cooking. Whichever one you are, these recipes will take your party skills to new levels. Also, they're easy enough to make if you are new to the kitchen.
You've got an army to feed on game day, so let's jump in!
Three Vegan Super Bowl Snacks That Will Score
The key to good Super Bowl party food is snacks that are both easy to eat with your hands but filling enough for a meal. Between tofu spring rolls with a peanut dipping sauce, spicy sweet potato fries, and decadent chocolate hummus your guests are liable to be drooling from kickoff.
Tofu Veggie Spring Rolls With Peanut Sauce
For the spring rolls:

Rice paper wraps
1 block of tofu
1 red bell pepper
Handful of spinach
A handful of baby carrots
For the peanut sauce:
¼ cup peanut butter (crunchy is used here)
2 tablespoons soy sauce
1 tablespoon brown sugar
1/2 teaspoon garlic powder
Dash of salt and pepper
Water to thin
Optional: a splash of orange juice
Instructions:
Bring some water to a medium boil in a flat saucepan. You want the saucepan to be flat so your rice paper wraps do not crease when you dip them in the water.
While the water warms, slice your vegetables and tofu. Cut the tofu lengthwise into skinny pieces, perfect for wrapping.
Slice carrots, bell pepper, and other desired toppings into thin strips.
Next, make your peanut sauce. Add peanut butter, soy sauce, brown sugar, garlic powder, and salt and pepper into a bowl. Whisk together with a fork. Adjust taste as desired. For a sweeter sauce, add more sugar. For saltier, soy sauce. For nuttier, peanut butter.
Once you've reached the desired taste, add a splash of water and a splash of orange juice (for tanginess, if desired) and whisk until your sauce is thin and runny—perfect for dipping!
Once the water is warm, dip your rice paper rolls into the water for around 10 seconds. Carefully remove them and place them onto a cutting board.
Assemble your spring rolls by adding in tofu, bell pepper, spinach, and carrots. Fold the sides in, roll them up, and voila—spring rolls!
Notes:
If you mess up your rice paper rolls, don't worry. Make sure you're laying them flat in the water just long enough to soften, but not long enough to become flimsy.
Sweet potato fries
3 medium-sized sweet potatoes
2 tablespoons olive oil
2 tablespoons chili powder
1 tablespoon paprika
1/2 teaspoon cumin
1/4 teaspoon cinnamon
Salt and pepper to taste
Start by preheating your oven to 425 degrees Fahrenheit.
Wash and slice the sweet potatoes into strips. The best way to do this is to slice the sweet potato in half lengthwise and cut strips. The strips that are thicker, cut in half.
In a small bowl, make the seasoning. Add olive oil, chili powder, paprika, cumin, cinnamon, and salt and pepper. This should form a thick consistency.
Add your sliced sweet potatoes to a pan with aluminum foil. Pour the seasoning on top and toss until evenly coated.
Bake the fries for 25 minutes. When they're finished, let them cool, and enjoy! These go great with salsa, barbecue sauce, ketchup, or even guacamole!
Chocolate Hummus
1 can of chickpeas, rinsed and drained
3 heaping tablespoons of cocoa powder
Dash of Sea salt
3 tablespoons brown sugar
1 tablespoons oil
Splash of water
Instructions:
Rinse and drain your chickpeas. Add them to a blender with cocoa powder, salt, brown sugar, oil, and a splash of water.
Blend on high until creamy, adjusting the flavor as need be.
Refrigerate before serving. Chocolate hummus goes great with pretzels, crackers, fruit, or even the sweet potato fries!