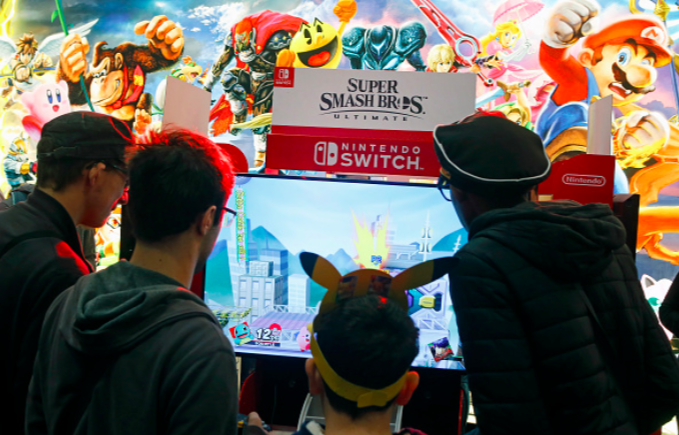 We can always expect the people from Beyond The Summit to give us a great show. From fighting games to first-person shooters, the event becomes a spectacle. The Ultimate Smash Summit will go down as one of the best events of the year by both players and spectators. We saw a different side of the pros, as they performed funny skits whilst competing to be the best. More importantly, the veterans from Smash Melee and the players from other iterations of Smash came together for this event. They showed why the Smash Bros. community is better when we are together, and it was an incredible sight to see. However, not everything was fun and games. A winner had to be crowned, and 16 players were hungry for the gold. Leonardo "MK Leo" proved to be a cut above the rest, besting Samuel "Dabuz" Buzby to win Smash Ultimate Summit.
In One of the Best Ultimate Events to Date, Leo Proved His Skill
Notable Placings:
Samuel "Dabuz" Buzby
As mentioned before, Dabuz placed second at Smash Ultimate Summit. However, the road he had to reach for Grand Finals was difficult. After being sent to the loser's bracket early by Sota "Zackray" Okada, Dabuz went on a legendary loser's run. He started off by defeating Melee legend Jason "Mew2King" Zimmerman. After that, he would go on to defeat both Brian "Cosmos" Kalu and Nairoby "Nairo" Quezada. The Olimar specialist was also able to score a victory against Ezra "Samsora" Morris in the next round. After advancing to Loser's Finals, he bested William "Glutonny" Belaid to finally reach Grands Finals, only to come up short against MK Leo. All of the players mentioned before are top contenders to be the best in the world. Dabuz's run through the loser's bracket was nothing short of amazing.
William "Glutonny" Belaid
In third place, Glutonny cemented himself as both the best European player and a threat at any tournament to win it all. Before the tournament, there was speculation that the European Smash scene was not as strong as its American or Japanese counterparts. While there is still a long way to go, Glutonny proved that he can hang with the best of them. While his loser's bracket run was relatively short, he made it all the way to Winner's Finals by getting upset victories against Cosmos and Zackray. That is a sign of things to come for both the Wario main and the Smash Ultimate competitive scene in Europe.
Ezra "Samsora" Morris
Samsora was arguably the one who was closest to defeating MK Leo at Smash Ultimate Summit. Unfortunately, the Peach main came up short and was sent to the Loser's Bracket. This is where things get interesting, because Loser's Bracket Samsora is becoming something of a Smash Ultimate phenomenon. When sent to the Loser's Bracket early, he went on an outstanding run and defeated all comers one by one. With that said, Smash Ultimate Summit was no exception. Rivaling Dabuz's run to a tea, he defeated top players Paris "Light" Ramirez, James "Void" Makekau-Tyson and Zackray. His run ended by eventual second place Dabuz, placing fourth overall.
Sets to Watch:
Adam "Armada" Lindgren vs William "Leffen" Hjelte
These two players have played against each other for years. They have an incredible amount of history and are legends within the Super Smash Bros. community. However, they had never played against one another in Smash Ultimate. These Melee veterans gave everyone a great show and displayed their skills as top players in their own right. While it is a different game, you can expect the best out of these two pros any time.
Leonardo "MK Leo" Lopez vs Gonzalo "Zero" Barrios
These two were the top two players in the previous iteration of Super Smash Bros. Similar to Armada vs. Leffen, these two had never faced each other in Smash Ultimate. While Zero got the better of MK Leo in Smash Wii U, Leo was determined to show Zero that it is a new dawn and a new day; and Leo was feeling good.
Leonardo "MK Leo" Lopez vs Ezra "Samsora: Morris
This five-game set was probably MK Leo's most difficult challenge all tournament. These players have clashed on multiple occasions in Smash Ultimate, and every set is a nail-biter. Samsora has come so close to winning every time, but MK Leo always manages to find a way to clutch it out. The next tournament these two will meet will surely be another set to be called one of the best of the year.