Toxic fandom is a subject I've been investigating in recent months. With the divided reactions to the latest Star Wars films, the sexism in geek communities, and online harassment coming off as film criticism, this is a subject that has overwhelmed me with its many paths to explore.
In case you haven't read Parts I and II of my articles entitled The Misery of Fandom, I've been exploring the reasons why toxicity lays deep into geek culture, where everything is meant to be loved and celebrated. Yet, I had been so focused on this topic that I had actually forgotten what it was like to be passionate about a film franchise or TV show.
This brings me to WonderCon, a comic book convention owned by Comic-Con International. It was held last month in Anaheim, California. It was where I made my convention, or "con", debut, and in costume.
How WonderCon Reminded Me of My Own Fandom
Putting on the Costume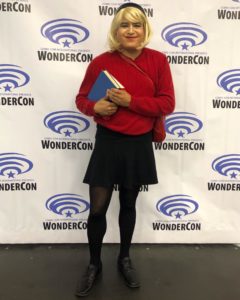 It was Saturday, March 30th.
Inside the Anaheim Convention Center, located two miles down the street from Disneyland, hundreds of people were gathered to honor the latest in popular culture. Everything geek-related from movies, TV shows, video games, and comic books was being celebrated.
Many of these fellow convention attendees were "cosplayers," which literally means "costumed players." It's been a growing phenomenon for the last two decades and one I'd been slightly fascinated with over the years. So I thought I'd give it a try, dressing as Sabrina Spellman from the Netflix series Chilling Adventures of Sabrina.
Being an actor and obsessed with Halloween is where my interest in cosplaying has its roots. Aside from horror films and candy, what I've always enjoyed most about Halloween is the costumes. Not just dressing in them, but also the wide variety of costumes people wear and how creative they can be. It also has introduced me to something I never thought of venturing into: cross-dressing.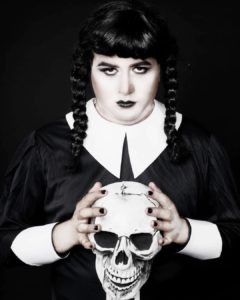 My first foray into cross-dressing started in Halloween 2016 when I went as Negasonic Teenage Warhead from Deadpool. Despite this, I've never counted it as a cosplay. Then in Halloween 2018, I chose Wednesday Addams from The Addams Family to be my costume, even organizing a photo shoot for it. When the photos were released, it was a major surprise to my closest friends and family. The positive feedback, however, was what convinced me to start attending cons and trying out actual cosplaying.
Arriving at the Con
Watching and loving Chilling Adventures of Sabrina inspired me to dress as the titular character. However, it was all a matter of occasion. Was I to organize another photoshoot? Should I wait for a specific event to do this? And that's when I came across WonderCon.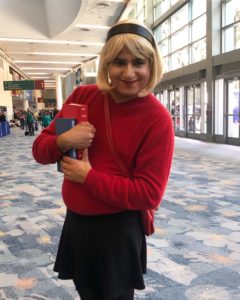 The setting and timing could not have been more perfect. The recent second part of CAOS Season 1 was to premiere a week after the weekend of WonderCon (you can now watch it on Netflix). It was a great opportunity to showcase myself as a performer and even further declare how much I love the show. Also, Anaheim is only an hour away from where I live.
With my costumes pieces and wig laid out, my friend Nikki doing my makeup, and plans to meet with a group of friends, I was ready to go to WonderCon. Then came the parking situation. Due to my arriving at noon and parking spots at the Anaheim Convention Center all being filled, I was redirected to the Angels Stadium parking lot, where I would then be shuttled over.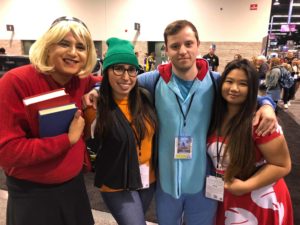 Once dropped off, I found myself in a sea of cosplayers trying to make my way over to grab my official WonderCon badge. It was already a surreal experience seeing so many people in detailed costumes, many bearing uncanny resemblances to famous characters. And I was finally among them, dressed as a character I admired. Eventually, I caught up with my friends; Rielly and Gail, dressed as Lilo and Stitch, and Larissa, Disney-bounding as Goofy.
My WonderCon Highlights
One of my biggest fears before WonderCon was people not recognizing who I was. I was so nervous about my costume that I felt people would constantly be guessing incorrectly or not even like it. Then, just five minutes after receiving my badge, a young girl wearing a Chilling Adventures of Sabrina t-shirt stopped me and asked to take a picture with her. I felt revered, like a celebrity. It also gave me hope that this WonderCon thing could be worth it.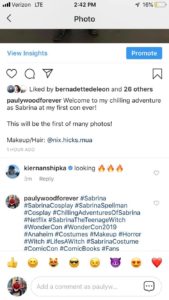 After taking some photos in my costume, I posted my first one on my Instagram and Facebook, generating more surprised reactions. Later that afternoon, while walking around the Expo Hall with Larissa, I checked my phone and froze in shock. Kiernan Shipka, who plays Sabrina on the Netflix series, had liked and commented on my photo on Instagram. I was speechless, nearly in tears. I couldn't believe Sabrina herself actually approved of my look. It made my day.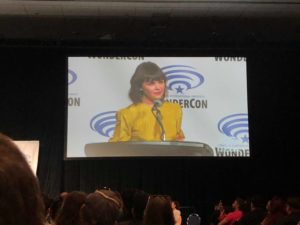 There was still so much more to see at WonderCon that day. Panel discussions were on my list, including one for the recent revival of The Twilight Zone. The panel was moderated by cast member Ginnifer Goodwin, interviewing executive producers Win Rosenfeld, Alex Rubens, and composer Marco Beltrami, among others. Another panel discussion was about voice acting, including the legendary Phil LaMarr (Samurai Jack, Futurama) and the hilarious Jon Bailey (Honest Trailers, Bumblebee). It's funny, I would usually come across YouTube videos of con panel discussions and watch them out of curiosity. Now actually after seeing them in person, it enhanced my con experience to a more broad level of appreciation.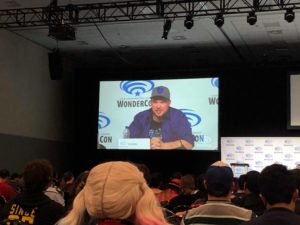 Despite the merchandise and celebrities all over WonderCon, it was the amazing array of cosplayers that grabbed my attention. There were characters from Marvel, DC, Star Wars, Game of Thrones, anime, Disney princesses, even Mrs. Doubtfire, cosplayed by my friend Allen Waiserman, and Ed from Good Burger. I could not believe my eyes. I loved the variety, the creativity, and most of all, the passion. I also met fellow Sabrina cosplayers with amazing looks, even better than mine.
Exploring Fan Truths
I work in the film industry in Los Angeles. Believe it or not, we don't often have the time to catch up on our TV shows or even go to the movies, because we're too busy working on them. Fandom is almost a chore these days; it can be difficult to stay in the loop of whatever's new and popular. As someone who keeps busy working on set, I've felt detached from fan communities due to my inability to keep up. But if you love something, there should be no limit to how much you declare it.
Unfortunately, bullying and toxic behavior will always be present in fan communities. Online forums, YouTube comments, and Twitter are wretched hives of scum and villainy. Whether how much you love a franchise or what you like or dislike, there will always be someone who vehemently disagrees and puts you down for it.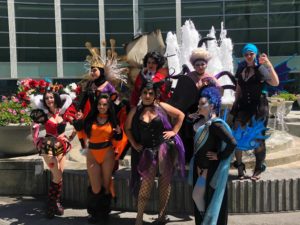 I saw none of that at WonderCon. I saw people honoring whatever film, video game, or superhero they loved with other fellow fans. This was a safe zone for people who were allowed to be weird and geeky without being judged by the outside world or toxic fans. I saw that and related to it. Because there are people in my life who have questioned my cross-dressing.
Why did I dress as Negasonic Teenage Warhead? I love the character and had a buzzcut back then. Why did I dress as Wednesday Addams? I love the character and often emulate her personality. Why did I dress as Sabrina Spellman as seen in CAOS? I've loved the character since childhood and this new version had a look I wanted to try on. Will I cosplay as a male character for once? Yes. Will I cosplay as a female character again? Yes.
Last Word on WonderCon
I'm a straight, twenty-seven-year-old man who likes cosplaying as badass female characters and I do not have to answer to anybody about that. Because when you're part of a community like cosplayers, what matters most is sharing your interests in creativity and entertainment, no matter who you are and who you choose to look like. Just like how if you like something in a particular fandom for your own reasons, there should be nothing wrong with that.
This article is more than just about my first comic-con experience, it's reaffirming that even though I will not stop pursuing my research on the realities of toxic fandom, I can still enjoy the positive side to it all. Cosplaying was just my gateway back into the joy of fandom.
My costume plus affirmation online from Shipka were great enough, but I was most fortunate to be with my friends throughout this experience. Without them, being at my first con ever probably wouldn't have had the same impact on me. Because when you're a fan, you need fellow fans.
Special thanks to:
Larissa, Rielly, Gail, Jennifer, Jeff, Anna, Allen, and Nikki.