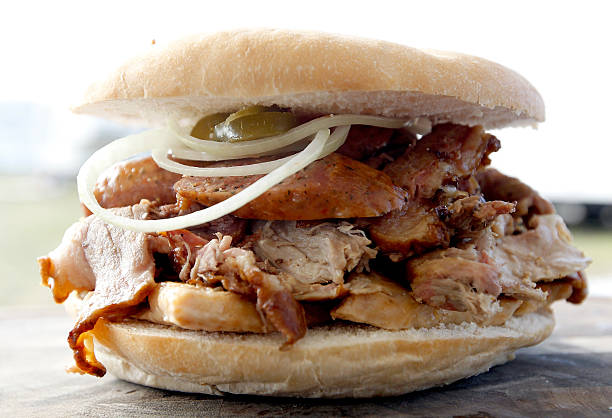 The March Madness Final Four Grill Party time is here and you are hosting a Saturday night doubleheader featuring college basketball and your incredible grilled creations. The two games Saturday night require you to prepare your meal so that it is ready for the opening tip-off of game one and will last until the end of game two. After that, it is on to championship Monday with the final March Madness game and another easy to prepare a feast for your guests. Your Final Four Grill Party will be a huge success and we have you covered with a way you can bring out a great menu and also have time to also watch the games!
In honor of the Texas Tech Red Raiders playing Saturday night we are bringing our Grilled Texas Chili to you and your guests. For the finale on Monday we are giving you two options for you to serve your guests. We have our Easy Pulled Pork recipe and our Pot Roast recipe. Both of these can be prepared on Sunday and be ready to go for the start of the championship game Monday night
Last week, Bryan put out a Sweet Sixteen grill menu. Sure, the Sweet Sixteen part of the tourney is done, but it doesn't mean you can't use the grill menu. Check it out here!
Final Four Grill Party Menu
Grilled Texas Chili
Your guests may wonder why this recipe is called Grilled Texas Chili, but they won't after they taste it. Luckily for you, the only grilling needed is for the steak and peppers used in your chili. You'll be amazed at how your chili flavor changes using this grilling method. The meat and peppers bring that grilled goodness to the pot with them, which is nice. 
This recipe is made for a two-gallon pot, so you may need to adjust the recipe to fit the size of the pot you're using. You will also have to adjust the amount of spice and peppers to suit your tolerance for heat. This batch is around medium on the heat scale. Enjoy!
Ingredients
3 lbs. ground beef
3 thin sirloin or "charcoal" steaks
1 large/jumbo can of crushed tomatoes
1 large can of diced tomatoes
3 large cans (or one jumbo can) of Brooks chili hot beans
2 cans of red kidney beans
5 

jalapenos

 whole
5 

serranos

 whole
1 large onion chopped
1 12-oz can of your favorite beer (I prefer LaBatt Blue!)
Chili powder
Granulated garlic
Cumin
Lawry's seasoning salt
Pepper
Ground cayenne pepper for more heat
Grill Time
Set up your grill with 25 coals in the center and light it up. While the coals are getting ready, toss your peppers in a plastic bag. Add in a drizzle of olive oil and all of your spices, then toss the peppers to spread the spices evenly.
Season your steaks on both sides with the same spices. Once the coals are ready, spread them around evenly in the middle. Grill your steaks directly over the coals and place the peppers around the outside area. Cook your steaks to medium-well and the peppers until done with a slight char outside. Remove them and allow to cool.
Once cool, cut off the pepper stems and chop into small pieces. Do the same with the steaks making sure to sample a bit for quality control purposes. 
Chili Time
Add two tablespoons of olive oil to the pot and sauté half of your chopped onion and the ground beef. Mash the ground beef as it cooks and add in your seasonings. After the beef is cooked, add in the peppers and steak bits. Stir and saute on low for 2-3 minutes. You'll notice the steak absorbs most of the beef fat, so this is the perfect time to add in the 12-ounce beer.
Continue to simmer and add the crushed tomatoes, diced tomatoes, and all beans. Taste and re-season as needed and simmer for an hour stirring the pot every 10-15 minutes.
After an hour, taste and add more seasoning if needed. Serve your Grilled Texas Chili with chopped onions, oyster crackers, and shredded cheese. Your guests will be so happy you honored the Texas Tech Red Raiders with this delicious chili! 
Final Four Grill Party Monday Night Options
Easy Pulled Pork
Making pulled pork on the grill or smoker scares a lot of people due to the amount of time involved. Pulled pork can take 12-14 hours to get finished on the grill. Most grillers don't have that kind of time and want it done quicker. The solution is to use the "quick cheat" method that only involves two to three hours of grill time. You'll also need a seven quart or larger crock pot to finish the pork. With the championship game Monday night you will need to do the smoking on Sunday, the day before your Final Four Grill Party. You will then use the crock to finish it overnight.
Pork Shoulder Prep
First, pick out a pork shoulder roast that's around six to eight pounds. You'll also need to eyeball the roast and make sure it will fit in your crockpot. Next, take the pork shoulder and give it an olive oil rub. After that, liberally season the roast on all sides with Lawry's Seasoning Salt, Cajun Spice, granulated garlic, cumin, paprika, and chili powder. Once it's all covered in the spices, it's time to grill.
Grilling/Smoking Pulled Pork
You're going to grill the pork shoulder with indirect heat. Take hickory wood chips and soak them in water for 30-60 minutes before grilling. Take around 30 coals and pile them in a pyramid on one side of your grill. We're not trying to cook the roast; we're only smoking it for flavor. Light your coals and wait for them to all catch and turn grey. After that, spread them out along the one side in a flat pile. Add a handful of wet wood chips to the top of the coals, replace the grate, and then place the pork shoulder "fat side up" on the opposite side of the grill. Cover the grill, making sure the air vents are open and are directly above the pork roast.
Smoking Time
You should begin to smell that delicious aroma of hickory smoke wafting out of the grill vents. Every 20-30 minutes you will need to replenish the wet wood chips to keep the smoke going. After two to three hours, the coals will be almost burned out and the pork roast should look great. It's nowhere near cooked yet, so no sampling!
Gas Grill Smoking Option
If you can shut down the flame on a third or half of your gas grill, you can smoke like a BBQ pro. Take a handful of hickory wood chips and place them in a foil pouch. Cut slits in the top of the pouch to allow the smoke to come out. Then place the pouch near one of the lit flame bars. You'll need to place the pork shoulder in the "non-lit zone" to keep it from burning up. You will have to use three to four pouches for the two to three-hour smoke fest.
Crock Time
After smoking the pork shoulder, it's time to place it in your crockpot. Set the crock to low and let it cook overnight. You will wake to a house that smells like a BBQ joint—not a bad way to start your game day! In the morning, shut down the crock and remove the pork shoulder to allow it to cool. Once the crock juices have cooled, drain them into some glass jars. I suggest empty pasta sauce jars. Do not pour the juices down your drain as they will cause plumbing problems down the road.
Pulling The Pork
After the pork shoulder has cooled, begin to pull it into chunks or strips. Return it to your crockpot on low and add your favorite BBQ sauce. Be gentle with the pork when stirring as you don't want to shred it. Once it's warmed through, it's ready to serve. Remember it may take up to two hours to warm so don't delay pulling the pork before game time Monday night. For serving you can use any kind of buns that you like, but pulled pork is extra good on Hawaiian rolls.
Grilled Pot Roast
This is another easy recipe that you can prepare on Sunday and have ready for the championship game Monday night.
Ingredients
4-5 pound chuck roast
3 pounds Yukon gold potatoes
5-6 large carrots, peeled
2 large sweet onions
salt, pepper, Lawry's seasoning salt, and granulated garlic
1 cup of water
apple or mesquite wood chips soaked in water
crockpot
We call this grilled Pot Roast because you will be smoking the chuck roast on your grill before using the crock pot. The additional flavor delivered by smoking the chuck roast is something your guests will notice.
Grill Time
Set up your charcoal grill for indirect grilling, placing 15-20 coals on one side. Light it up and wait until the coals are that perfect grey. Season your chuck roast with all of the spices then place on the opposite side of the grill. Place a handful of soaked chips on the coals and close the lid. Be sure to place the vent over the meat. Add more soaked chips every 20 minutes, grilling for two hours or until the coals are gone. Remember, we're only smoking the chuck roast, not trying to finish it on the grill. Remove the chuck roast and bring inside.
Crock Time
Monday morning take the carrots and cut into two inch long pieces. Cut the potatoes into halves and the onions into quarters. Place the onions, potatoes, and carrots on the bottom of the crock pot then season with your spices. Add in the cup of water and place the chuck roast on top of the veggies. Set your crockpot on low and let it cook the whole day Monday. Prior to the championship game take out everything and serve it all on a large platter for your guests to enjoy. They will certainly notice the unique flavor of the meat that was smoked on the grill.
Last Word On Our Final Four Grill Party Menu
You have wowed your guests for three straight weekends while they watched the March Madness tournament. You have brought them some incredible grilled dishes that they will remember until your next Final Four Grill Party! Stay tuned for future recipes and grilled delicacies that you can master in the coming weeks. We will also feature seasonal menus throughout the year so stay tuned for those. Now get grilling!
For Bryan's first March Madness grill menu, click here!
Main Image Credit:
Embed from Getty Images