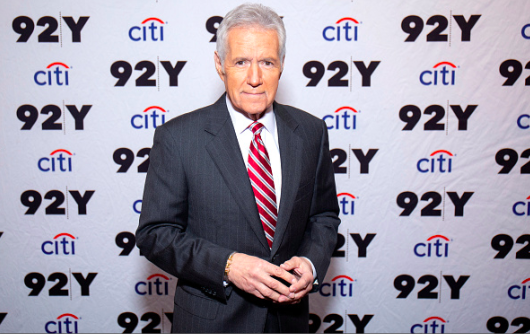 When Alex Trebek announced in March that he had been diagnosed with stage IV pancreatic cancer, America was understandably devastated. Since 1984, Trebek has helmed one of the most beloved television game shows in history. Jeopardy! has been a staple of the American home for over 50 years, and since Trebek began his tenure with the program, it is near impossible to imagine another personality taking the reins should he be unable to return. Prior to the announcement of his diagnosis, he renewed his contract through the 2021 Season, giving us long-time fans a sense of relief. Still, with the complications that will likely come from such intensive treatment, it's time to consider the future of the program. Here at lwos.LIFE, we're holding back our tears as we bring you all the possibilities.
Who Might Be The Next Heir to the Jeopardy! Throne?
Laura Coates
Let's begin with Trebek's picks for his successor, a list that he divulged during a recent appearance at New York's 92nd Street Y. Laura Coates has been one of CNN's top American legal analysts since 2016 and would be a formidable choice for the job. She received her Juris Doctor from the University of Minnesota Law School, is a bestselling author, and also has experience as a radio talk-show host.
Laura has been a public servant for her entire career, bringing us the latest in news and analysis, and using her law degree to serve the greater good. A true woman of the people, she is a definite frontrunner for the job.
Alex Faust
When Alex Faust replaced Bob Miller as the leading play-by-play commentator for the Los Angeles Kings, he knew he had big shoes to fill, but didn't expect to replicate Miller's exact style—notes that are important to translate for anyone filling Trebek's role.
The 29-year-old sports broadcaster was named by Trebek as a potential recommendation last year when rumors began to fly about Trebek's retirement.
I guess there are worse ways to randomly see your name show up on TMZ! ??‍♂️

I'm flattered by Mr. Trebek's kind words, and delighted to hear he's a big @LAKings fan! ?

— Alex Faust (@alex_faust) July 30, 2018
The political science and economics major from Northeastern University has a strong background in hosting and broadcasting, but his degree reaps qualifications as well. In between his sportscasting career and his graduation, he also worked as a data analyst for a period of time.
He may be young and fresh-blooded, having only stepped into his current role in 2017, but by 2022, he may be ready to helm a new generation of Jeopardy! and continue the lasting legacy of the show.
Ben Mankiewicz
Since September 2003, Ben Mankiewicz has hosted on Turner Classic Movies, bringing many seminal classics to our living rooms. The son of Robert F. Kennedy's press secretary, Frank Mankiewicz, the personality has accumulated a breadth of anchoring and hosting experience in his 52 years of life.
A graduate of Tufts and Columbia University, Mankiewicz is another of Trebek's top choices to succeed in his role. He has also served as a political and media commentator on various talk shows and programs and would be a safe, conservative choice for Jeopardy! as they search for the next star of their program.
Ken Jennings
Many viewers and geeks my age will remember the phenomenon that was Ken Jennings, the Jeopardy! contestant with the longest winning streak in the history of the show (74 matches). He is still the second-highest earning contestant on the show, only now being challenged by James Holzhauer, a professional sports gambler who is currently on a tear.
The Nielsen TV National People Meter produced the stat that Jeopardy!'s ratings were 22% higher during Jennings' run than they were during the same period the previous year, so he clearly has the watch factor, even if his return to the program this time would be in the hosting capacity. The software engineer-turned-author is still a household name for Jeopardy! fans and both his personality and know-how equip the 44-year-old trivia stud to be a stellar host of the program in the future.
Pat Sajak
No one is as familiar with ABC's game show programming than Pat Sajak, the host of sister show Wheel of Fortune since 1981. The newscaster, talk show host, author, and game show presenter has been in the business since his years at Columbia College of Chicago when he was hired as an overnight newsman at a local radio station.
Sajak and co-host Vanna White signed with Trebek to stay with their program through 2022, but there's no telling what the 72-year-old might be looking at once that deal runs out. Perhaps he'll re-sign, and double-head the network's primetime hour joining Jeopardy!? Or switch gears altogether, hanging up his hang-man hat and committing in full to the trivia program? There's no telling. But if the network is looking for experience and safety, no-doubt they'll look to their other leading man for some answers, and maybe in the form of a new commitment.
Matt Lauer
It's been nearly a year-and-a-half since disgraced Today show host Matt Lauer was fired from the job he had held for over twenty years. But according to an article in the New York Post from 2013, Lauer has been on the brain of ABC executives for quite some time as a potential Jeopardy! host.
To say this option is far-fetched is an understatement, as Lauer is still taking heat from the scandal that broke in 2017 regarding his inappropriate sexual conduct in the workplace. Lauer has spent the last while in exile in the Hamptons, focusing on fatherhood and his children, but told Page Six last August that he does plan to return to TV. This wouldn't be Disney flagship ABC's smartest move, and Lauer's actions are in no way defensible, but his experience as a journalist and television host do, on paper, qualify him for the job.
Will Farrell
Assuming you clicked this link prepared for a bit of a reality check, it's important that I tell you that MyBookie released odds prior to Trebek's re-signing on who will take over for the host at the end of his most recent contract. And Will Farrell is on that list with a +700 in fifth place of likelihood (behind the previously mentioned Coates and Faust, Anderson Cooper, and former contestant Buzzy Cohen).
We all know and love Farrell for his work on Saturday Night Live, where he has frequently parodied Jeopardy! and Trebek himself. And in the recent trend of his filmography, which, since 2013, averages about 1.5 films per year, is it so far-fetched to assume that Farrell might be looking for a new career project? I think not.
Last Word on the Next Jeopardy! Host
While it's a hard pill to swallow, regardless of his health, 78-year-old Trebek has been contemplating retirement for several years. Certainly, the recent news of his physical state in conversation with his contract extension brings up many question marks. As he continues in his fight, it might be good for Trebek to take some time to heal and recover, and we might begin to see some new guest hosts in the coming months. But there is, without a doubt, concern, and weight on ABC to look ahead.
When asked in the aforementioned interview at the 92nd Street Y about who might succeed him, Trebek joked, "it's probably going to be a woman, somebody younger, somebody bright, somebody personable, somebody with a great sense of humor, so I nominated Betty White."
Promising in every sense is Trebek's sense of humor through this difficult time in his life. He does, in that statement, present a just-as-promising list of qualifications for his successor.
Just this afternoon, audiences were privy to even more good spirit in a video tweeted by Jeopardy on Trebek's behalf:
That's a wrap! pic.twitter.com/iV0Of8xCEj

— Jeopardy! (@Jeopardy) April 17, 2019
Alex Trebek has carried the weight of Jeopardy! for so long that if one could scientifically build a perfect heir for the show, it would be impossible. But in order to carry on the Emmy Award-winning legacy that he has built, it will be fascinating to see how ABC attempts to try.
And now, back to my regularly scheduled programming of playing Jeopardy! on my Wii.