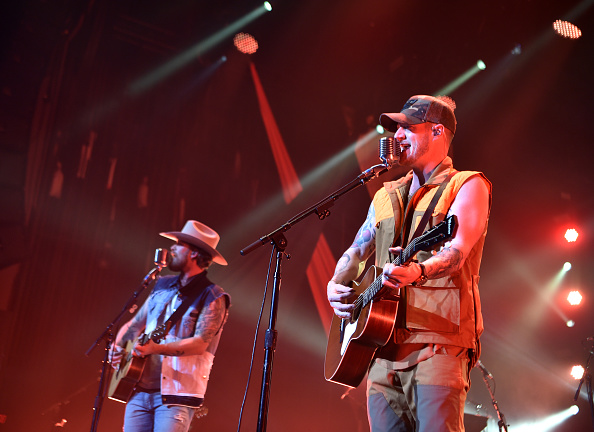 Since teaming up in 2010, the duo of Brian Kelley and Tyler Hubbard has scored numerous chart-topping hits. You've likely seen Florida Georgia Line on The Ellen Show, The Tonight Show with Jimmy Fallon, and/or Jimmy Kimmel Live as they've made multiple appearances over the years.
Having won multiple Country Music Awards and Billboard Music Awards, the band is today a household name to country music fans. With the February release of their fourth studio album, Can't Say I Ain't Country, the duo will be embarking on a North American tour starting next week.
Florida Georgia Line to Perform in Hamilton During RBC Canadian Open
Looking to Attract New Audiences
Florida Georgia Line's only Canadian show during the upcoming tour is set for June 7th at the Hamilton Golf and Country Club. It will take place after the completion of day two of this year's RBC Canadian Open.
A big fan of the popular American duo is world number 1 PGA golfer Dustin Johnson. The 2016 U.S. Open champion believes the addition of musical performances will increase the exposure of the sport and attract a new audience in Canada.
"This is exciting news," points out Johnson, who will be in tough to defend his 2018 title as there is a star-studded field expected for this year's event – including Rory McIlroy and Web Simpson. "I'm a big fan of Florida Georgia Line, and this concert series is a great opportunity to open up this tournament to a whole new fan base," Johnson adds.
As part of the concert series, popular Canadian band The Glorious Sons will also be entertaining the golf fans on June 8th after the third round.
No Stranger to Sports
On the topic of talented athletes, Kelley is no stranger to sports as he was a star baseball pitcher back in his high school days. His talents on the baseball field even earned him a scholarship to Florida State University.
When it was evident that baseball would not pan out, Kelley transferred to Belmont University.  That is where, in 2008, he met Hubbard and the pair teamed up to form Florida Georgia Line.
Strong Canadian Connection
The band has a strong Canadian connection as they were discovered by Nickelback producer Joey Moi, a Vancouver native.
Since their humble beginnings on the campus of Belmont University, they have gone on to record multiple chart-topping singles.  These smash hits include: "Cruise," "Round Here," and "Get Your Shine On." "Cruise," their 2012 debut single, is the best-selling digital country song of all time.
They've also had the chance to work and tour with the likes of Taylor Swift, The Chainsmokers, and Jason DeRulo – to name just a few.
Last Word On Florida Georgia Line's Upcoming Tour
On May 4th, Florida Georgia Line will be performing at the 2019 iHeartRadio Country Festival in Austin, Texas.  Following that, they will be playing in various cities across North America.  Their seven-month tour will wrap up on November 12th in Las Vegas.
With their only Canadian performance set for June 7th, there's a lot of excitement surrounding that upcoming show.
"We've always had an epic time performing in Canada," Hubbard points out. "Our Canadian fans sure know how to bring the party."