In April, BLACKPINK was in my area. Well, sort of. I traveled an hour's driving distance to Hamilton, Ontario to see one of Korea's top girl groups. It was an experience that I won't forget anytime soon. As a matter of fact, I've been sort of sad since the concert has ended. Writing this article is one half my duty for lwos.life and other half therapy. Let's talk about the concert and some reasons to why it shook me to my core.
A Review of BLACKPINK "In Your Area" World Tour
Before The Concert
I had a sneak peek at seeing what BLACKPINK would be like live when they performed at Coachella a few weeks back. That sounds way cooler than you think. I wasn't actually at Coachella, they just live-streamed the whole concert. Since then I was highly anticipating the concert. Their Coachella performance was a slightly trimmed down version of what they did in Hamilton, as they had to comply with strict concert times in the Coachella schedule.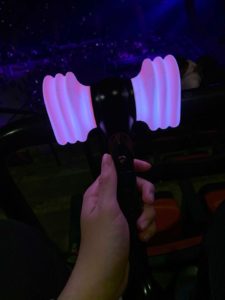 The first thing we did when we got into the FirstOntario Centre was we bought a lightstick. The lightstick was, and it hurts to say this, 60 Canadian Dollars, but it was worth it. Having the light stick was part of the experience of being at the concert. The photos inside this article show all of the people in the crowd with lightsticks, but even that doesn't do the view justice. The lightstick is black with two pink hearts on the end. It lights up, speaks and is soft, so you can hit people with it (not that you should).
Small Concert Details That I Enjoyed
One addition to their live shows that felt important was the implementation of a live band. I first noticed this when watching them at Coachella. BLACKPINK's music isn't necessarily catered to a rock band sound. With that being said, the mix of the normal backing track and a live band was perfectly mixed together live. It made it so that you knew what you were hearing at the concert was different from what you can hear on their albums. It also put a more epic spin on songs at times.
What was interesting was how the evening started. Instead of an opening act, many music videos of BLACKPINK's played on the big screens. This was no issue, as the crowd was more than enthusiastic to scream their favorite members appearing on-screen, and sing along with the best parts of a song. This was fun just because of the atmosphere that everyone created while the videos were playing. If a lukewarm crowd was seated while the videos were playing, I would be clamoring about how an opening act would have been needed.
BLACKPINK didn't have much of a language barrier since ¾ of the group speaks English (poor Jisoo). It was great that we got to hear Jennie's New Zealand accent and Rose's Australian accent. You don't really get to hear that often, as it doesn't come through when they are speaking Korean.
Solo Performances From BLACKPINK
BLACKPINK has a small discography that they fully played at the concert. The nature of their small amount of songs is that they had some time to fill in the concert. Each member was given a solo performance during the concert. Lisa did her dance routine for Jason Derulo's song "Swalla" as her solo performance. This went quite viral earlier this year when performed in Bangkok. The dance is not only impressive but will also make you fall in love with Lisa. It was also a nice change of pace from the three other solo performances which were focused on singing.
Rose had a touching duet with a piano, with her breaking into tears at one point during the song. Jisoo covered "Clarity," a dance song from Zedd and Foxes. I loved this song selection, as it felt like it worked perfectly with the type of music the group performs. Pyrotechnics shot off as the chorus was going for the final time, only further adding to the electric vibe to the performance. Throughout the night there was a great amount of pyro and confetti, but not to the point where it felt overdone. Jennie's solo was, of course, her song "SOLO." It was played last out of the four members, most likely because it's the only song from one of the members in the group that is an actual release.
The Cursed Intermission
My only major qualm with the concert was how it handled its intermission. The girls have to change outfits and prepare for upcoming numbers at points in the show. That's totally understandable and I have no issue with that. I thought it was creative how they showcased the live band, letting them have a solo performance in one of the short breaks. I did not like however the KIA ad that felt like six minutes but could easily have been longer. The ad featured the members of BLACKPINK, but at the same time, it was dull. The video centers around BLACKPINK joyriding KIA cars around an empty parking lot. I kid you not there is a part of the video where they drift in a circle for what felt like an eternity. The crowd cheered for each member when they first appeared on screen, but after that, it felt like there was confusion in the crowd. We saw what might be the longest KIA ad ever made. Though if I can compliment KIA on anything, it's that they stay true to their Korean roots with their advertising (numerous KIA ads played in Canada in recent months with the 2NE1 song "I Am The Best" playing in the background).
The End of Show and Encore
The two final songs played before the encore were "BOOMBAYAH" and "As If It's Your Last." After that, the crowd sat in darkness. Chanting "encore" for minutes after minutes, the suspense was being built. It felt like a longer form version of what Michael Jackson did at the start of his Super Bowl performance (that one was much more iconic, but it's the best comparison I have). When they came back they played the remix of "DDU-DU DDU-DU," which I don't like as a song, but with the mood in the building, I was able to enjoy the song. Their closing song was "Hope Not," a slower track compared to most of what they perform. I thought it was a nice way to close the show since it allowed everyone to come down from the energy of the other songs. At the end of the concert, Lisa started crying while heading to the main part of the stage to exit. It looked like Jennie was also near crying as they disappeared from the stage. It was an emotional night for many, fans and performers alike.
In Conclusion
I considered myself a BLACKPINK fan, but after this concert, my fandom was elevated to another level. After this, I didn't just like the group, I loved them. My favorite member of the group shifted from Jennie or Lisa to Rose because of how her personality came through during the show. It was obvious throughout the concert that they were working hard, singing and dancing their hearts out. I've been listening to the group even more than before after the concert, and I don't see that changing anytime soon.