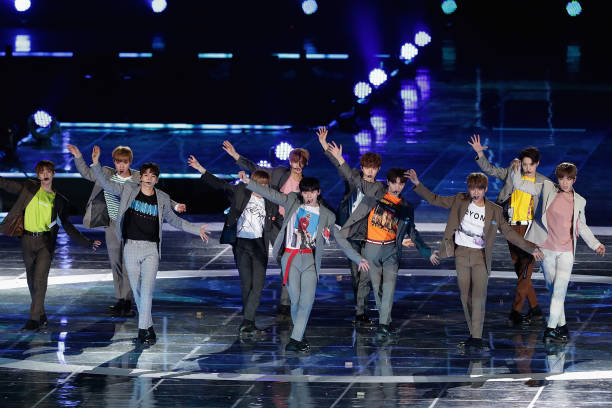 Produce X 101 officially kicked off last week with the first episode of the season. The episode introduced the viewers to some competitors, playing performances and unveiling some initial grades. The format in how the season premiere ran was similar to seasons before.
A Review of Produce X 101 Episode One
Changes To This Season
There have been a few minor changes implemented into the show this year. In previous seasons, all members of a group were determined by the vote on the season finale episode. This year, the first nine slots on the team will be determined by the finale votes, with the tenth slot being based off total votes in all rankings throughout the season. Also, the grading will change this year. Instead of the previous grades of A, B, C, D, and F being given, X will replace F. Not only that, the people graded with X will not be allowed inside the training center that the other grades can access.
The Beginning of Episode One
The show began with contestants taking their seats on the set. Many people sat in the #1 seat on set, with the person changing after they would be challenged for it. Yun Seobin from JYP Entertainment got the seat after defeating Lee Midam in arm wrestling. Later in the show, he got to do a one-minute promotional video because he sat in the #1 seat. Contestants were surprised that trainees from YG and JYP were taking part in this season.
After everyone was seated, more members of this season's cast were introduced. Lee Dong-wook, the new international representative introduced everyone. The two vocal trainers for the season were Lee Seok-hoon and Shin Yu-mi, with Soyou being a part of the panel on the first episode. The dance trainers are Bae Yoon-Jeong, Kwon Jae-Seung, and Choi Young-jun. Just like in seasons before, Cheetah was the rap trainer.
Ko Ko Battle
The way Produce shows start is by giving each trainee a letter grade after they perform a song. They performed along with fellow company members for this first challenge. The first performances we saw were from Source Music and DSP Media. They were intentionally paired up together since they both performed EXO's "Ko Ko Bop." Source Music was criticized for focusing a lot on dancing but lacking in the vocal department. All three members were given a D rating. Son Dongpyo stuck out in DSP Media as a bright performer. They made him do a solo dance to MOMOLAND's "Bboom Bboom" afterward. Dongpyo and Lee Hwan were given B's while Lee Junhyuk got a C.
X's Everywhere!
Starship Entertainment was the biggest group on this episode, with five of them performing. They performed "Oh Little Girls" by Slate and didn't get positive feedback. Three of them (Kang Minhee, Koo Jungmo & Song Hyeongjun) were given an X rating while Moon Hyunbin and Ham Wonjin got a D rating. To further add to their troubles, two of them turned down the offer to do a solo dance afterward. The Maroo Entertainment and Cre.ker performers also didn't see success, with X ratings being given to some of their trainees as well. The Maroo trio performed "Replay" by SHINee, with Lee Woojin and Lee Taeseung getting an X. Lee Jinwoo got a C. Cre.ker performer Gwon Huijun played "Lie" by BTS and got an X. Continuing the streak of X's, Plasma Entertainment's Park Sion was given one after singing and dancing to "MIC Drop" by BTS.
Dropping One Career To Chase Another
The first A of the show came after a unique performance from Kim Yohan. His backstory was that he followed his father's footsteps in taekwondo but left his successful career to pursue becoming an idol. He performed "Come back to me" by Se7en while wearing Heelys. He did another dance afterward at the judge's request, this time without the Heelys. We then went from a former taekwondo fighter to an actor in Park Sunho. He's the oldest competitor at 27, trying to make it into a group after failing to debut twice. Soyou was emotional on the panel because he was a trainee at Starship Entertainment (her label) when she was starting off. He sang "Youth" by Troye Sivan and then performed a ballad after that to earn a B rank.
The Return of Kim Dongbin
We saw a special return on episode one, as Kim Dongbin started off his second Produce 101 season. He participated in Produce 101 Season 2, not debuting. He asked Jae Seung to hide his hands when performing, a callback to Season 2 where Seung's adjusting of an earpiece made Dongbin think he was being signaled to stop performing, which ensued tears in the moment. Also a callback, Kim performed NCT DREAM's "Chewing Gum," followed by "Perfect Man" by SHINHWA. He got a B, which is way better than how he started his first season. On the flipside, Kwon Taeeun performed "Siren" by SUNMI and became another victim of the X.
Success Late In The Episode

The three final companies on the episode were Brand New Music, MBK and Music Works. The four-member team at Brand New Music performed a song composed by their company and got two A's and two B's. MBK was given a wild range of scores after performing "Roly Poly" by T-ara and "Boomerang" by Wanna One. Nam Dohyon got an A while Lee Hangyul got a C and Kim Yeongsang got a D. They were high on Dohyon, giving him a rap solo after the initial routine. The show ended on a high note when Kim Kookheon and Song Yuvin both got A's after performing "Spring Day" by BTS and "O.G." by Troyboi.
On the first episode of voting (which for anyone that doesn't know, means nothing), Kim Mingyu from Jellyfish Entertainment placed first. Koo Jungmo, who got an X ranking is second. The lowest placing A is Yun Junghwa, who placed 58th.
Next Week on Produce X 101
Next week we'll see the final initial grading, and the first challenges after all of the members move into the dorm.
Other Episode Recaps:
Episode One Ranking
| | | | |
| --- | --- | --- | --- |
| Week 1 Rank | Trainee | Grade | Agency |
| 1 | Kim Mingyu | | Jellyfish Entertainment |
| 2 | Koo Jungmo | X | Starship Entertainment |
| 3 | Kim Yohan | A | Oui Entertainment |
| 4 | Cha Junho | | Woollim Entertainment |
| 5 | Kim Wooseok | | TOP Media |
| 6 | Son Dongpyo | B | DSP Media |
| 7 | Lee Eugene | | Individual Trainee |
| 8 | Lee Sejin | | iME Korea |
| 9 | Song Hyungjun | X | Starship Entertainment |
| 10 | Lee Jinwoo | C | Maroo Entertainment |
| 11 | Kwang Minhee | X | Starship Entertainment |
| 12 | Yun Seobin | | JYP Entertainment |
| 13 | Hwang Yunseong | | Woollim Entertainment |
| 14 | Lee Eunsang | A | Brand New Music |
| 15 | Kim Dongyoon | | Woollim Entertainment |
| 16 | Han Gichan | | Fantagio |
| 17 | Song Yuvin | A | Music Works |
| 18 | Park Sion | X | Plasma Entertainment |
| 18 | Kim Dongbin | B | MLD Entertainment |
| 19 | Ham Wonjin | D | Starship Entertainment |
| 20 | Choi Byungchan | | Plan A Entertainment |
| 21 | Kang Seokhwa | | Individual Trainee |
| 22 | Kim Sunghyun | | Stone Music Entertainment |
| 23 | Keum Donghyun | | C9 Entertainment |
| 24 | Joo Changuk | | Woollim Entertainment |
| 25 | Moon Junho | | Woollim Entertainment |
| 26 | Lee Taejin | X | Maroo Entertainment |
| 27 | Moon Hyunbin | D | Starship Entertainment |
| 28 | Kim Hyunbin | D | Source Music |
| 29 | Kim Kookheon | A | Music Works |
| 30 | Baek Jin | | VINE Entertainment |
| 31 | Wei Ziyue | | HONGYI Entertainment |
| 32 | Lee Midam | | AAP.Y |
| 33 | Yuri | | ESteem |
| 34 | Peak | | Chandelier Music |
| 35 | Jeon Hyunwoo | | Astory Entertainment |
| 36 | Park Sunho | B | sidusHQ |
| 37 | Nam Dohyon | A | MBK |
| 38 | Lee Jinhyuk | | TOP Media |
| 39 | Han Seungwoo | | Plan A Entertainment |
| 40 | Lee Hyeop | | Individual Trainee |
| 41 | Lee Hangyul | C | MBK |
| 42 | Wang Jyunhao | | YG Entertainment |
| 43 | Kim Sihun | B | Brand New Music |
| 44 | Kwon Huijun | X | Cre.ker Entertainment |
| 45 | Nam Donghyun | | The South |
| 46 | Lee Hwan | B | DSP Media |
| 47 | Hidaka Mahiro | | YG Entertainment |
| 48 | Kim Minseo | | Woollim Entertainment |
| 49 | Anzardi Timothee | | ESteem |
| 50 | Lee Hamin | | Individual Trainee |
| 51 | Im Siu | | Individual Trainee |
| 52 | Lee Woojin | X | Maroo Entertainment |
| 53 | Hong Seongjun | B | Brand New Music |
| 54 | Kim Sungyeon | | Individual Trainee |
| 55 | Tony | | HONGYI Entertainment |
| 56 | Choi Suhwan | | Individual Trainee |
| 57 | Tsai Chiahao | D | Source Music |
| 58 | Yun Junghwan | A | Brand New Music |
| 59 | Choi Junseong | | Jellyfish Entertainment |
| 60 | Byeon Seongtae | | Urban Works Media |
| 61 | Kim Jingon | | ESteem |
| 62 | Jung Youngbin | | Individual Trainee |
| 63 | Woo Jewon | | Around Us Entertainment |
| 64 | Park Jinyeol | | Individual Trainee |
| 65 | Jeong Jaehun | | Around Us Entertainment |
| 66 | Hwang Geumryul | | Yuehua Entertainment |
| 67 | Cho Seungyoun | | Yuehua Entertainment |
| 68 | Lee Junhyuk | C | DSP Media |
| 69 | Choi Sihyuk | | Around Us Entertainment |
| 70 | Steven Kim | | DS Entertainment |
| 71 | Song Changha | | Kiwi Media Group |
| 72 | Won Hyunsik | | Happy Face Entertainment |
| 73 | Lee Jaebin | | C9 Entertainment |
| 74 | Kwon Taeeun | X | A.CONIC |
| 75 | Choi Jinhwa | | WUZO Entertainment |
| 76 | Kim Dongkyu | | Urban Works Media |
| 77 | Lee Wonjun | | E Entertainment |
| 78 | Yu Seongjun | | Yuehua Entertainment |
| 79 | Kang Hyeonsu | | AAP.Y |
| 80 | Kim Kwanwoo | | Krazy Entertainment |
| 81 | Kim Seunghwan | | ESteem |
| 82 | Park Yoonsol | | NEST Entertainment |
| 83 | Won Hyuk | | E Entertainment |
| 84 | Park Sion | | Plasma Entertainment |
| 85 | Lee Gyuhyung | | WM Entertainment |
| 86 | Hong Sunghyeon | | Urban Works Media |
| 87 | Kim Junjae | | Think About Entertainment |
| 88 | Uehara Jun | | JH1 |
| 89 | Kim Minseo | | Urban Works Media |
| 90 | Jung Myunghoon | | AAP.Y |
| 91 | Choi Byunghoon | | Enfant Terrible Company |
| 92 | Sung Minseo | | SF Entertainment |
| 93 | Kim Yeongsang | D | MBK |
| 94 | Heo Jinho | | Astory Entertainment |
| 95 | Lee Sangho | | Gost Entertainment |
| 96 | Yoon Mingook | D | Source Music |
| 97 | Kim Hyeongmin | | Kiwi Media Group |
| 98 | Yun Hyunjo | | Gost Entertainment |
| 99 | Oh Saebom | | NEST Entertainment |
| 100 | Lim Dahun | | Kiwi Media Group |
| 101 | Yoo Geunmin | | Million Market |
Main Image Credit:
Embed from Getty Images