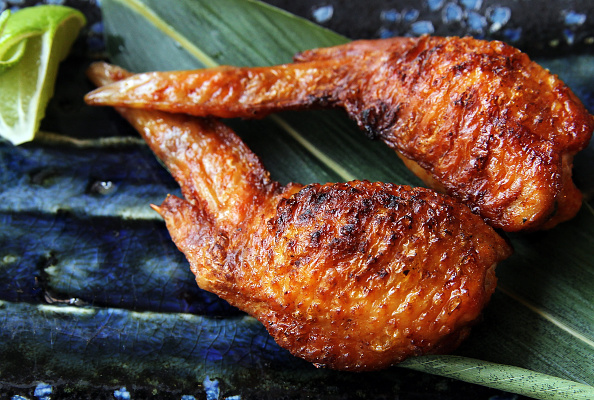 Memorial Day celebrations are when the majority of backyard grillers kick off their summer grilling season. For The Grill Masters, Memorial Day celebrations are simply an extended weekend in which they can grill out multiple times for their family and friends. The Grill Masters have been grilling non-stop all year round. A three-day weekend gives them a chance to host one or more grill parties. Today we are going to provide some basic grill recipes that anyone can make. First off is our Grilled Chicken Wings, followed by the main course of Grilled BBQ Pork Chops served with our Cajun Stuffing and our incredible Baked Beans as your side dishes.
Memorial Day Celebrations
A Brief History of Memorial Day
Memorial Day celebrations in the United States have gone on since the end of the Civil War. Prior to that, annual days of remembrance were held by the Greeks and Romans in ancient times. Honoring the fallen has gone on for centuries around the globe. For more on Memorial Day celebrations in the U.S. check this out from History.com:
"Although the term Memorial Day was used beginning in the 1880s, the holiday was officially known as Decoration Day for more than a century, when it was changed by federal law. Four years later, the Uniform Monday Holiday Act of 1968 finally went into effect, moving Memorial Day from its traditional observance on May 30 (regardless of the day of the week), to a set day—the last Monday in May.
"Despite the increasing celebration of the holiday as a summer rite of passage, there are some formal rituals still on the books: The American flag should be hung at half-staff until noon on Memorial Day, then raised to the top of the staff. And since 2000, when the U.S. Congress passed legislation, all Americans are encouraged to pause for a National Moment of Remembrance at 3 p.m. local time."
Over the years Memorial Day weekend has become the unofficial summer opener for grilling around America. The recipes below will help you host a Memorial Day celebration to remember!
Grilled Chicken Wings
While I normally promote fried chicken wings, today we are featuring our grilled chicken wings. They are incredibly delicious and better for you and your guests. And by the way, this is our one "healthier recipe" for the year, so enjoy it!
Ingredients
20-25 chicken wings, whole
Lawry's Seasoning Salt, black pepper, and Cajun spice (optional)
BBQ sauce, Franks's Hot Sauce, garlic parmesan sauce, or Teriyaki sauce
The secret to grilling deliciously juicy chicken wings is in the prep work. First, you should rinse the chicken wings in cold water then dry with paper towels. Next up cut off the tips of the wings leaving the two meaty parts in one piece. Do not cut the wings any more than that. Leaving the two parts whole is the secret to keeping the wings juicy when grilling.
Grill Time
Set up your grill with 25-30 briquettes in the center piled as a pyramid. Light the grill and get your wings ready. Once the coals are hot, place the wings around the outside of the grill grate. Season one side of the wings with the spices then turn over and season the other side. Close your lid and allow the wings to grill for 10 minutes. Next up, take the wings and give them a flip to the opposite side. Grill them 10 minutes longer and check on them again. It is at this point that the wings will be almost ready.
You will want a good char on the skin all over the wings but be careful not to burn them. Remove the wings when done and allow to rest for five to 10 minutes. Check the pan for clear juices from the wings. If the juices appear bloody, back to the grill to finish up.
Sauce Time
Once your grilled chicken wings are cooked through sauce them up in a large bowl using your favorite sauces. You can serve them with the usual celery sticks with ranch or bleu cheese dressing for dipping. Your guests will be amazed at the incredible flavor of your grilled chicken wings. You can also tell them that you were looking out for their health by grilling the wings instead of frying. They will appreciate the gesture!
Grilled BBQ Pork Chops
Ingredients
6-8 pork chops
Lawry's Seasoning Salt and black pepper
Your favorite BBQ sauce
Kaiser, pretzel, or sandwich rolls (optional)
It is best to use boneless chops unless you're a fan of bone-in. Pork chops come several ways at the store, so it's your call. Most grillers prefer to buy a whole or half boneless pork loin and cut their own chops. This allows the cook to choose how thick the chops will be for their guests.
Grill Time
One word of caution: grilling chops is an art. It is very easy to overcook pork chops. One inch thick chops can take 5-10 minutes to finish. You will want to follow the Grill Master's rule of thumb: "If you think they need another minute, take them off the grill!" Allow the chops to rest for 5-10 minutes then cut into the thickest one. If it is done, it's time to sauce the chops.
Return the chops to your grill after slathering on a healthy coating of BBQ sauce. Place the chops away from the coals and cook indirectly for 2-3 minutes. This will help caramelize the BBQ sauce and improve the flavor. Serve the chops with the rolls as sandwiches or on their own. Your guests will marvel at the great tasting chops you created.
Cajun Stuffing
There is nothing like pork chops and stuffing served together. Our Cajun stuffing is a delicious way to change up the usual stuffing your guests are familiar with. It involves a lot of the same ingredients as our Jambalaya recipe, so your stuffing will definitely stand out at your Memorial Day celebration.
Ingredients
1 red onion chopped
1 red pepper chopped
3 stalks of celery chopped
1 lb. medium 31-40 count raw shrimp
1 chicken breast cut up
2 cups of water
1 lb. smoked or Andouille sausage cut up
32 oz box of chicken broth
2-3 tablespoons of olive oil
1-2 tablespoons of Frank's Hot Sauce (optional)
Season to taste with Cajun seasoning, Lawry's, granulated garlic, black pepper, and cayenne pepper (optional)
2 large bags of prepared stuffing mix
1 sturdy foil pan
Stove Top Instructions
Start with a large pot or stockpot. Sauté the seasonings with the red pepper, red onion, and celery in olive oil until they're almost soft. Add the cut up chicken breast and sausage, then simmer 10-15 minutes or until done. Slowly pour in the chicken broth and water then bring to a simmer. Add in Frank's Hot Sauce and the shrimp then simmer for 10 minutes. Turn off the heat and add in the stuffing mix then stir it all together. Take your stuffing mix and place it in the sturdy foil pan. Cover with foil and bake at 300 degrees Fahrenheit for one hour. Remove the foil and continue baking for another 30 minutes. Your Cajun stuffing will then be ready to amaze your guests!
Baked Beans
Baked beans are always a favorite at BBQ parties. Our recipe takes the basic canned baked beans and turns them into an unforgettable side dish. To start you will need several cans of your favorite baked beans, 5-6 slices of bacon cut into small squares, a small chopped red onion, brown sugar, and honey. Take a Corning-ware dish or sturdy foil pan and place the beans on the bottom. Sprinkle the chopped red onion across the top of the beans, then add the bacon almost covering the beans. Spread out a thin layer of brown sugar and then drizzle the honey across the top. Cover the pan with foil and bake at 250 degrees Fahrenheit for two hours. Uncover the pan and bake for one additional hour. Right before serving, give the beans a good stir to mix in all the flavors. Then sit back and watch the smiles on your guests' faces. 
Last Word On Memorial Day Celebrations
Memorial Day celebrations are a great way to host family and friends at your house, but it's important to remember those who have fallen too. Whether you have someone in your family or a friend or neighbor's family that served and paid the ultimate sacrifice for our country, take a moment to raise a glass to toast them. That is really what this weekend is all about. Now get grilling!