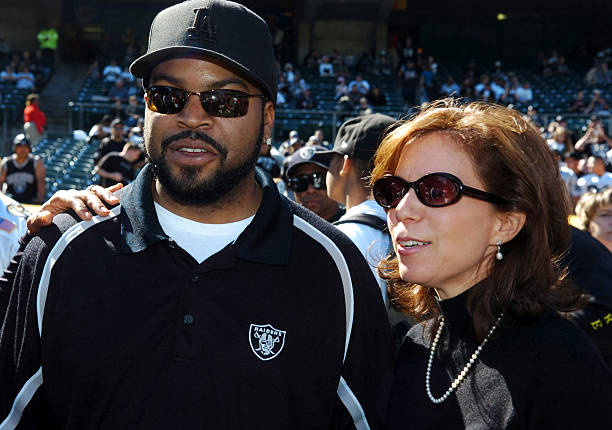 Amy Trask is very familiar with the sports world. After interning with the Los Angeles Raiders in 1983, she officially joined the team's legal department in 1987. She eventually rose to the rank of CEO of the team in 1997 and kept the position until she resigned in 2013.
Nicknamed "The Princess of Darkness" for her time with the Silver and Black, Trask can also probably be called the Princess of Twitter. Anyone who follows high-profile sports figures will probably find Trask their mentions. But she doesn't discriminate and has no problems interacting with just about anyone – just as long as they say hi.
Trask has kept herself busy since leaving the Raiders. She joined CBS Sports Network in 2013 as an analyst on That Other Pregame Show, contributes to The NFL Today, and is a panelist on the first nationally televised all-female sports show, We Need to Talk. But that's not all, she is also a Chairman of the Board of Big3, a 3-on-3 basketball league. However, she generously loaned me some of her time to talk about the intertwined worlds of sports and social media.
Amy Trask Talks About How Social Media is Affecting the Sports Landscape
The Evolution of Social Media in Sports
Trask was one of my first big Twitter follows, and I remember being honestly flabbergasted when she actually replied to one of my tweets. Needless to say, I was just as giddy when she accepted my interview request, so I couldn't wait to get her on the phone. Wanting to draw from her decades of firsthand experience in the sports world, the first question I asked her was to tell me a particular moment when it really hit her that social media had really changed how the sports landscape looks.
"I don't know if there is a particular moment. I began my career in the NFL in the mid-'80s and that was a very long time ago as you know. And there was an evolution over time. Certainly, social media, which came on much more recently than a lot of things, has changed the landscape tremendously.
If I had to pick one thing about it that has changed the landscape the most, it's the immediacy of it. Early in my career if there was an issue that needed to be addressed publicly it was a much slower process. Now with social media, everything is right then, right now, right this minute."
I mentioned how social media, especially Twitter, is all about breaking news. And there is a lot of truth to that. Top reporters on Twitter are careful to not fully confirm big trades or signings, but still want to be the first ones to break a story. From there, this "half-report" spreads like wildfire. Something similar happened when it reported that Antonio Brown was traded to the Buffalo Bills.
Pittsburgh Steelers closing in on trading Antonio Brown to Buffalo Bills per @RapSheethttps://t.co/B2tq5eFK4W pic.twitter.com/qGdbthW3Zw

— Around The NFL (@AroundTheNFL) March 8, 2019
Reporters were so eager to break the story that they reported it before the trade was even official. It ended up breaking down and never going through.
I began my next question to Trask: "Social media is all about breaking news. We're also seeing players use it to broadcast their opinions and some can argue it gives them power."
"I was smiling as you said breaking news," Trask said. "It is not always news of course. It is often what purports to be news and isn't correct, or it can be incorrect information, or you're right, it can be news."
In terms of the Antonio Brown trade, it broke down because Brown refused to go to Buffalo. The rumors were that he threatened to sit out, causing Buffalo to back out. But Brown had been using social media to leverage a trade for months, loudly voicing his displeasure at the Pittsburgh Steelers organization. He ended up getting what he wanted, basically hand-picking his trade destination – Trask's beloved Oakland Raiders.
I asked Trask if she thought more players would start using social media as leverage as Brown did.
"It depends on how good the player is. Look, you really have only as much leverage as you have demand. So, might other players who are tremendous players and for whom there will be a demand use it? Sure. But you better know when [using] any kind of device – whether social media or otherwise, that there is a market for your services."
Will Teams Start to Fight Back?
With a laugh, I admitted that this is true. Brown is a superstar and a top wide receiver in the league. If he was a practice squad guy or even an average receiver, this tactic would probably not work out as well.
In the end, the Pittsburgh Steelers basically had to take what they were going to get from Brown in a trade, so I asked Trask if teams might start including language for social media usage in player contracts. Her legal background and front office knowledge were on full display with her response.
"Contracts are collectively bargained, so every team uses the same standard form contract, and then to the extent you have something that is unique to your particular contractual situation, you do an addendum. But those still need to be approved by the league office.
And my point in sharing that all is, I think that is really going to have to be league-wide, and I think it's going to have to be something that is subject to the collective bargaining arrangements and collective bargaining agreement because it is a term of the workplace, as is said in labor law. But, it's certainly something that the league may want to address with the players association.
And look, different teams take very very different views on these things, whether it is social media or otherwise. People ask me often, 'well what do the teams think?' Well, there's 32 teams, and they don't all have the same views on every issue. So there are some teams that will be far more tolerant of the use of social media by players, and some teams that will be far less tolerant."
I wonder if Brown talked to Raiders head coach Jon Gruden and General Manager Mike Mayock about their views on social media before agreeing with the trade.
Competition, Pressure, and Breaking News
We switched gears after that and moved away from just players in sports, to others just trying to make a name for themselves. Social media gives basically anyone a chance to get their voice out there. While it can lead to opportunities, it also leads to competition. It seems like everyone out there has a podcast, or blog, or something of the sort.
Weighing the opportunity with the competition, I asked Trask if she thought it was tougher or easier to make a name for yourself by using social media.
"How about yes and yes or no and no. You used the word 'competition' and the way I've articulated that is 'pressure.' There's so much pressure that many, not all, but many people covering sports, and not just sports but any area of life, put on themselves to be first. And I often bemoan the fact that many people think it's important to be first than it is to be right."
And that is definitely a huge issue. One of the criticisms of social media and the internet, in general, is that even though we have access to a plethora of information, as Trask has been hinting throughout, a lot of that information just isn't valid.
"And the problem with social media, and the rush to put something out there, and the rush to be the person that is breaking the news, is that the person who is looking to break the news is often less concerned with double, and triple, and quadruple checking the facts than he or she is with putting it out first. And, I think that is problematic. If someone is going to put out something in the public ether, which purports to be news. Well, then accuracy matters."
This is something that resonates with me. And I think it should with a lot of people in my position. When it comes down to it, we're fighting a losing battle if we try to be the first one to publish a story and break the news. It just isn't possible for most writers to get it firsthand. So why try to use a tweet from a single source that came out five minutes ago as the basis of a report?
Instead, it might be better to take a step back and let the news permeate. Let more outlets come to a consensus, and then spend some time doing some real analysis on it. Spend some time digging deeper than what others are doing by being the first.
I Think (Before), Therefore I Tweet
As our time together came to a close, I couldn't help but ask what her advice was to people using social media as a way to build their brand.
"Be responsible," she says without hesitation. "Be responsible. And not only to others, be responsible to yourself. Look, I'm on Twitter. Swore I'd never do it. People asked me when I joined CBS Sports, 'would you like to go on Twitter?' [I said] 'No, no, never, never never. I'm never going on Twitter, I'm never going to do it.' And now I feel like I have found my mothership, as if Twitter were invented for me. And I'm saying that tongue in cheek of course, but I love it.
But I think before I tweet.
And a friend of mine, Herm Edwards will always say 'don't hit send, don't hit send.' I look at it slightly differently, which is, if you write something, recognize you are putting it in the public domain. Read it a few times. Make sure you're comfortable with that going out under your name, and you are going to have no regrets about doing it. Because once you do it. It's in the public domain.
So I think responsibility is an important word. If you are reporting about someone, be responsible for the facts, be responsible about what you are doing. Take responsibility for what you are putting on social media. And, be responsible to yourself, because unlike a newspaper, for example, there is no editor. Be your own editor."
Words of wisdom from the Princess of Darkness. Words of wisdom from the Princess of Twitter. And with that, I let her go back to her mothership. Sure enough, she was back replying to tweets within minutes of our conversation.
Main Image Credit:
Embed from Getty Images