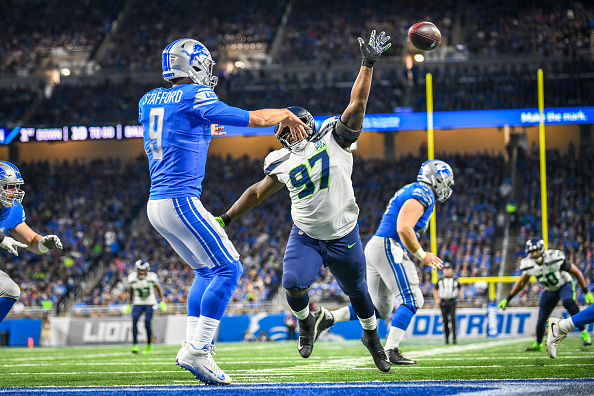 When Poona Ford made his first start with the Seattle Seahawks on December 16th, 2018, he was out to continue on his mission of defying the odds that were stacked against his success. At 5'11" and 310 pounds, he's not exactly your traditional nose tackle. But all it took was a chance. In his first ever play as a starter, he proved himself one of the squad's most effective defenders against the run. Ford bounced off the down block by the San Francisco 49ers right guard, and as quickly as his doubters turned their heads, number 97 made the stop on Matt Breida for a three-yard gain.
The Seahawks may have lost the game 23-26, but their valiant effort can be attributed in part to Ford's performance. Pro Football Focus awarded him a grade of 89.7 that week, second on the Seahawks only to Bobby Wagner. Not a bad for a rookie debut.
Poona is a notoriously quiet guy; his high school football coach B.J. Payne frequently jokes about his "resting media face," which will likely serve him well in his inevitable future successes in the NFL. But when it comes to the formative years of his life and the town that built him in and before high school, one can detect a welcome break in that private, subdued facade.
"My favorite year was my senior year. I mean, everything went so fast. Before I knew it, I'm a senior, and we talk about being seniors as freshmen but then when it's finally here… I feel like that was my best year ever."
Everyone has their memories of high school football, whether a player, devoted fan, or an uninvolved witness of the culture. But when Poona took the field with his original team of Seahawks at Hilton Head Island High School, everyone, regardless of their relationship with the sport, knew something special was happening.
Poona Ford's High School Experience: Community, Commitment, and a Coach of Legends
Doing the Math
Hilton Head Island is not exactly known for breeding success stories. It is a tourist destination, reputed for its beaches, golf courses, and retirement communities. Full time, it hosts such a varied populace that it cannot be described as purely "southern." There are the families that have been there for decades—middle-class citizens, if they're lucky—and then, the transplants.
Enter: Coach B.J. Payne. Scratch that; his entrance need not even be announced. He's a big guy, an undeniable physical presence. He has a voice that, even when quiet, wrangles with its rasp more effectively than the thunder of an island storm. Mostly, however, he commands a brand of respect that is unique in such an assorted town.
Payne, a former professional wrestler, was drawn from his native Ohio to Hilton Head because of its diversity (and, obviously, the outstanding two-season climate). In his eight years on the island, he's done more than teach touchdowns and tackles. He turns his "kids" into young men in a way that academic coursework is unable. Every theorem and proof learned in class is matched by an even more useful equation from Payne: Adding service. Subtracting entitlement. Dividing into the community. Multiplying heart.
For example: After the devastation from Hurricane Matthew, Payne gathered his squad in efforts to help rebuild their island home, canceling practices and scheduling community clean-up efforts.
"I didn't really talk to anybody about it beforehand, to be honest," the coach says. "I figured it would be easier, in this case, to ask for forgiveness, rather than permission." The squad rallied to the homes of the elderly and less-able in the community, moving trees from driveways and patching roofs. One of the houses they tended to was none other than that of Poona Ford's grandmother. He had graduated nearly two years prior, but his teammates still had him in their hearts.
"It just shows how the game of football can really bring anyone together, and I was really grateful that they went and helped my grandma," Poona says. "The respect of young guys who really love you… and I was just really fortunate that they came out there."
A Ride in the Right Direction
Coach Payne's commitment to his community is only rivaled by that to the futures of his players. Each year, members of the Hilton Head Island High School Seahawks embark on what has been endearingly dubbed the Tour de Payne. The annual excursion dates back to Payne's time in Ohio, but has considerably more socioeconomic benefit to the diversity of the Hilton Head community.
The goal with each "tour" is to find a hub that is convenient for travel to a multiplicity of college camps, each of which hosts coaches from nearby schools in several divisions. On this year's 11-day circuit, the team first anchored in Cincinnati, before moving down to Pittsburgh. They attended camp at Wake Forest, Marshall, Ohio State, West Virginia, Pittsburgh, and Penn State. As if that wasn't exhausting enough, they also did campus and facility visits at Louisville, Eastern Kentucky, Kentucky, Michigan, Michigan State, and Toledo.
"[This year] they were able to see campuses, not just go to camp and get offers, which was really cool. They got to see things that many of them may never see again in their life. Like walking into The Big House, and going through the tunnel and walking out and seeing the world's largest football stadium. The reaction from the kids was just mind-blowing. Now that's something [they] can set as a goal. We actually had a couple of kids this year who went, who were just kind of making an academic decision. For each kid it works out in a different way," Payne says with pride.
Poona remembers the experience fondly, as the program's biggest success story to date. "It was 12 high school football players, teenagers, in a 16-passenger bus, riding from state to state, doing football camps, crashing at a hotel, and then going to another camp the next day. That was my first taste of the college experience, as far as what it's like to be a football player, what it was like to compete at camps. But that was probably the best thing that any coach I ever had could've done for me. I'm just really grateful for the opportunity, and to see that the tradition goes on. And see the next group of guys go as they go through their process with college," he says.
The Unofficial Booster Club
This year, three requirements were fulfilled by the 14 participating athletes: attending 90% of offseason practices, maintaining at least a 2.7 GPA, and making at least 75% of the team's fundraisers; the latter point being the most logistically vital. "The first year, I probably paid $2,500 out of my own pocket because we had kids who just couldn't pay it. But the kids still need to go. They need to get recruited," Payne says.
Fundraising opportunities are organized throughout the year and include parking cars at the RBC Heritage Golf Tournament and annual festivals ("We've kind of become the parking commodity of the island," Payne jokes), as well as participation in grocery chain Piggly Wiggly's Bagging For Bucks service initiative. Payne estimates a $10,000 yearly accumulation from the latter initiative alone, which is a testament to the kind of players he grooms—the kind of players that a community wants to support; the kind of players that will return the favor when devastation hits the island, as it did with Hurricane Matthew.
Before signing with the University of Louisville, Poona was offered a number of scholarships, including one with the Oregon Ducks, which included a provision that three non-football faculty members from the school called to recommend him. Two hours after Coach Payne sent a faculty-wide e-mail seeking volunteers, Oregon called begging Payne to suspend the search. They had received 35 phone calls from Poona's adoring public. In two hours.
Poona ultimately did not attend Oregon. Or Louisville. In early 2014, it was announced that Charlie Strong was moving to coach the Texas Longhorns, and Poona followed him.
"I stayed committed because he was honestly just straight up with me. He kept it real with me. I respected that about him enough for me to follow, even though I'd never been [to Texas] in my life."
"Commitment" has always been a virtue at the forefront of Poona's vocabulary. He knew early on that he would have to go the extra mile if he was to play in any league beyond high school, and luckily, he had a coach with reciprocal dedication.
Early Exposure
Even the younger kids of the town are fortunate to reap the rewards of Payne's coaching. For many, the football dreams begin before high school, at his All-American Football Camp. The annual three-day camp is offered to students from kindergarten to eighth grade, and features a roster of athletes from both professional and collegiate levels. "Year after year, to sit down and try to top the previous year's staff… it's so hard, but every year it seems like we're able to do it, so it's pretty incredible," Payne says.
All-American Football Camp this weekend May 17-19. Hilton Head Island, SC. Grades k-8. Pre-registration is recommended but you can walk up and register. 15 Elite instructors to teach your kids. https://t.co/w3gX9msaxf

The complete updated 2019 All-American Football Camp Staff: pic.twitter.com/5BOIsvot5V

— Coach BJ Payne (@Americanfbcamp) May 16, 2019
It's more than "incredible." The camp's years of reputability and vast cycle of talent allow Payne to stock up a roster of personnel so strong that this year, he had to turn guys away. Each year's staff shares the enthusiasm of their pupils. "[The campers] really watch these guys, and that's why we're so diverse on who we bring in," he says.
"And then, when we go into the NFL Draft (I think we've had 10 or 11 guys who were first-round picks in the last four years that have done this camp). You see Christian Wilkins and Dexter Lawrence, and then you've got Jaire Alexander, Deshaun Watson, Ezekiel Elliott… you have all these guys that are first round picks and [the campers] are watching the draft are like, 'Oh, I was at camp with that guy!' So it's really cool."
Poona participated in 2017, before his final year at Texas. "It's really a humbling experience, especially after you've been away and then you come back to see everybody," he says. "You see all the kids, all the faces. Just to see them have a weekend full of fun. And just getting to know the game of football." That year, he was on staff with the likes of Sony Michel, Nick Chubb, and Wilkins… just to name a few.
Of course, the job's appeal is hardly surprising. A relatively unobtrusive place, celebrity welcome week happens in April, during the Heritage tournament. So by May, the eyes of the town are glazed over, inducing a tranquil ecosystem for the visiting young studs. "We're able to provide transportation and meals. We follow every NCAA guideline. And for those guys, first of all, they love working with kids, but they also get a free weekend in Hilton Head. So it works out really well."
And, of course, they get to play their game. Despite a different level of competition, the players still fight; and hard. "The college guys and the NFL guys always end up playing SERIOUSLY. So I'm always scared to death," says Payne. "Christian Wilkins just got done being the 12th overall pick, and he's running around sweating, going all out. We have to warn the other guys, cause Christian will get mad. And he gets so competitive. He takes it seriously which is a great thing for kids to see. No matter what he's doing, he wants to compete. He wants to win." And apparently, he always does.
For the Win…
After four years with the Longhorns, Poona declared for the 2018 NFL Draft. His tape was strong. His resume, solid. His reputation as close to unscathed as one could imagine. Hell, he was even named the Big 12 Conference Defensive Lineman of the Year. But the weekend came and went, and by the end of the day on April 28th, 2018, Poona's name went unsung.
It is not a coincidence that Poona's folder ended up on Pete Carroll's desk; Seahawks defensive line and assistant head coach Clint Hurtt was the defensive line coach and recruiting coordinator at Louisville when Poona was initially scouted back in high school. Carroll, having made a career habit of taking chances on less-conventional players, signed the undrafted free agent, and Poona was more than just relieved.
"Before the draft, I took the top-30 visit [to Seattle] and by the time I left I knew I could see myself coming and playing here. And I kind of hoped that's where I ended up."
Poona Ford is a cut-and-clear byproduct of the adage "it takes a village to raise a child." It's no secret he's not your picture-perfect defensive tackle. He lacks height, but he's sturdy. He has elite athleticism that defies his physique. His arms are abnormally long for his size, measuring 33 inches. He has a quickness that is unique for his build—a trait that can likely be attributed to his experiences running track and playing fullback in high school. The components are all there.
And yet, it took far more than his raw talent and quirky attributes to be recognized. It took his village. His coaches supported him. Recruiters remembered him. God guided him. And finally, he shut down the nay-sayers. For so many, the "village" doesn't show up. But for Poona? Well, he's got his well-earned shot.
Friday Night Lights
The relationship between the community and the athletic department at Hilton Head Island High School is more inclusive than ever before. And that brand of togetherness is what has created (and will continue to manifest) promising careers like that of Poona Ford, who is currently slated to be the starting right defensive tackle for his new club of Seahawks – the Seattle-based ones of the National Football League.
Poona's twitter is a running testimony to his hometown; his bio reads "Born and raised in South Carolina 843." His town, in turn, reciprocates his pride, and he's got plans to bring his skills back to where they were first established. "I've got a little something brewing," he hints, "it's probably not gonna be until next summer. But I'm really looking forward to it." For now, he's busy preparing for an explosive sophomore season.
When I ask Poona about his relationships with Seattle, Austin, and Hilton Head, he takes a moment to ponder. "I don't know," he says. "I've only been [in Seattle] for a year, but I love it out here. I love Texas… I consider South Carolina my home." He and Coach Payne still maintain communication almost daily, despite their nearly 3,000-mile distance.
When the Friday night lights beam on Hilton Head, illuminating a squad of young men in silver and blue, they also emblazon a few dozen dreams of futures that echo Poona Ford. Sometimes they win, sometimes they lose. But in the latter scenario, they don't seem to mind. On to the next, they go.