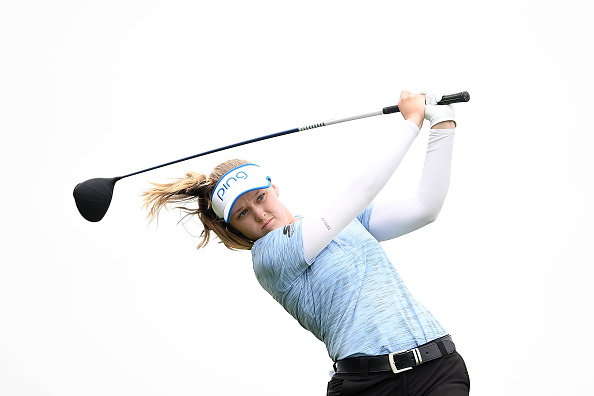 At only 21 years old, Brooke Henderson already has her name firmly entrenched in Canadian history books as the most successful professional golfer of all time.
Henderson Eager to Compete at 2019 CP Women's Open
Making History and Breaking Records
Henderson captured the attention of the entire country last August when she won the 2018 CP Women's Open in Regina, Sask. By doing so, she became the first Canadian to win the tournament since Jocelyne Bourassa accomplished the feat back in 1973.
"It was the trophy that I wanted to win since I was really young," Henderson points out during this year's CP Women's Open media day. "To have that happen last year was just incredible."
At the time, her victory on Canadian soil gave her seven victories on the LPGA Tour. She was only one behind Canadian golf icons Sandra Post, Mike Weir, and George Knudson – who all finished their remarkable pro careers with eight titles.
Henderson would tie that mark earlier this year in April when she won the LOTTE Championship – thereby successfully defending her LOTTE title from 2018.
"Prior to the tournament, I wasn't thinking about defending my title, I was just thinking of putting a solid week together and everything went right and I was able to tie the record of eight wins which was just surreal, to be honest," she points out.
And then just last month, Henderson won the Meijer LPGA Classic which gave her nine LPGA titles. That put her name in the history books as the winningest Canadian golfer – male or female – of all time.
Inspired by Success of the Toronto Raptors
Henderson says her stellar play at the Meijer LPGA Classic was partly inspired by the success of the Toronto Raptors.
"It was so exciting watching them play. My family was watching the playoffs and we were cheering them on every single game and it was fun for us to see how well they were doing," said Henderson.
"They're just a remarkable team that did something incredible for all of Canada. It was right before my victory that they won the NBA Championship and I just wanted to keep the excitement going. So to get my ninth LPGA win following that was just really special."
Recognition and Kudos coming from Canada's Biggest Names
After registering her record-setting ninth LPGA title, the Prime Minister of Canada, Justin Trudeau, took to Twitter to congratulate the 21-year-old from Smith Falls, Ont.
Thank you Prime Minister Trudeau! ??? https://t.co/NCHizIfC2Y

— Brooke Henderson (@BrookeHenderson) June 17, 2019
Henderson says getting that recognition and appreciation for her success on the golf course is heartwarming and means a lot.
"It's really great to be in this position to have so many people recognize my accomplishments and to be able to form friendships with such amazing people," she says.
Henderson – who played hockey as a youngster – also received a kudos from perhaps the biggest and most iconic name in Canadian sports.
"I was in L.A. and Wayne Gretzky comes over and shakes my hand and says 'congratulations, you're fun to watch.' And I was like what? Are you serious?" Henderson recalls with a wide grin.
Henderson's Upcoming Return to Canada
With the LPGA tour holding just one tournament in Canada every year, the only opportunity for the 21-year-old Canadian golf superstar to compete in front of her Canadian fans is during the CP Women's Open.
"I'm really excited to be coming back home to compete – the Canadian golf fans are always so amazing and supportive, I can't wait," says Henderson.
The CP Women's Open runs from August 19-25 at the Magna Golf Club in Aurora, Ont., and will feature 156 of the best female golfers in the world.
Main Image Credit:
Embed from Getty Images