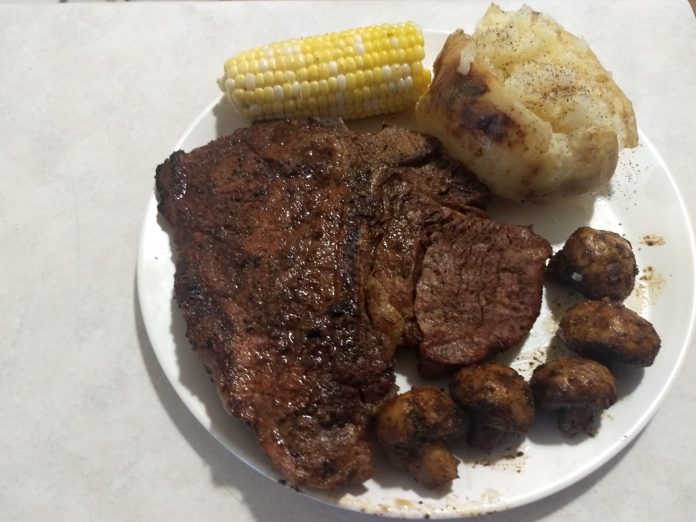 Our grilled steak feast article will take you from start to finish with a tremendous menu for you and your guests to enjoy. Steaks are one of the most popular items during the summer grilling season. Steaks also come in a wide assortment of cuts and sizes. Today we are featuring the versatile Porterhouse steak. This cut of steak has the New York Strip on one side and a filet on the other. Along with these grilled steaks, we are grilling Cajun mushrooms, corn on the cob, and baked potatoes. Our grilled steak feast has everything you need for a tremendous meal.
Grilled Steak Feast
We are going to show you the steps from start to finish during your time on the grill. This grilled steak feast begins with setting up your grill with a pyramid of 30-35 charcoal briquettes in the center of your grill. Following our steps, you should be able to complete all four menu items before the coals die out.
Step One – Baked Potatoes
Choose four or more large size white, russet, or the ever-popular Idaho potatoes for this menu. Whichever you choose, give them a good rinse and with cold water after lighting your briquettes. Be sure to poke several holes in the potatoes with a fork. Once that is done, wrap the potatoes in sturdy aluminum foil.
After the coals are ready, place the foil-wrapped potatoes directly in the center of your grill. Close your lid and let them be for 20 minutes. Next up, turn your potatoes over onto their other side and grill for 20 more minutes. After the second 20 minutes is up, turn the potatoes over again and move to the outside edge of your grill. It is now time to grill your steaks.
Step Two – The Steaks
While your baked potatoes are grilling is a great time to do your prep work, this includes your corn on the cob, mushrooms, and steaks. Take out your steaks an hour before grill time so they lose their chill. After moving your potatoes to the outer edge, season your steaks with Lawry's Seasoning Salt, black pepper, Montreal Steak Seasoning, granulated garlic, and Cajun spice (optional).
Grill Time
There are several theories on the "proper way" to grill steaks. Our preferred method involves getting charred grill marks on both sides then moving the steaks away from direct heat. To do this requires you place your steaks directly over the coals for 4-5 minutes on each side. This time will vary depending on the thickness of your steaks. If your steaks are thicker than one inch, add on 2-3 minutes to your char time.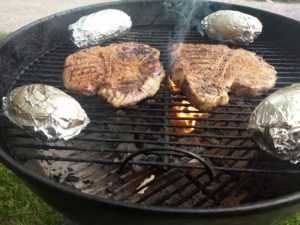 You should see those infamous grill lines on both sides after you have achieved the char. Move your steaks to the outer edge of your grill away from direct heat. They will require some additional grill time to finish. While that happens it is time for the Cajun mushrooms.
Step Three – Cajun Mushrooms
For those who love mushrooms with their steaks, these cajun mushrooms are a perfect addition. If you prefer less spice, just use Lawry's and black pepper. Either way, grilled mushrooms are so much better than ones sauteed in a skillet.
Ingredients
White Mushrooms or Baby Portobello Mushrooms
Olive Oil
Salt & Pepper
Lawry's Seasoning Salt
Cajun Spice
Cayenne Pepper (optional)
Chili Powder (optional)
Cumin (optional)
Take the mushrooms and give them a good rinse under cold water, then snip off the end of the stems. Air dry or paper towel dry the mushrooms. For easy cleanup, place the dried mushrooms in a gallon size Ziploc bag. Drizzle in enough olive oil to coat the mushrooms thoroughly, Then sprinkle in the desired seasonings, and close the baggie. Shake the mushrooms until they are all coated in the seasonings.
Grill Time
After you have moved your steaks to the side, place the mushrooms in the center of your grill. Turn them every 3-5 minutes so that they finish with a char and a slight crust on them. This usually takes 10-15 minutes total so be sure not to overcook them!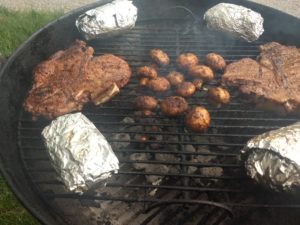 Once the mushrooms are done, it is time to check your steaks. You can use a meat thermometer to check for the temperature you and your guests prefer. Using the Weber Grills Guide a medium steak is 135-145 degrees Fahrenheit, medium well is 145-155 degrees Fahrenheit. Be sure to check your guest's preference prior to grilling. This saves you from an uncomfortable situation later, trust us.  
However, a true Grill Master does not require a meat thermometer, they just know when the steaks have reached perfection. This takes years and years of grill time learning that the texture and tenderness of the steaks tell you where they are at in the grilling process. If you haven't reached Grill Master status, use the meat thermometer.
After checking the steaks, remove them if they are done along with the mushrooms and potatoes. If the steaks need some additional time, turn them one more time and keep to the outside edge. It is now time for the grilled corn on the cob. 
Step Four – Corn On The Cob 
At the time your baked potatoes hit the grill early in the day, you should start your corn soaking in water. You will be grilling corn on the cob still in its husk for this menu. Place the corn in a large bucket of water, or your kitchen sink will work fine too. Just be sure to completely cover the corn with water if you use the sink.
Allow the corn to soak up until the time the steaks are ready to come off the grill. Your coals will be starting to die down so be sure they are still hot before grilling the corn. You can always add 15-20 more briquettes if needed. Grill the corn directly over your hot coals. Turn them every 3-5 minutes until they have a grilled look all the way around. Remove the corn and allow it to cool for 5 minutes. (If your steaks needed more time, check them again and remove them to a large platter)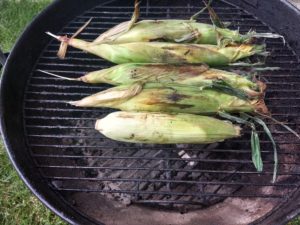 This is now the time you need a friend willing to help you out. Shucking corn hot off the grill with your bare hands is not an easy task. It involves peeling back the husk, pulling off the corn silk, breaking off the complete husk, while probably muttering a few vulgarities along the way. See? A perfect job for your trusted best friend! It is at this time that you can also break the ears in half if you want smaller portions.
Place the shucked corn in a large foil pan and add pats of butter. When the butter is melted, add in some salt and pepper. Taking a pair of kitchen tongs, "spin" the corn so that it is completely covered in butter.
Grilled Steak Feast Presentation
Take your baked potatoes out of their foil wrap and slice into them. After splitting them open, add in some butter, salt, and black pepper. You can also serve the potatoes with chopped green onions or chives, sour cream, or shredded cheese. It is now time to serve the potatoes, mushrooms, and corn alongside your steak.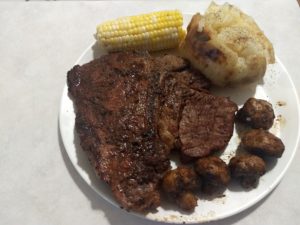 The Wrap Up
Our grilled steak feast took a lot of effort and coordination to pull off successfully. Your reward will be the looks on your guest's faces as they dig into their meal. You can also use other cuts of steaks if you prefer a cut smaller than the Porterhouse. No matter what kind of steaks you want, get grilling!