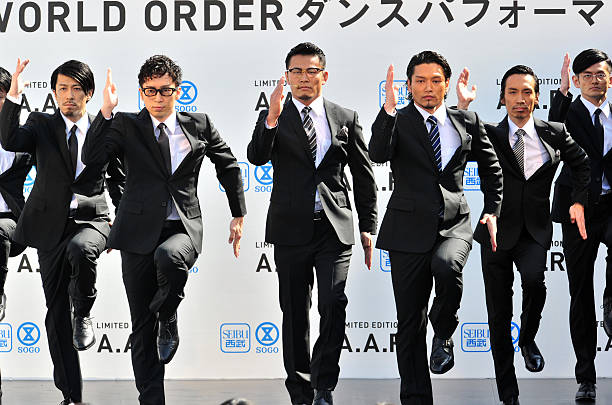 On Monday, Japan held their House of Councillors election, where the Liberal Democratic Party, lead by Shinzo Abe, took nearly half of the 245 seats. The 245 politicians voted in will most likely hold their victories as a big highlight of their career. However, for Constitutional Democratic Party member Genki Sudo, his election could be a small part of his story. From athlete to writer, to entertainer, Sudo's numerous reinventions have made him quite the renaissance man.
Exploring The Many Hats That "The Neo-Samurai," Genki Sudo, Has Worn
Genki Sudo, The Fighter
Genki Sudo was born on March 8, 1978. The name Genki came from the anime "Ganbare Genki," which followers fictional character Horiguchi Genki's boxing career. In high school, he learned amateur wrestling and later learned Brazilian jiu-jitsu during an educational stint in Santa Monica, California.
Bas Rutten, MMA fighter at the time recommended that Sudo go to Japan and fight for Pancrase. He primarily competed in Pancrase from 1999 to 2001, attaining a 7-2-1 professional record. He was then picked up by the UFC, where he went 2-1 within the promotion. His returning stint to MMA in Japan was as MMA was nearing the end of its peak within the country. While never fighting in the famous Japanese promotion "PRIDE FC," interest in MMA, in general, was based around the success of the promotion. When it folded in 2007, the scene continued and continues to exist, but hasn't been as big since.
Most likely due to his background, Sudo mostly got victories via submission or decision. Outside of his kickboxing career, Sudo never won a bout due to strikes. After his victory over Damacio Page in 2006, Sudo announced his retirement from the sport with a 16-4-1 record. When asked in 2010 about returning, he said "I don't know. I'm lover, not fighter." Sudo was often seen after fights with a custom made flag that said "WE ARE ALL ONE," with many flags of countries attached to it. 
Throughout his career, Sudo was a showman. In Japan, he was given the freedom to do choreographed entrances, sometimes with props, outfits and backup dancers. He would often express his comfort in competition, taunting and overly-dramatizing his movements. Being remembered sometimes more for his personality, Sudo was an entertainer just as much as he was an athlete. His charisma made it obvious that he could do more than what slipped through the cracks of his competitions.
Genki Sudo, The Entertainer
In 2009, Sudo went on to his next project: a boy band. He founded World Order, which was a group of men in suits who did songs and choreography. And, just saying it's choreography quite honestly sells it short. World Order saw viral fame over their music videos where they would do in-sync robotic dances in public. Quite honestly it's a spectacle how they shoot their videos. They certainly get weird looks while shooting their videos, so if you're shy about performing you're not World Order material. 
While they have numerous videos over a million views, their 2014 release "Have A Nice Day" sits at 24 million views. In-between dance scenes, the group visits many tourist locations like a maid cafe and an AKB48 concert. The song is lighthearted and its message is pure: have a nice day.
The 2018 release "Let's start WW3" is a unique one. The song is a jab at Donald Trump, satirically praising him in verses, with the hook talking about starting World War 3. The group makes the trek to the United States for the video, which they have done in the past as well. The video is not meant to be taken seriously, as it makes jokes about the president's frequent hand motions during speeches and his controversial leaked conversation on the set of Access Hollywood.
After the video has its fun, it has an important ending. The video ends with a shot of Sudo's famous "WE ARE ALL ONE" flag. After the song had numerous sound bytes of Trump saying that going forward it would be "America First," the subtle counterpoint was that we should be looking out for each other. While the video was a joke, a message was subtly sent that a president shouldn't just look out for their country, but everyone else.
Genki Sudo, The Politician
As a politician, his three main goals is furthering food safety, helping global environment protection and "a foreign policy that involves peaceful and realistic negotiations (translated quote)." Sudo meeting these goals will be measured in the coming years.
In Sudo's main projects in life, there was some crossover. As an MMA fighter, he found himself to be an entertainer as much as he was an athlete. As an entertainer, he found himself venturing into deeper political meanings behind entertainment. And as a politician, he carries a saying that he has used from the very start: "WE ARE ALL ONE."
Main Image Credit:
Embed from Getty Images