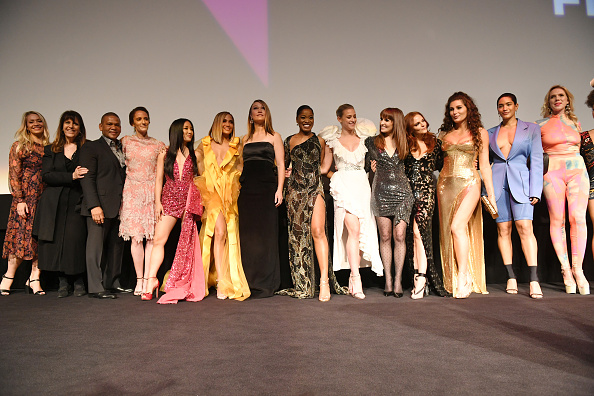 One of the most anticipated Gala Presentations of this year's Toronto International Film Festival took place Saturday evening at Roy Thomson Hall.
It was the world premiere of Hustlers which features a star-studded cast including Constance Wu, Julia Styles, and Jennifer Lopez – to name just a few.
Star-Studded Cast of Hustlers Walk Red Carpet at TIFF World Premiere
Turning the Tables
Hustlers follows a savvy group of former strippers who team up to turn the tables on their Wall Street clients. When business at their strip club slows due to the financial crisis of 2008, the co-workers plan and carry out a daring and illegal scheme in an attempt to make up for their shortfall in earnings.
The film is written and directed by New Jersey-born Lorene Scafaria.
"I told Lorene that I would make sandwiches and coffee for everybody… Sweep the floors… Whatever I had to do to be in this movie because I just knew it was going to be great," jokes Stiles on her TIFF red carpet interview.
Tremendous Buzz and Excitement
All the stars of the movie were greeted with a tremendous amount of energy and enthusiasm from the fans on the red carpet – some of them camped out more than 10 hours.
But the A-Lister that got the biggest and loudest reception from festival-goers was Jennifer Lopez.
"The last time we heard screaming this loud was when the Raptors won the NBA title," says Jenny Smith, a 25-year-old film student with a smile.
Lopez Shines Bright on the Red Carpet
Lopez arrived on the red carpet with her husband and former Yankee great Alex Rodriguez. Besides her starring role in the film, Lopez also holds a co-producer title. The 50-year-old Lopez plays the role of Ramona Vegas, a former centerfold model turned stripper.
"It was an amazing emotional journey for an actress. I love the character, and I love the movie," says Lopez on her TIFF red carpet interview.
Coming Soon to Theatres in the U.S.
The one hour and 50-minute long comedy-drama film is distributed by Elevation Pictures in Canada and STXfilms in the United States.  It is set to hit theatres in the U.S. on September 13.