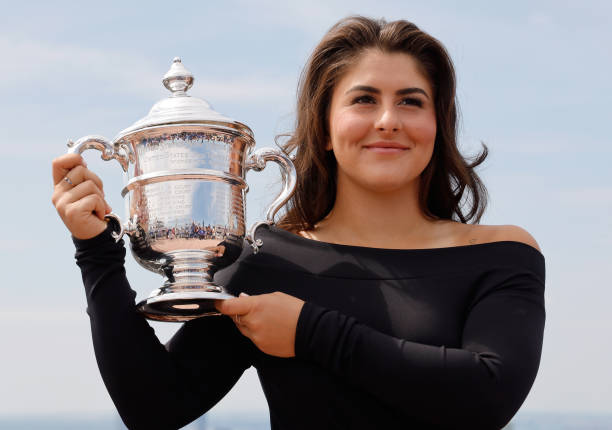 As the first Canadian singles tennis competitor to win a Grand Slam title at the US Open, 19-year-old Bianca Andreescu is finding out what it feels like to be an A-list celebrity.
Bianca Andreescu In the Spotlight After Beating Tennis Legend to Win US Open
19-Year-Old in High Demand after Winning Maiden Grand Slam
After defeating 23-time Grand Slam champion Serena Williams on Arthur Ashe Stadium to capture her maiden Grand Slam, Andreescu was in high demand by the American media.
Following her victory at the US Open, the Canadian teenager made appearances on The View, Live with Kelly and Ryan, and The Tonight Show Starring Jimmy Fallon.
"It was so fun. Jimmy is such a cool guy and I'm really glad I got that experience," said Andreescu about her time on The Tonight Show.
"I've watched his show many many times and to be able to sit in that chair was really cool," added Andreescu at a press conference on September 11 with Canadian media upon her return home from New York.
Private Jet Return and Rally for Hometown Hero
In addition to her appearances on the popular American talk shows, the newly crowned US Open champ's A-List treatment included a flight back to Canada in a private jet, and also her own She The North rally in her hometown of Mississauga, Ontario – which is part of the Greater Toronto Area.
The rally was attended by the Prime Minister of Canada, Justin Trudeau, who had nothing but praise for the Canadian teenage tennis superstar.
"She showed young people can do anything," said Trudeau. "She is the embodiment of the fact that young people are not (only) the leaders of tomorrow, but they are leaders today."
As well, the Canadian Prime Minister spoke highly about Andreescu's talents on the tennis courts, along with her grace and composure under pressure.
A Key to the City and a Street in Her Name
Also at the rally, Andreescu was honored with a street named after her and was awarded a key to the City of Mississauga.
When it was her turn to speak, the 2019 US Open champion made sure to serve up a positive and inspiring message to her young fans in attendance.
"If I can do it, if Serena (Williams) can do it, if Roger (Federer) can do it, if the Raptors can do it, so can you," she said.
Remarkable 12 Month Run
Andreescu has certainly come a long way over the past 12 months. Just last September she was ranked outside of the top 100 on the WTA rankings, and outside of the radar of the mainstream media.
However, thanks to a remarkable 2019 season which has seen her win at Indian Wells, the Rogers Cup, and of course, the US Open, Andreescu is now the fifth-ranked player in the world.
After winning at Indian Wells in March, Andreescu described her rise in 2019 as a Cinderella story. But with follow up victories at the Rogers Cup and then most recently at the US Open, and becoming the first Canadian singles tennis competitor in history to win a Grand Slam, her rise is worthy of consideration for a Hollywood story.
A Connection with Jennifer Lawrence
When she returned home to meet with the Canadian media on September 11th, she was asked who would she like to play her if there was a movie made about her life.
"I really like Jennifer Lawrence to play me," the 19-year-old replied with a smile. "She's a really cool person and I feel we have a pretty similar vibe."
Besides doing a number of media interviews with Canadian media, Andreescu was eager to take in the vibe at the Toronto International Film Festival – as she attended an event featuring Jane Fonda during the festival.
Big Screen Dreams
With so many A-Listers in Toronto promoting and premiering the stories they put into their films, Andreescu's story about a teenager who enjoys a meteoric rise on her way to making Canadian history definitely holds it's own.
And at just 19, it's not too far-fetched to think that with continued success, one day, Andreescu's story might just make its way onto the big screen
Main Image Credit:
Embed from Getty Images