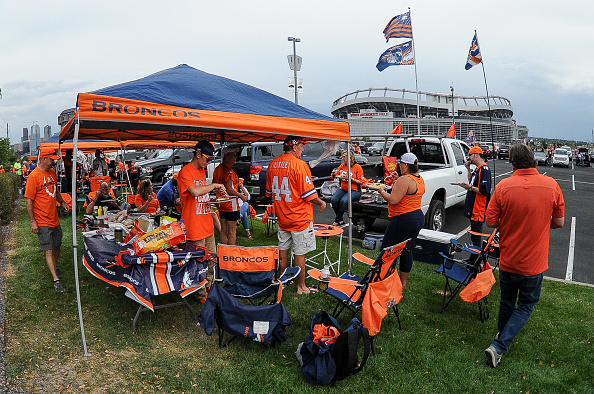 The "Road Trip To Denver" game day menu takes the grilling party on the road, similarly to our Road Trip To Kansas City this summer. This week, the Chicago Bears are playing in the "Mile High City" against the Denver Broncos. While both teams enter the game 0-1, that is no reason not to bring a fantastic tailgate menu on Sunday. Today we are bringing the infamous burger known as the Juicy Lucy. For our side dishes, we are serving up our Cajun Mushrooms and Grilled Potato Salad.
"Road Trip To Denver" Menu
Taking a tailgate party on the road requires a menu that is both delicious and smart. The burgers we have can be made into patties the morning of the game or the day before. If needed, they can also be prepped and then frozen for traveling. The grilled potato salad recipe is also something that can be prepared the day before the game as long as you have a grill available. Prepping the Cajun mushrooms can be done in advance too.
Doing as much in advance will provide you more time on game day to socialize with your friends or roam the tailgate area and make new friends. That is never a bad idea as you may discover a unique new menu item you can sample while swapping recipes, adult beverages, etc.
Juicy Lucy – The Queen Of All Burgers
The Juicy Lucy burger is on the menu today. Your guests will definitely be impressed when you bring out the well-known, seldom seen burger of lore. Making the Jucy Lucy takes a bit more time than a regular burger. However, the extra time spent creating these legendary patties will be appreciated when it's time to serve.  
Ingredients
3 Pounds 80/20 ground chuck
1 Tablespoon granulated garlic
2 Tablespoons Lawry's Season Salt
1 Tablespoon black pepper
Cajun spice, Montreal Steak Seasoning (optional)
6 ounces of your favorite barbecue sauce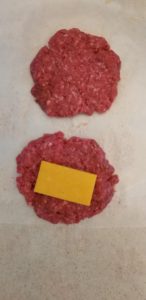 Combine all the ingredients in a large bowl and mix them together gently. Three pounds of ground chuck should equal about twelve 1/4 pound burgers. You'll need wax paper in the next step to create this burger classic. 
Take each 1/4 pound burger portion and place it between two pieces of wax paper. Carefully press out the burger meat into thin patties making sure it's even all around. Between two patties you are going to place a 1/2 inch thick slice of your favorite cheese cut from a cheese block. Cheddar, Swiss, or jalapeno jack work the best. Once you have the cheese in place, take the edges of the two patties and press/crimp them completely all around the burger. This will prevent the cheese from leaking out while grilling.
Grill Time
You will want to grill the Juicy Lucy burgers directly over your coals. Try to only flip them two-to-three times so as to not break the sealed edges you made. Once they are completely cooked, serve the Juicy Lucys along with your favorite toppings. Your guests will be amazed at your incredible burger!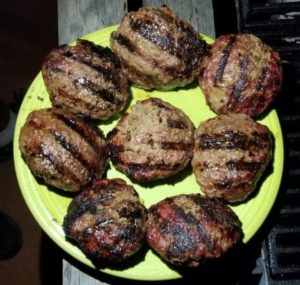 Cajun Mushrooms
For those who love mushrooms, our Cajun mushrooms will set the bar high compared to any other mushroom you've served. You are also in complete control of the spice level with these beauties. We suggest you use all the spices listed below for maximum flavor. The only exception would be the cayenne pepper, which may cause some of your guests to swear at you after eating. If this happens, toss them an ice cube and tell them to "buck up."
Ingredients
White mushrooms or baby portobello mushrooms
Olive oil
Salt & pepper
Lawry's Seasoning Salt
Cajun spice
Cayenne pepper (optional)
Chili powder
Cumin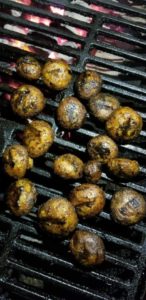 Take the mushrooms and give them a good rinse under cold water, then snip off the end of the stems. Air dry or paper towel dry the mushrooms. For easy cleanup, place the dried mushrooms in a gallon-size Ziploc bag. Drizzle in enough olive oil to coat the mushrooms thoroughly, then sprinkle in the desired seasonings and close the baggie. Shake the mushrooms until they are all coated in the seasonings. Remove the mushrooms and grill them direct on your charcoal or gas grill. Be sure to grill them on all sides and remove them after they get a good grilled crust on the outside. Be sure not to overcook them! They can also be served with ranch or blue cheese dressing for dipping to help ease the spice.
Grilled Potato Salad
Serving grilled potato salad is something your guests will certainly appreciate once they sink their teeth into this incredible side dish. Especially after they taste the flavor that the grilled potatoes bring!
Ingredients
8-10 large red potatoes (washed & dried)
1 medium red onion, chopped
5-6 stalks of celery, chopped
1 medium sweet red pepper, chopped
3-4 hard-boiled eggs, chopped

1

medium pickle, chopped (optional)
2-3 cups of your favorite mayonnaise
2 tablespoons of mustard (optional)
Olive oil
Lawry's Seasoning Salt
Cajun spice
Granulated garlic
Black pepper
Prepping the Potatoes
Take your potatoes and cut them into quarters, lengthwise. You can cut them into sixths if they're really large ones. Put the potato slices into a large bowl and drizzle them with the olive oil. Next up, season all sides of the slices with the spices listed above.
Grilling Time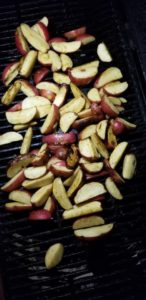 Light your grill, placing a mound of 20-25 charcoal briquettes in the center. Once the coals reach that "perfect grey," place your potato slices around your grill grate evenly. Grill them for ten minutes, then turn them over. After another ten minutes, turn them over again. Do this until the potato slices are cooked through, making sure to grill them evenly on all sides. Remove the slices and allow to cool. 
Building

Your Creation
Take the cooled potato slices and cut them into bite-size portions. Place them into a large bowl, then add in the mayonnaise and mustard. Gently stir them until they are completely covered. Next, add in the chopped onion, pepper, celery, pickle, and chopped hard-boiled egg. Gently mix everything together, trying not to break up the potatoes. If you want your potato salad creamy, add in some more mayo. Allow your potato salad to sit in the fridge at least an hour or two. This will allow all the goodness to sink into every bite. After watching your guests enjoy your delicious side dish, you may never make regular potato salad again. 
potato salad pic
Road Trip To Denver Wrap-Up
You've tailgated pre-game and thoroughly impressed those in attendance and probably others nearby. Once the party is over, it is time to enjoy the game. Your Road Trip to Denver menu will leave everyone begging for another road trip or at least an invite to the next tailgate party you throw. We are here to help so stay tuned for other incredible menu ideas coming during the NFL season!