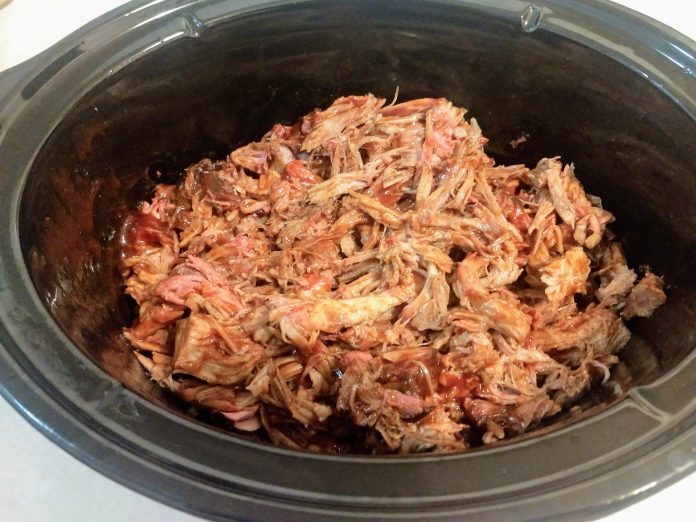 Our Easy Pulled Pork And More will show you the simplest way to make Pulled Pork for your tailgate party. We also have our delicious Baked Beans recipe and another incredible side dish, Tater Tots.
Easy Pulled Pork And More
It is week eight of the NFL season. Hopefully, your favorite team is doing well in the standings and your fantasy football teams are not turning into dumpster fires. Either way, we have you covered with a great way to bring true BBQ flavor to your tailgate party.
Easy Pulled Pork
There's nothing better than driving around town and catching the smells from a BBQ restaurant. The aroma of hickory smoke cannot be ignored as you drive and then automatically swivel your head trying to locate the source. You cannot help yourself, especially if you are hungry.
Making pulled pork on the grill or smoker scares a lot of people due to the amount of time involved. Pulled pork can take up to 12 hours or more to finish properly. Most cooks don't have that kind of time and want it done quicker. The solution is to use the "quick cheat" method that only involves two to three hours of grill time. You'll also need a seven-quart or larger Crock-Pot to finish the pork. I suggest that you do the smoking the night before your feast and use the Crock-Pot to finish overnight.
Pork Shoulder Prep
First, pick out a pork shoulder roast that's around 6-8 pounds. You'll also need to eyeball the roast and make sure it will fit in your Crock-Pot. Next, take the pork shoulder and give it an olive oil rub. After that, liberally season the roast on all sides with Lawry's Seasoning Salt, Cajun Spice, granulated garlic, cumin, paprika, and chili powder. Once it's all covered in the spices, it's time to grill.
Grilling/Smoking Pulled Pork
You're going to grill the pork shoulder indirect using the two-zone method. Take hickory wood chips and soak them in water 30 minutes up to an hour before grilling. Take around 30 briquets and pile them in a pyramid on one side of your grill. We're not trying to cook the roast; we're only smoking it for flavor. Light your coals and wait for them to all catch and turn grey. After that, spread them out along the one side in a flat pile. Add a handful of wet wood chips to the top of the coals, replace the grate, and then place the pork shoulder fat side up on the opposite side of the grill.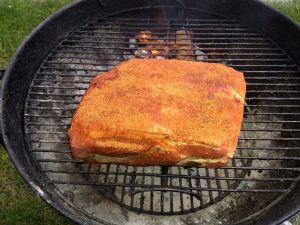 Cover the grill, making sure the air vents are open and are directly above the pork roast. You should close the vent halfway while you smoke the pork shoulder. This helps contain the smoke during the grilling process. Remember more smoke means more flavor! 
Smoking Time
You should begin to smell that delicious aroma of hickory smoke wafting out of the grill vents. If you have neighbors close by, they will definitely catch the smoky goodness too. Don't be surprised if one of them drops by with an inquisitive look asking what's for dinner.
Every 20-30 minutes you will need to replenish the wet wood chips to keep the smoke going. After two hours, the coals will be almost burned out and the pork roast should look great. It's nowhere near cooked, so no sampling!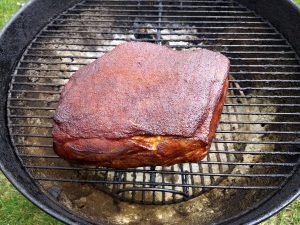 Gas Grill Smoking Option
Don't worry you gas grillers we got you covered too. If you can shut down the flame on a third or half of your gas grill, you can smoke like a pro. Take a handful of hickory wood chips and place them in a sealed foil pouch. Cut slits in the top of the pouch to allow the smoke to come out. Then place the pouch near one of the lit flame bars. You'll need to place the pork shoulder in the non-lit zone to keep it from burning up. You will have to use 3-4 pouches for the two-hour-plus smoke fest.
Crock Time
After smoking the pork shoulder, it's time to place it in your Crock-Pot. Set the Crock to low and let it cook overnight. You will wake to a house that smells like a BBQ joint, not a bad way to start your day! In the morning shut down the Crock and remove the pork shoulder to allow it to cool. Once the juices have cooled, drain them into some glass jars. I suggest empty pasta sauce jars, they work great. Do not pour the pork juices down your drain as it will cause you plumbing problems later.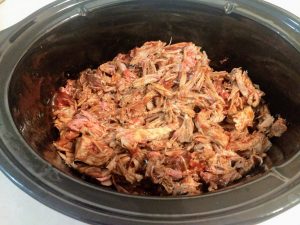 Pulling The Pork
After the pork shoulder has cooled, begin to pull it into chunks or strips. Return it to your Crock-Pot on low and add your favorite BBQ sauce.  Be gentle with the pork when stirring as you don't want to shred it. Once it's warmed through, it's ready to serve. You can use any kind of buns that you like, but pulled pork is extra good on Hawaiian rolls.
Tater Tots
Tater Tots are the most decadent form of fried potatoes ever created. They are even better with a sprinkle of Lawry's Seasoning Salt after coming out of the deep fryer. For those of you that do not have a deep fryer or a small Fry Daddy, Tots can also be baked in the oven. This is definitely more convenient but fried tots flavor versus baked tots flavor wins hands down every time.
Tots come in many varieties in the frozen food section of your grocery store. They are known by many names from tots, to buds, to puffs, and crowns. Whichever type you can find will be wonderful for your guests!
Tater Tots take very little time in the oven and even less time to deep fry. Try and save them until just before serving so they are hot and fresh. Add on the sprinkle of Lawry's when they are just out of the oven or fryer too. Your tailgate guests will appreciate the extra flavor as they dig into one of their favorite childhood treats! Serve them with ketchup or ranch dressing for more dipping decadence.
Baked Beans
Baked beans are an incredibly tasty side dish. You can simply buy them in the can and warm them up on your stove if you choose. What we have here is a way to make your baked beans even more delicious.
You'll need several cans of your favorite baked beans, but the Bush's "Boston Recipe" works best. You also need 5-6 slices of bacon cut into small squares, a small chopped red onion, brown sugar, and honey. Take a Corningware dish or sturdy foil pan and place the beans on the bottom. Sprinkle the chopped red onion across the top of the beans, then add the bacon almost covering the beans. Spread out a thin layer of brown sugar and then drizzle the honey across the top.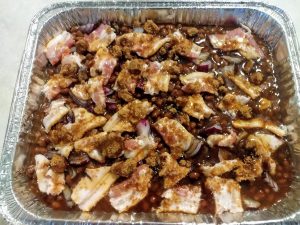 Cover the pan with foil and bake at 275 degrees Fahrenheit for two hours. Uncover the pan and bake for an additional one hour. Right before serving give the beans a good stir to mix in all the flavors. You and your guests will notice the taste difference immediately. These are some bodacious baked beans that will wow your guests along with the Tots and Pulled Pork!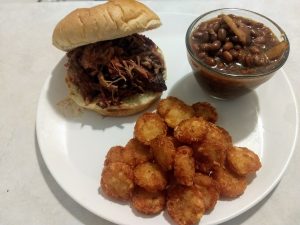 Next Week On The Grill
We are halfway through the NFL season. Next week at lwos.LIFE we will be bringing you another incredible Game Day Menu featuring some Spook-Tacular items in honor of Halloween.