Grilled Meatloaf sounds difficult, but it's not that hard, even for novice backyard grillers. We are going to show you the way, and also bring you our Scalloped Potatoes as your main side dish. These two combined will wow your guests and leave them begging for seconds.
Grilled Meatloaf And Scalloped Potatoes
Meatloaf: A Nostalgic Dish
It is Week 15 of the NFL season and you are looking for a new treat for your tailgate guests. Meatloaf sounds like a throwback to days gone by, because it is. It has been around forever and has been served to families for a long, long, time. This version of the American classic takes meatloaf to a whole new level.
Grilled Meatloaf is by far the most delicious way to make meatloaf for your guests. The grilled flavor enhances your meatloaf so much, compared to baking it in the oven. Your guests will thoroughly enjoy your grilled meatloaf after getting over their initial curiosity. Be prepared to get some questions like: "You grilled meatloaf?" "How did you grill it?" But once they taste it, they won't want their meatloaf any other way.
Ingredients
2-3 pounds of ground chuck
4-6 eggs
1/2 to one cup of milk
1/2 cup of your favorite BBQ sauce
1 cup of ketchup (optional)
2-3 cups of uncooked dry oatmeal
1 cup of chopped onions (optional)
2 tablespoons 

Lawry's

 Seasoning Salt
1 tablespoon black pepper
1/2 tablespoon granulated garlic
Large pan
Meat thermometer
Making Your Loaf
In a large bowl, add in the ground chuck, eggs, BBQ sauce, onions, and seasonings. Reserve the oatmeal and milk. For those of you who like spicy flavor, you can swap out the onions with chopped jalapenos. Surprisingly the heat from the jalapenos is countered by the meat mixture so it's not that spicy. The jalapeño meatloaf has a little zip to it, but even your wimpiest guests will enjoy it without whining "It's too hot."
Thoroughly mix all the items together, making sure to spread the seasonings all through. Next up, add in the dry oatmeal and milk. Mix the meat, milk, and oatmeal together until it is semi-solid and can be molded. You may need to add in more oatmeal to get the meatloaf to a workable consistency. 
Dump the meat mixture onto the large pan. It's now time to form the "Meatloaf Torpedo." You will want to shape the meatloaf into a torpedo for grilling purposes. Try and achieve the size of your usual piece of meatloaf from end to end. This shape helps the meatloaf cook evenly on the grill.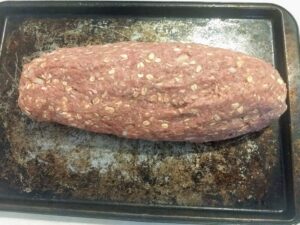 Grilling Time
Set up your grill in the three-zone method as described in our Grilling Basics piece. Place around 20-25 charcoal briquettes on both sides of your grill and light them. Once they get to that "perfect grey," it's time to launch your torpedo. Take the pan to the grill and gently raise one side so that your torpedo rolls slowly onto the middle of your grill grate. Use caution when placing the meatloaf on the grill — you don't want to split your delicious meal into multiple loaves. 
A word of caution for you gas grillers. DO NOT grill your meatloaf over an open flame. If you can, place the meatloaf over a section of your grill that is not lit. Use low temps with a gas grill, and stick close by while it cooks. The last thing you want is to be featured in the next viral video of a fire raging on a backyard gas grill as people are scrambling for cover. It may take a bit longer than using charcoal, but the flavor is worth it. 
Meatloaf Watch
Let the meatloaf grill undisturbed for 30-35 minutes, then open the lid and see how it looks. Grab two sturdy spatulas and gently begin to pry up the bottom of the meatloaf. Once you have freed the torpedo, use the spatulas to slide it over to one side. After this step, roll the meatloaf onto its other side, back to the middle of the grill grate. This will ensure even cooking and also better appearance.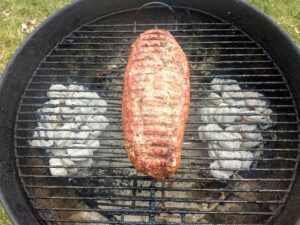 Close the lid and let the meatloaf grill for 30-35 more minutes. Then take your meat thermometer and take the temp in the middle of the loaf. You are looking for an internal temperature of 170 degrees Fahrenheit. If you need additional grilling time roll the meatloaf over to the other side again. 
After the additional grilling time of 10-15 minutes, recheck the meatloaf temp with the thermometer. If you reach your target temp of 170 degrees Fahrenheit, roll it over one more time. At this point, you can brush the ketchup on top and let it grill another five minutes (optional).
It's now time to remove the meatloaf and plate it for your guests. Take the spatulas and pry up the meatloaf bottom so that it's free from the grill grate. Place the pan or platter next to the meatloaf and carefully remove it from the grill.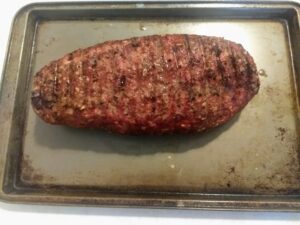 Serving Time
Allow your meatloaf to rest 15-20 minutes before slicing. It also may be easier using a serrated knife instead of your regular carving knife. Give that a try if your regular knife struggles. Your guests will be amazed at the improved flavor you achieved by grilling your meatloaf.  
Scalloped Potatoes
These potatoes will create a stir with your guests with their incredible flavor and especially cheesy goodness. It helps to use a food processor or mandoline to thinly slice the potatoes.
Ingredients
6-8 large potatoes peeled and sliced thin

1/2 stick of

 

butter

3

 

tablespoons

 

flour

8 ounces

milk

8 ounces heavy whipping cream

1

 

teaspoon

 

salt and black pepper

2

 

cups

shredd

ed sharp cheddar cheese 

1 teaspoon cayenne pepper (optional)

1 teaspoon paprika (optional)
Cheese Sauce
This is by far the hardest part of making scalloped potatoes. You will be creating a cheese sauce that goes over the sliced potatoes in the pan. Get a large skillet and melt your butter over medium heat. After it is melted, add in the flour slowly while whisking it around your skillet. You will be making what is called a roux as you whisk in the flour. Roux is the base for gravies and cheese sauces that help them thicken up.
As your flour mixes in you will get a thick paste, which is your roux. Slowly add in your cream whisking it into a thick sauce. Continue to heat the mixture on medium heat and add in the milk. Increase the heat to medium-high and continue to whisk your sauce. Add in 1/3 of your shredded cheese and continue to whisk. Once the cheese completely melts, decrease the heat to low. This will also help thicken your cheese sauce.
Potato Time
As the sauce stays warm on the stove, it is time to slice your potatoes. We do this after the sauce is done so that the potatoes do not have a chance to turn brown. Place half of the potatoes into your sturdy foil pan or Corningware dish. Drizzle half of your cheese sauce across the first layer.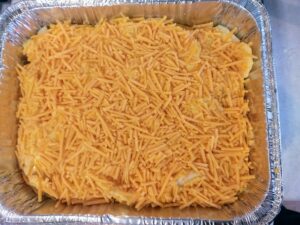 Take 1/3 of the shredded cheese and sprinkle it on evenly. Add in the rest of the potatoes on top as the second layer then cover them with the remaining cheese sauce. Sprinkle the remaining 1/3 of shredded cheese on top and cover the pan with foil or the lid.
Bake the scalloped potatoes for an hour at 375 degrees Fahrenheit. After one hour, remove the foil or lid and bake for another 30-45 minutes. You will want to bake them until the top layer of cheese turns that delicious looking brown. Remove and allow them to rest for 20 minutes then scoop them up and serve.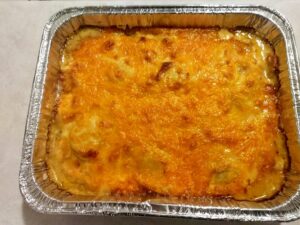 Meatloaf and scalloped potatoes can be served alongside canned corn or green beans, whichever you have a taste for that day. Your guests will certainly not be focusing on the veggie for this meal!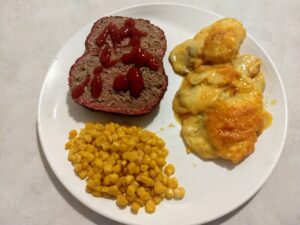 Game Day Menus Roll Onward
Over the next several weeks we will be bringing your some delicious menus to make the holidays spectacular for your tailgating. Stay tuned as lwos.LIFE takes you into the NFL playoffs and beyond! Prepare to get grilling!